Hip Hop duo Social Club Misfits reaching the outcasts and misunderstood with Gospel message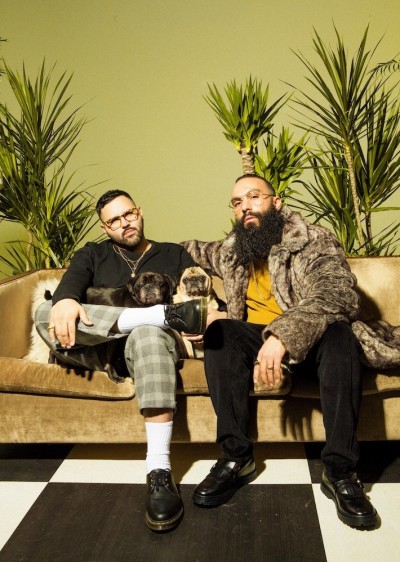 Capitol Christian Music hip hop group Social Club Misfits continue reaching the unreached with the hope of the gospel with their latest EP MOOD.
South Florida natives Marty and Fern, are known for their witty approach to sharing their faith through music. The duo is not afraid to cross over into multiple genres and push boundaries. Their last release, The Misadventures of Fern and Marty (2017) reached NO. 4 on the Billboard Rap Charts. The new EP MOOD. is hoping to follow in its footsteps.
Below is an edited transcript between Social Club Misfits and The Christian Post where they share the heart behind their new music and why they continue to minister to those that have not had the conventional Christian journey.   
Christian Post: What is the story behind the title of your new album release, MOOD.?
Marty:MOOD. is like a two-part series, the last part is coming at the end of the year. So basically, it's about the season of life that you're in. We feel like everyone has these three seasons, you have this mountaintop, you have this valley experience, and then you have this in between where things are transitioning, this gray area. So the first mood is about that mountaintop experience where things are going right, and God is working.
We wrote this project right after we won the Dove Award and we felt like everything was just working out for us, and the other half is after the Dove Awards, right after we won when nothing worked out. So the idea behind this is, "Is God still good in the mountain, is He still good in the valley? Is He always good? Do we trust Him in every season of our life, in every mood? Do we trust God with every part of our life?"
CP: The last song on the album, "Our God Came to Us," is really moving. It's hard sometimes for people to keep positive when you feel depressed, talk to us about that whole idea that God comes to us to get us out of those ruts?
Fern: You know me, my story, I came from prison, that's all I had, God came to me, you know what I'm saying? I used to go to church all the time. I come from church, my dad's a pastor, and things of that nature. Thank God that I was instilled that in my early age, but if it wasn't for God, coming to me, and finding me, where I was in my rut, in the darkest times of my life. I remember falling down weeping in the little chain gang church, I was there at the little altar. I just fell down and I was weeping for about an hour and a half ... And I remember from that day on, He promised, I always knew that He would never let me go, I always knew that in my heart but I wanted to do my own thing, but when I really came to the situation that I was at my wit's end, and I had nowhere else to go, my back was against the wall and literally, God came to me and God showed Himself to me.
Look at the interview we're doing right now, we're touring all over the country, me and my brother, everything I ever dreamed of, we're doing it and we're doing it for God. That was the beauty of it, that when I gave it all to Him, and I told Him that He could have my life, He gave me everything I wanted anyway, it was better than I ever dreamed it would it be.
CP:  You appeal to the misfits, the rejected, those that may not feel comfortable with conventional Christianity. Why do you think that is so and is it part of your mission?
Marty:  I think it's our story. I want people to look at our music and see it from the beginning to the end, and see the journey of God through our music, instead of us being like, "Hey, this is what you need to do." It's more of like, "Hey, it worked for us and God really intervened and if He could do it for us, He could do it for you." It's like the Bible says, "We overcame by the blood of the Lamb of the word of our testimony," we believe in the word of our testimony, and how powerful it can be.
We are two different men with two different testimonies. I was hurt by the church but I came back because I had people who loved on me. Fern left the church went to prison, and then came back to church. We have these two stories that, I guess, connect to a lot of people who feel like they have been misfits growing up in their church, or maybe in their school, or maybe in the job, or they just felt different. I feel like our music just connects to those people who don't have it together but will say, "I don't have together but I'm still deeply loved by a savior." I feel like that connects us all together.
One thing we always want to do too, is we want to make music that could have more of a commercial appeal. So we have songs that you wouldn't normally hear a hip hop artist doing especially in Christian rap. We do it on purpose, it's intentional because we love to worship with people, we're worshipers and for us, we feel like the new generation that worship through hip hop music.
Fern:  I also feel that there's a difference between storytelling and telling stories. One thing about Marty and I is, I feel like people have gravitated to us because we been there, we really were there, we were in that pit we were in that fire ... I feel like in rap it's easy to write down a story, but is it yours, is it authentic? Anybody can write but are the stories really penetrating?
CP: You have been crossing over into Spanish with your music, tell us about that?  
Marty: We're from South Florida and in South Florida, everyone speaks Spanglish ... and I grew up in a family like that and Fern did as well. We're both Puerto Rican and we grew up in a family where every other word is Spanish. We tried on the last album with "Tuyo" and we tried it with "Solo," another record. We were like we're having so much fun with this, just keep doing it, so we made "Que Lo Que," and it's been fun. Actually, we have an all Latin version of "Que Lo Que" coming out soon. We love that we're just connecting to our audience on another level and it's been really fun to do.
Fern: Another thing about it is, the market is saturated, one of the cool things about Social Club is that we can venture into the Latin market so it kind of makes us unique, and separates us from the clutter. So that's another one of the cool things about it, when it feels a little too overwhelming, we could just drop a Spanish joint and separate ourselves.
CP: In mainstream hip hop, we see rappers being more open about their faith, like Kanye West with his gospel Sunday services or Chance the Rapper talking about taking a hiatus to read his Bible. How has it been for you seeing that happen?
Marty: We're seeing that a lot, we're seeing a lot of artists come out and have strong faith and I think it's amazing. I feel like Christian culture tells people that you need to have everything together but I feel like there's a bunch of awesome pastors and people who are saying, "Hey listen we'll be with you on the journey." So our music has always been about the journey of God, it's not a destination, it's a journey. You're starting to see that with artists like Chance the Rapper, faith, it's becoming more out in the open and we love it, we strive for it.
I think it all connects to local church, a lot of great churches working together to love on people. In the past it was almost, us versus them, that does not exist anymore and now we're all together in this as the body of Christ. I hate when people say, "Oh, well, he's not really a Christian," we don't know and the truth is we have to give people grace. Luckily, I feel like our generation is giving people grace. It's not us versus them, it's us together, working with people.
We get to meet a lot of people on the road, people with platforms and it's all the same thing, we all want the same thing, we all want peace of mind. In a world full of anxiety and stress, He is the solution, in the middle of all our troubles. People know, it actually works. There's a God in heaven, who actually is very real and His love is very real and His healing still exists today.
Fern: I would like to think with all the prayer and with us traveling and everybody else who's putting in the work to lay the groundwork to plant these seeds, I would love to believe that it's working. I would love to believe that our message is getting through. I would love to believe that people have been trying all the different stuff. "I've tried this, I tried that and nothing worked," and maybe just maybe people are coming to try God.
Like what Marty said, "Oh, that guy's not really Christian." I remember when I wasn't really a Christian when I first started too. We all weren't really a Christian at one time. So what does that even mean? We got to show grace, and we got to just stand firm in what we believe in. I would love to say, and I would love to think that the message is penetrating and it's coming into fruition. We plant seeds and pray for rain that's all we can do.
CP: What are you hoping people take from the MOOD. EP, from the "Big Mood tour" from the other part of the album that's coming?
Marty: We want people to understand that no matter where you are in your life, whether on the mountain or the valley, that He knows who you are, He knows you by name and that He's not leaving you alone. I think that a lot of times when things are good, we tend to forget about God because things are great. Then when things are bad, we tend to ask God for help. And I hope that our music plays a reminder for people that we do serve a real God, who really loves them. You might not have it all together, but it's okay. There's a lot of people in the Bible, who didn't have it all together, they trusted in God. So we want to encourage anybody who's listening to our music, to know the season you're in, it's temporary. It's not final. Whether it's good or bad, understand that your life is a journey. God's teaching you things and you're going through this. He's building character in you. He's making that light shine a little bit brighter. We hope that they enjoy the music, we hope that they dance and a workout to it. We have a lot more music coming this year and we're super pumped about it.
Social Club Misfits are currently on the "Big Mood Tour," for more information visit their website.