Hispanics of Faith Ask Obama to Separate LGBT Issues From Immigration Reform
Special CP Series: Hispanic Voters Come of Age
 Editors' Note: This is the first of a three-part series on the greening of the Hispanic community's participation in national politics, brought to the forefront by a decision by progressive Democrats to push gay marriage equality into the national debate over immigration reform. The first article reports on an unprecedented coalition representing 30 million Hispanics of faith pressing to keep the issues separate, raising the specter of a break in Democratic party solidarity in the Hispanic community.
 The second article explores controversy within the Hispanic community over gay rights, and the third analyzes faith trends among younger Hispanics that may lead to an erosion of lock-step support for Democrats in favor of more independent voting status for Hispanics.
***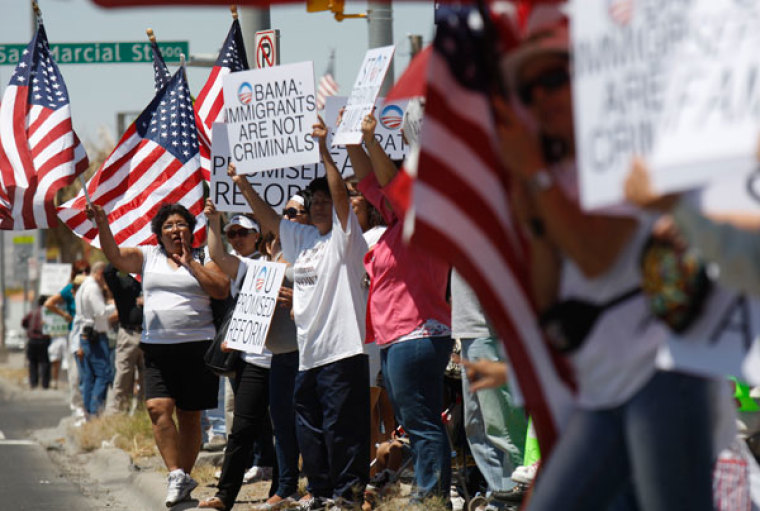 An unprecedented coalition of Hispanic evangelical and Catholic Christians, representing well over 30 million Hispanics of faith, is pressing President Obama to uncouple gay marriage issues from immigration reform, a move that some experts believe is a significant solidarity crack between Hispanics and the Democratic party.
Nearly 75 percent of registered Catholic Hispanics and 50 percent of Hispanic evangelicals voted for Obama's second term, but sources say that the LGBT issue is a wedge in that support. There are an estimated 30-50 million Hispanics of faith in the U.S.
The Rev. Samuel Rodriguez, president of the National Hispanic Christian Leadership Conference (NHCLC) that has more than 40,000 member churches, explained to The Christian Post that Hispanic evangelicals do not want the President or lawmakers to mix LGBT issues with immigration reform issues.
The NHCLC position is backed by Catholic Hispanics and a diverse array of evangelical leaders representing more than 150 groups, including the Southern Baptist Convention and the National Association of Evangelicals. The coalitions came together privately for the first time over a week ago in Washington, D.C., where key Hispanic evangelical leaders and key Hispanic Catholic leaders discussed common-ground issues, or what Rodriguez likes to call issues of righteousness and justice – those pertaining to protecting life and advancing immigration reform.
"We had as a guest Sen. Rick Santorum and it was a very open conversation, even on immigration where we have some slight differences," according to Alfonso Aguilar, one of the most noted Catholic pro-life and pro-justice leaders in the U.S.
Aguilar, whom Rodriguez describes as the James Dobson of the Catholic community, is the executive director of the Latino Partnership for Conservative Principles in Washington, D.C., an advocacy group promoting conservative values in the Latino community. He was appointed in 2003 by then-President George W. Bush as the first chief of the U.S. Office of Citizenship.
"We saw Sen. Santorum really wanting to understand the community and [he] ended up articulating a very good position on immigration. It was really a discussion and it was great to see someone like Sen. Santorum meeting with Latino leaders of faith," Aguilar added.
Aguilar cites the Obama administration's "attack" on the culture of life and the family as the catalyst for the never-before-seen partnerships between Christian conservatives, Hispanic evangelicals and Hispanic Catholics.
"All of them are conservative, we're not saying Republican or Democrat, but we're conservative because we're for life, we're for marriage and we're for religious freedom and immigration reform," Aguilar said, noting that he believes the group's first meeting "will bear many fruits."
The coalition include evangelicals and Catholics who refuse to violate their faith beliefs by supporting "any legislative piece or policy that threatens the family structure," Rodriguez explained. Many of these member groups are participants of the Evangelical Immigration Table, founded in 2012 and responsible for the recent "I Was a Stranger" immigration prayer campaign.
While partnership among Protestants and Catholics is not at all new when it comes to social justice issues, such as civil rights for African-Americans, never before have conservative evangelicals joined hands with Hispanic communities of faith while also partnering with the U.S. Catholic movement.
The Obama administration has encouraged lawmakers to adapt New York Democratic Rep. Jerold Nadler's Uniting American Families Act in a bill on comprehensive immigration reform that also allows for a clearer path to citizenship. Nadler's proposals offer gay and lesbian U.S. citizens and permanent residents the option to apply for visas "on the basis of a permanent relationship with a same-sex partner" – a position Rodriguez's group says would be a deal-breaker.
The NHCLC president believes the unprecedented coalition of Christian activists may partly be responsible for the bipartisan effort seen among many Republicans and conservatives who previously opposed immigration reform with much of the convincing coming through closed-door meetings with top lawmakers.
"We've been working with Mark Rubio's office extensively. We've also been working with Raul Labrador, the House of Representatives and Tea Party leader, and Robert Goodlatte, the House Judiciary Committee chair. As the chair of the judiciary committee, immigration falls under his purview," said Rodriguez. "We've been working with them, now we're enlarging our outreach to other members of Congress focusing on Republicans and conservatives who have opposed or who have stood on the fence as it pertains to comprehensive immigration reform."
The NHCLC and its partners refuse to budge on allowing visas for same-sex couples, due to their biblical view on marriage. "To us, it's an issue of redefining faith doctrines, redefining faith tenets and of course these communities already stated explicitly that they cannot support any public policy that infringes upon religious liberty or attempts to redefine the doctrines of faith," Rodriguez explained.