Christian actor to erect world's tallest Jesus statue in one of Mexico's most-violent cities
Hollywood actor and pro-life advocate Eduardo Verástegui is planning to erect the biggest statue of Jesus in the world in his hometown in Mexico.
According to Mexico News Daily, the popular Mexican actor and devout Catholic has hired architect Fernando Romero to have the statue built this year in Tamaulipas' state capital, Ciudad Victoria. The capital is described as one of the most dangerous areas of Mexico, with a reported "83.32 homicides per every 100,000 people."
The state's reputation is possibly why Verástegui is embarking on the project, which he has named the "Christ of Peace" statue. The statue will be built at a towering 252 feet, which is nearly twice the size of Christ the Redeemer in Rio de Janeiro, Brazil, which stands at 125 feet.
Currently holding the record for the tallest Jesus statue in the world is the Christ the King statue in Świebodzin, Poland, measuring 172 feet off the ground.
Verástegui's statue, designed by Romero, will be similar to other statues of Jesus that depict Christ with arms outstretched, representing the opening of an embrace. 
According to the Mexican publication, developers have plans to turn the area into a thriving tourist destination that can host up to 10,000 people for special events. The site of the statue will also include "a church, restaurants, stores, a convention center, a shelter for pilgrims, a hotel, an amphitheater, a handicrafts market, funicular and cable car stations and a residential area."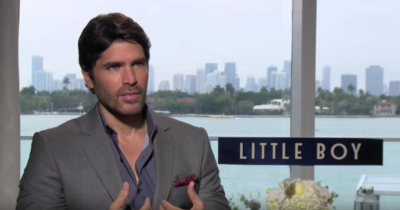 Verástegui, the filmmaker behind the 2015 faith-based film "Little Boy," and the successful 2007 pro-life film "Bella," hopes Christ of Peace will "transform the area much the same way He changed his life," Fox News reported.
"I understood that I was not born to be an actor or something else, but to know, love and serve Jesus Christ," Verastegui said in a 2003 interview after vowing to make more faith-based and pro-life films.
The Spanish publication Clarin reports that the actor plans to present the project to Pope Francis and Catholic Church officials announced builders will break ground early this year.
Other Jesus statues around the world include a 128-foot tall bronze statue of Jesus on a mountain top in war-torn Syria as a symbol of peace in the Middle East. Smaller sculptures include Christ the Redeemer in Maratea, Italy, Christ of Vũng Tàu on the densely forested Mount Nho in Vũng Tàu of Vietnam and Cristo del Otero in Spain, just to name of few.