Hollywood Exec DeVon Franklin: 'Heaven Is for Real' Box Office Success Can Green-Light More Faith-Based Movies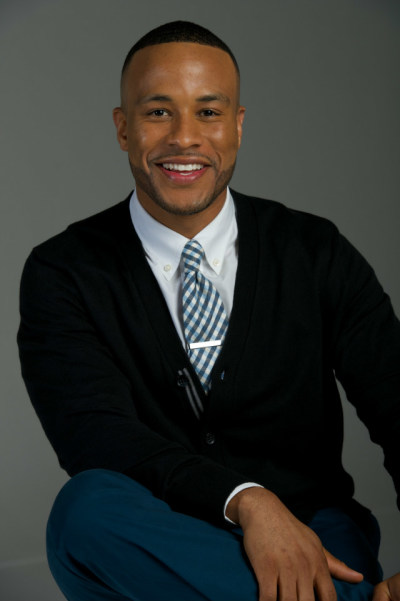 Correction Appended
DeVon Franklin, Senior Vice President of Production for Columbia TriStar Pictures, is praying for a major turnout for the new film, Heaven Is for Real, in theaters this week. Blockbuster sales at the box office would, according to the Hollywood executive and devout Christian, result in more faith-friendly features on the big screen.
"The success of this movie opening weekend directly correlates to the decision to green-light and make more of them. It's an immediate thing," Franklin told The Christian Post via phone on Tuesday. "If there's a sense that there's a growing market and a growing hunger for more films like this, then the desire to continue to provide more films will increase, and decisions will be made to be able to make more films like this.
"With the success of this movie this weekend, I'm praying and believing and trusting God that it will be successful, then decisions will be made quickly on continuing to make sure that this audience and audiences like it that want more product like this will have more products available for them."
Heaven Is for Real, based on the New York Times bestselling book of the same name, dramatizes the real-life story of the Burpos family, whose youngest son, Colton believes he visited heaven during a near-death experience and shares his story with the world.
The story behind the film, distributed by Franklin's TriStar Pictures and that counts T.D. Jakes among its list of producers, packs the kind of punch that will draw audiences into theaters, or so the 35-year-old executive believes.
Franklin, also an ordained Seventh-day Adventist minister and author of the bestselling book, Produced by Faith, recently shared with CP what decision-makers like himself look for when choosing quality projects for the big screen. Also, he talked about why he believes Christians should engage more in Hollywood and the film industry if they want to see more films made that are reflective of their faith, values and interests.
Below is a transcript of CP's interview with Franklin, which has been edited for clarity.
CP: What kind of elements do you look for when a project or pitch comes your way? What makes you say this could be a hit?
Franklin: One is just do I connect to it? That's the number one thing. The other thing is, is it commercial? Is there a concept being explored in the idea that it seems like it would make sense for a wide audience to see it? Those are just really two of the key things. Reading the script, if it's a spec script or a book, [and determining] how well am I connecting to it. Am I turning the page? Is the concept marketable? Is there an idea or a hook that an audience would find interesting? Those are really two key fundamental areas that I use to evaluate which projects to do.
CP: Tell me a little about Heaven Is for Real. What elements does the movie have that will attract not only people of faith, but just an audience in general?
Franklin: When you read the book, the book was just incredibly interesting, and the mystery of it. I actually remember reading it and just turning the pages, I literally could not stop. After getting done with the book it was like, "Wow, this is a book and a story that really needs to be heard and needs to be seen around the world." So it really came down to that connection. The book itself was a New York Times Bestseller and sold millions of copies around the world, and I understand why. The book feels really, really powerful. With bringing it to the screen, it just was a matter of how to preserve the integrity of the story. Because it's a true story, preserving the integrity of it was very, very important in making sure that the same power of the book, we could try and demonstrate that power in the film.
CP: What are you thoughts on controversy that films like Noah and even Son of God faced in terms of being criticized by some Christians as not being "biblical enough?"
 Franklin: I think anytime you make a film it's always open to criticism. There's no film that is an exception to that. Some are going to feel that, depending on what the movie is, it's not faithful enough, and some might feel that it's too faithful.
My thing with Heaven Is for Real was, it's based upon a true story, it's based upon the life of the Burpos, a family out of Imperial, Neb., and young Colton, their youngest son [who] had a near-death experience at the time. For Heaven Is for Real, it was so important to preserve the integrity of their story because it's their life. At the end of the day, when the movie is already out and I've moved on to another film and the other producers have moved on to their films, it's still going to be their life. So our goal with this film was to preserve the integrity of the family's journey in a way that they would be proud of it and that it's something they could stand behind their entire lives.
CP: You'll hear some Christian rappers say, "Stop calling it Christian rap, it's just rap or hip-hop." Do you feel like that at all about the film industry?
 Franklin: My hope is that one day that will we just get to the place where it's just "movies." When you look at the life of Christ, Jesus didn't come with a faith-based Gospel. He came with a message that would change the world. My hope and prayer is that movies made in this space will have a similar approach and a similar impact. I do think that sometimes putting a label on them can be very, very limiting when in fact there may be people who need the message of the film that may not think it's for them because of the label. So yes, I do hope that eventually we'll be able to break down these labels and these films will be judged on their own merit.
CP: In a 2012 story on your promotion to Senior VP of production, it said you'd be overseeing material geared toward "the urban and faith-based markets." Can you describe those two markets briefly in terms of what it is you believe they want?
Franklin: I think that when you look at those two markets, and the movie-going market in general, people want stories, number one, that are entertaining. If you're asking someone to spend a whole evening when it comes to taking family and what-not, the expense is on there. First and foremost, there has to be a good entertainment proposition. It's really about finding stories that are entertaining. The second thing is finding stories that will connect with audiences in a personal way.
Having been involved in Sparkle, Whitney Houston's last film, the goal there was to make that movie relatable and to make that movie emotional in a way that it would really connect with the audience and strike a chord. So whether it's an urban film, a faith-based film, a superhero movie, it's really truly important to develop the script in a way in which, one it's going to be entertaining; two, what about the story is going to connect to the audience? What about the story is going to inspire the audience? It's really important to think about all of this regardless of the genre.