Jeremy Foster, Hope City Church founder who resigned over affair, breaks silence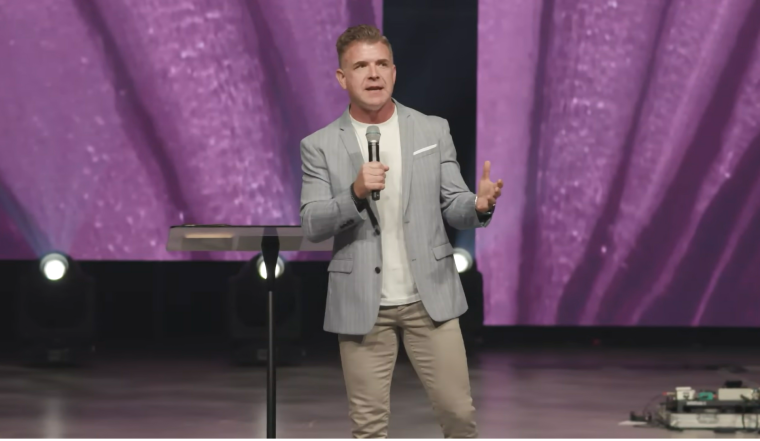 Jeremy Foster, the founder of Hope City Church in Houston, Texas, who resigned as the church's senior pastor just over a year ago after confessing to adultery, announced Sunday that he is now "at peace," has remarried and wants to help people with the gifts God has given him.
"I am at peace now. I'm married, remarried. Peace with my life, but not with my mistakes, not with my sin. I'm at peace with God," Foster revealed in an Instagram video on Sunday.
"He's been very kind to me. I don't really know what else to say. I don't know what the future holds. I have a new career. It's in ... I guess the private sector, maybe what you would call it. It's been good for me. I don't know what I'll do publicly. I don't know if I'm doing anything publicly.
"Maybe at some point, I do know that God has given me gifts to help people. And that's really what I want to do, is just help people. I don't know what that looks like in the future. I don't know when I'll be back on it. But a lot of people ask me stuff. Some people encouraged me to do things. I'm not ready," he said. "I do want to help people ... and that's one of the things that I'm enjoying right now. It's just day-to-day, loving people and talking to people individually. It's been good for me."
Foster and his ex-wife, Jennifer, founded Hope City Church in 2015. Within four years, the church had roughly 12,000 people attending weekend services, earning it the title of the "fastest growing church in the country," according to Ministry Solutions.
On Jan. 1, 2022, however, overseers of the church announced in an approximately 3-minute YouTube video that Foster, who has five children with his ex-wife, "confessed to an extramarital affair with a woman not affiliated with Hope City."
Foster's admission came approximately a year-and-a-half after TBN UK published an interview with the fosters candidly sharing how God healed their dysfunctional marriage, where Jennifer physically abused him. He, at times, called her "crazy."
"And abuse started on our honeymoon," Foster said.
"We're getting married. And literally, on the honeymoon is where the abuse started again. Only this time, it didn't come from a man. It came from a woman. It came from me. You see, that's the only way I knew how to fight. That's the only way I knew how to argue," Jennifer explained. "It existed in every relationship that I ever knew in some form. ... So when we got in an argument, and he didn't respond to me that way, like all this rage, like literally pent-up rage, just came out of me and projected onto him."
Foster said when he submitted his resignation, he wanted to address the church, but the overseers of Hope City Church advised him against it. He believes now, in hindsight, that the decision was wise.
"In the aftermath of everything that happened, … I wanted to shoot a video or write an email, or address the congregation, but the board at Hope City at the time didn't want me doing anything like that. They wanted me to stay quiet publicly on social for a year," he said.
"I did not like that decision. I didn't agree with it. And over the course of time, I began to see the wisdom in it. And I'm grateful for that decision now. It was wise. … I wouldn't even know what to say, how to say it, or even how to feel while saying it."
He noted that even though his marriage had been difficult, it was no excuse to devastate his family and hurt the church and staff he was leading.
"I never would have thought that I would have done this. And I'm deeply sorry. I'm sorry to all of you, especially those of you who really put a lot of faith in me. I mean, it's something that I've said a lot that, you know, 'don't trust me, trust, trust God.' And I've learned a lot in this that I think that I was moving so fast," Foster said.
He noted that the failure of his marriage "was my fault" because if he needed help, he had a lot of support available to him.
"I wasn't one of those guys who people didn't reach out to. I had a lot of people reach out to me; I had people checking on me. I was in good counseling. But I can tell you hurt people hurt people. I was overwhelmed. We, our church, grew so fast," he said.
"Our marriage was well documented [and] had been challenging. At the same time, that gave me no right to do what I did. It was on me. I know people who've gone through really hard marriages and didn't have an affair. That was my fault. I have no defense. I have an apology. I have learned through this. I can either have grace, or I can defend myself," he added. "I have no defense. I need grace. I need God's grace deeply. I have apologized to Jennifer. I've apologized to the kids. We've walked through a divorce. Divorce is ugly in every form of the word. And it's still not OK."