Horrific Ethnic Cleansing Creates Humanitarian Crisis in Myanmar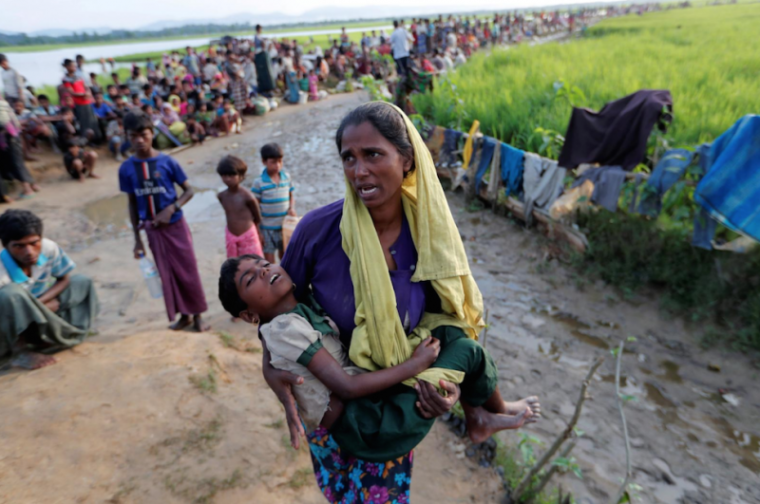 More than 436,000 Rohingya people have fled Myanmar's western Rakhine State to neighboring Bangladesh over the past month, and horrific stories of rape and killing continue to emerge with little help despite the U.N. describing the situation in the Southeast Asian nation as "a textbook example of ethnic cleansing."
The ethnic Rohingyas, the majority of whom are Muslim, have faced discrimination and statelessness in Buddhist-majority Myanmar for decades, and torture, killings and rape in recent years.
According to the United Nations, 436,000 Rohingyas have fled to Bangladesh, and this is their second exodus, as 87,000 had to flee last October thanks to a brutal government crackdown following attacks by an armed Rohingya group, noted Lynn Kuok, a Fellow at Center for East Asia Policy Studies.
According to estimates by the U.N., children make up about 60 percent of the Rohingya refugees in Bangladesh.
Earlier this month, The New York Times spoke to Rajuma, a 20-year-old refugee in Bangladesh. Her village, Tula Toli, was burned down in August.
Myanmar's soldiers took all villagers to a river and separated women from men. All the men were executed. Then they approached Rajuma, who had her infant boy with her. The soldiers grabbed her baby out of her arms. She fought but was quickly overpowered. Then she watched the soldiers throw her baby into a fire. The infant burned to death. Then they hit Rajuma in the face with a club, and gang-raped her and her two sisters.
Al Jazeera reported last month that a 29-year-old woman, Ayesha Begum, a Rohingya refugee in Bangladesh, was brutally raped and her baby was kicked.
Army troops stormed her village, Tami in Myanmar's Buthidaung Township, when she was eating dinner with her four sisters-in-law. Soldiers entered their home and forced the women into a room. They took Ayesha's baby from her arms and kicked him "like a football."
"Then they stripped the women naked. A soldier held a knife to her throat and began to rape her. Twelve soldiers took turns to rape the women over the course of what she believes was several hours."
Myanmar's military has been attacking Rohingyas in Rakhine state since Aug. 25, when the Arakan Rohingya Salvation Army, allegedly a "separatist" group, launched an attack on police posts and a military base there.
Muhammad Yunus, the 2006 Peace Prize laureate, recently sent a letter with the signatures of 12 Nobel laureates to the U.N. Security Council, urging it to take immediate action to stop the military attacks on civilians.
"The arguments that the Myanmar government is using to deny Rohingyas their citizenship are ludicrous," the letter said.
While Nobel Laureate Aung San Suu Kyi is the de facto leader of the country, the generals continue to control national security policy.
Elsewhere along Myanmar's borders, where ethnic rebel groups and government troops have been fighting, civilians from other ethnic and religious minorities have also been forced to flee for safety over the last few monhts.
Tens of thousands of Christians took refuge in Malaysia earlier this year.