Housekeeper Claims Bishop Marvin Winans Fired Her for Not Paying Tithes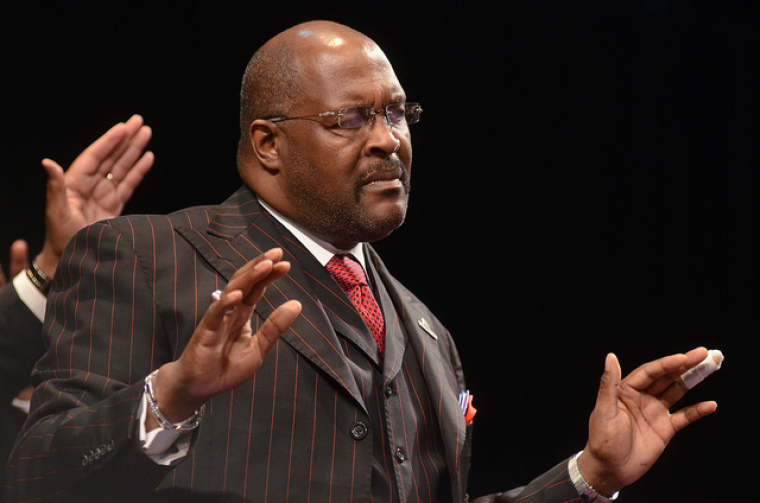 Grammy-winning gospel singer Marvin Winans and the Perfecting Church in Detroit, Michigan, are facing a lawsuit from a former housekeeper who claims she was fired for refusing to pay tithes from her $18,000 a year salary.
Winans wasn't immediately available for comment when contacted by The Christian Post Friday but the lawsuit cited by the Detroit Free Press names the housekeeper as Lakaiya Harris.
Harris was employed by Perfecting Church from March 2012 until January 2017. Winans is the founder and president of Perfecting Church, which owns at least 90 commercial and residential properties in Detroit. Harris was among about 40 workers hired to clean and maintain them.
She alleges in the lawsuit that she spent the first several weeks on the job cleaning the Marvin L. Winans Academy of Performing Arts, an elementary and middle school led by Winans. She was later transferred to Perfecting Church's main campus in Detroit's east side.
During a staff meeting in 2016, Harris, according to the Free Press, complained openly about not being paid. In October that year, Winans allegedly called Harris to his office to find out why she had not been attending church. She said she told him she was struggling with exhaustion and not being paid. She said her job had also been threatened for not contributing money to buy gifts for church supervisors.
A Click On Detroit report further noted that Harris lived in a home owned by the church and she paid $500 a month in rent plus $250 for utilities. The church also deducted annual "kitchen dues" for using a church kitchen. Harris claims that with all her expenses, she was just not able to pay tithes or make the donations the church wanted from her.
Harris claims she was fired after refusing a demand from Winans to have her salary docked when it was discovered that she wasn't paying her tithes.
Winans is alleged to have confronted her about her tithing during a meeting in 2017 when he noted "that it had come to his attention" that she earned $18,000 the year before.
"'So you owe us $1,800,'" Winans allegedly told Harris, according to the lawsuit. "When she stated that she didn't have the money, he offered to deduct the $1,800 directly from her biweekly paychecks."
When she refused, Winans allegedly replied: "'Well, that pretty much terminates your employment with us. ... You can go ahead and proceed with the exit interview.'"
In the lawsuit, Harris said other employees who worked for the church but weren't members like her weren't required to tithe as a condition of employment.
She argues that forcing only church-member-employees to give back 10 percent of their earnings violates employment and civil rights laws.
She also alleges that she was cheated out of overtime pay by the church which manipulated her time clock records "in order to avoid paying her for overtime hours worked."
"Perfecting also implemented an unlawful time-docking policy to penalize employees who arrived late," the lawsuit said.
"Each time an employee is late he or she will be docked according to the following schedule," the church's tardy policy notes. If, for example, an employee is tardy 1-15 minutes, they get 15 minutes of pay docked from their check.
In an op-ed for The Gospel Coalition in 2017, Thomas Schreiner, the James Buchanan Harrison professor of New Testament interpretation and associate dean for Scripture and interpretation at The Southern Baptist Theological Seminary in Louisville, Kentucky, outlined several reasons why tithing is not a requirement for Christians.
"The commands stipulated in the Mosaic covenant are no longer in force for believers. Some appeal to the division between the civil, ceremonial, and moral law to support tithing. Yet these divisions, I would observe, are not the basis Paul uses when addressing how the law applies to us today. And even if we use these distinctions, tithing is clearly not part of the moral law. It's true the moral norms of the Old Testament are still in force today, and we discern them from the law of Christ in the New Testament, but tithing is not among these commands," Schreiner said in part.