'Housewives' Kenya Moore Reacts to Apollo Nida 'Fraud' Arrest? 'Losers Never Win'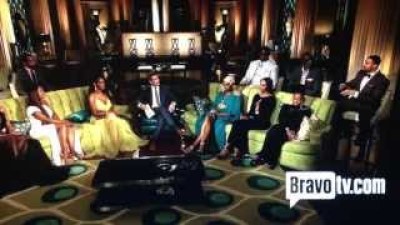 "Real Housewives of Atlanta" star Kenya Moore slammed Phaedra Parks and Apollo Nida in the wake of his reported arrest on Thursday.
The former Miss USA, 43, took to social networking site Twitter on Saturday where she alluded to her costar's legal woes. Nida, who is a convicted felon, reportedly surrendered to authorities on Jan. 23 on charges of bank fraud and identity theft, according to Access Atlanta.
"Losers never win. I have always seen through people and I was the first to tell you last season about these people and who they really are. #dirty," Moore tweeted to her 224, 000 followers.
"I said it all on @ArsenioHall #youcantbethatdumb #imonit #angelastanton #neverlieonmeagain #evil #fake #whoscrazynow," she added.
The actress has been at odds with Parks, 41, since joining the hit Bravo reality show in season five. The Atlanta based attorney previously accused Moore of sending inappropriate text messages to Nida, her husband of four years, and the scandal was addressed during the season five reunion show.
"I thought it was very distasteful and very inappropriate, but that's who she is," Parks, who blamed Moore for the alleged flirting, said on the show. "You can't make a loose woman a lady."
Nida, 34, was reportedly questioned by US Marshals in Atlanta, Georgia before being formally charged in federal court on Thursday. He was later granted a pretrial bond of $25,000.
The charges were filed after Gayla St. Julien, an alleged whistleblower, was questioned by authorities.
In a written affidavit obtained by the Atlanta Constitution, U.S. Secret Service Agent, Alexandre Herrera, claims Nida illegally accessed various databases using fake companies to carry out the scheme. He charges that Nida used St. Julien to open fake bank accounts before funneling stolen checks and auto loan proceeds into the accounts, according to RadarOnline.com.
Parks and Nida, who welcomed the birth of their second child in May, are yet to publicly addressed arrest reports.
Nida, who was previously convicted of felony possession of a firearm among other offenses, was sentenced to 18 years in prison and began serving his sentence in July 2004
Parks married Nida shortly after he was paroled in May 2009, and she has constantly been forced to defend him in the press.
"My husband was convicted of a white-collar crime. It was racketeering... I married my husband because I loved him and he loved me and I think that's the foundation of any good relationship," Parks once said in a public statement.
"[Apollo] has served his time and under our laws we have a system where if you do what you are supposed to do you should be able to return to society and be made whole and not constantly scrutinized for something that happened in the past," the statement added.