Houston Megachurch Explains Why a Russian Flag Is Flying Outside Its Building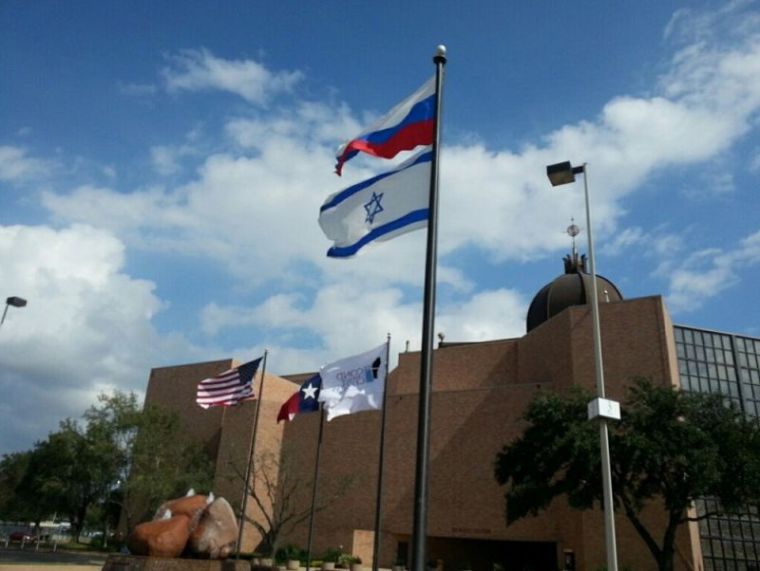 A Texas megachurch has responded after a picture was posted to Twitter on Sunday showing the Russian flag flying on a flagpole outside of the church in a prominent position.
After New Yorker writer Jia Tolentino posted a picture on Twitter of a Russian flag flying above an Israeli flag on a flagpole outside of Second Baptist Church Houston's Woodway campus, some wondered what "possible explanation" the church could have for flying the flag.
"We've been flying the flags for years," Second Baptist spokesperson Daniel Card told the Houston Chronicle.
Card explained to the newspaper that the church flies flags representing nations where church missionaries have traveled since the church was founded.
Although Tolentino added in a another tweet that the Russian flag was one of several international flags flying at the campus, she claimed that the "pride of place for Russia is a spicy new thing for sure."
One commenter even asked if the Russian flag was being flown higher than the United States flag. Tolentino said in a response that the Russian flag might look as though it's being flown on a taller staff than the U.S. flag, but only because of the angle in which she took her photograph, and distance.
Card told the Chronicle that the picture was misleading.
In a statement, Tolentino argued that the flag's placement is definitely more prominent that it had been before.
"As far as I can recall or put together from Google Earth and what not, the Russian flag has been below Israel's flag until recently, and it struck me as quite odd of the church to switch those flag positions at this particular point in time," she told the Houston Chronicle. "The pride of place given to Israel's flag makes obvious sense in context, clearly corresponds to a symbolic and also explicitly political meaning for evangelicals — I was used to seeing it prominently displayed and understanding why. With the Russian flag, though..."
Before the church released a statement, one commenter noted on Twitter that "Russian evangelicals are one of the largest refugee groups in the country."
Human rights activists voiced an alarm last year when the Russian government enacted a law that banned evangelism outside of churches, missionary activities in non-religious settings and even required Christians to obtain authorization to share their faith with others.
The Billy Graham Evangelistic Association originally planned to host its inaugural World Summit for Persecuted Churches in Russia in 2015, with the organization's President Franklin Graham saying at the time that "[n]o church in modern history has suffered more than the church in Russia."
But after the anti-evangelism law was passed, BGEA postponed the summit, which was held earlier this year in Washington, D.C.
In April, the U.S Commission on International Religious Freedom recommended for the first time that the U.S. State Department designate Russia as a "country of particular concern," a designation given to nations where severe violations of religious freedom as identified in the International Religious Freedom Act are happening.
"On April 20, the Russian Supreme Court issued a ruling banning the existence of the Jehovah's Witnesses in that country. Their right to religious freedom is being eliminated thoroughly — and yet 'legally' under Russian law," the commission's 2017 annual report explains. "Russia's continued use of its 'anti-extremism' law as a tool to curtail religious freedoms is one of the reasons USCIRF has recommended for the first time that Russia be designated as a 'country of particular concern,' or CPC, under the International Religious Freedom Act for particularly severe violations of religious freedom."
As reported in August, Christians have faced the brunt of the enforcement of Russia's crackdown on evangelism and missionary activity.