Huckabee, Santorum Unite With Donald Trump at Iowa Fundraiser Raising $6M for Veterans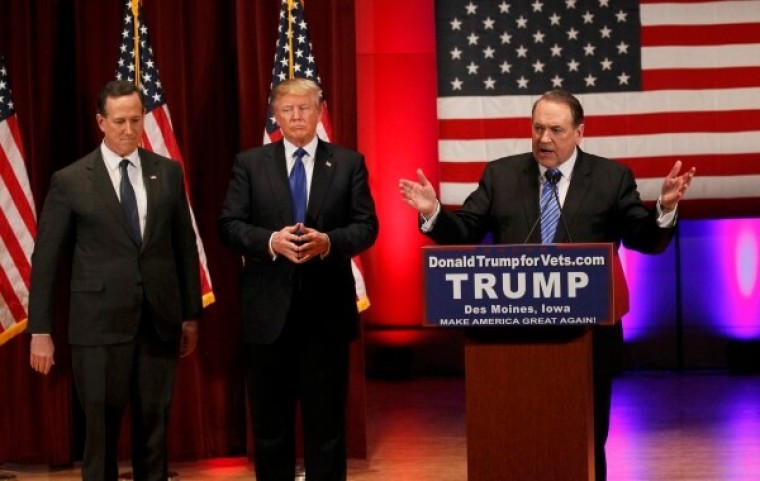 In a rare show of solidarity Donald Trump's Republican presidential rivals Mike Huckabee and Rick Santorum joined the billionaire frontrunner Thursday night at a benefit event for veterans in Iowa, which raised some $6 million for several veteran organizations.
The event held at Drake University in Des Moines, Iowa at the same time seven other Republican presidential candidates debated nearby at a Fox News event also said a lot about Trump, says Huckabee.
"Rick Santorum, Donald Trump and I may be competitors in a presidential race, but tonight, we are colleagues in unison, standing here for the people who let us breathe every breath of free air that we breathe," said Huckabee after Trump invited him to speak at the podium.
Trump who had ranted earlier against the influence of special interests on the decision making process of politicians in Washington, also vouched for both Huckabee and Santorum.
"These two are not in that category. They are the only politicians. They would never do a thing like that," said Trump.
The Republican presidential frontrunner ditched the Fox News debate — the final one before the Iowa caucuses on Monday — due to a feud with the network over alleged unfair treatment by network host Megyn Kelly.
"It says something about him that he would bring us here to his own event because bigger than even the election is the fact that we wouldn't have free elections in this country if it weren't for the people who stood between bullets, bombs, and our freedom," said Huckabee who told Trump "thank you" for the invitation.
"I want to say how grateful I am to Donald Trump for inviting us here because the easy thing for him to do is to simply ignore that anybody else cares about veterans and he is not that kind of person. I want to say thank you Donald Trump for asking Rick Santorum and me and I think he would have let any other candidates come and for reasons that maybe I don't understand they are not here," he quipped. "Some of them, well because they had a slot at 8 o'clock, I had nothing to do at 8 o'clock tonight, this worked great for me."
Santorum agreed.
"I'm supporting another candidate for president," he said to laughs. "That doesn't mean that we can't work together when it comes to helping our veterans and that's what Mike and I are here to do tonight."
At an undercard debate held before the main Fox News debate bother Santorum and Huckabee were asked why they would support an event sponsored by their rival.
Santorum said it was his best chance to get media coverage and support the veterans at the same time.
"I'm not going to attack Donald Trump. What I'm — Mike Huckabee and I were asked to come to an event where money was going to be raised to do help our veterans. You know, I thought about it," said the former Pennsylvania Senator. "And I thought about. I said well, wait a minute, now, if there were no political considerations and I had some time because I'm not doing anything at 9 tonight."
Former Virginia Gov. Jim Gilmore, who is also a former counterintelligence agent with the U.S. Army was not so supportive of his rivals.
"I'm the only veteran, Bill and Martha, in this race," said Gilmore. "And I'm not going to any Donald Trump event over across town on some sort of faux veteran sort of issue."
"I'm not about to go across town tonight to carry the coat for some billionaire," he later added.