Hundreds of NewSpring Members Sign Petition to Have Pastor Perry Noble Reinstated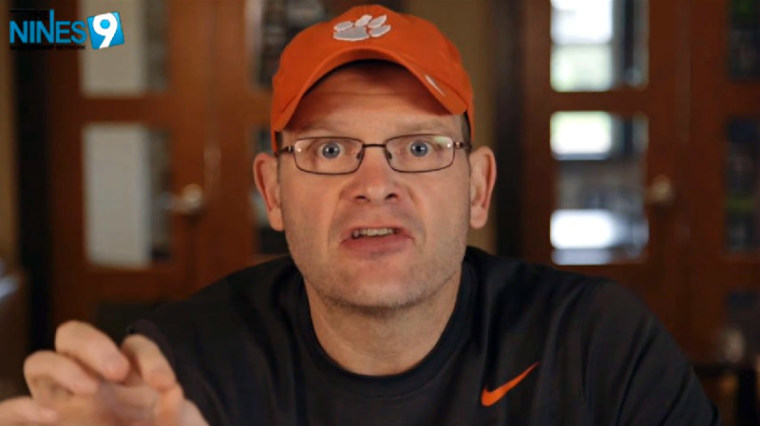 Hundreds of supporters of the popular NewSpring Church in South Carolina that announced the firing of its founding and Senior Pastor Perry Noble on Sunday, due to his alcoholism and other "unfortunate choices and decisions," launched a petition Wednesday to have him reinstated, but Noble doesn't endorse the move.
"This petition was started to show Pastor P that we, as church members, friends, family, and others are standing with and praying for him in this difficult time. We all love him and want him to get the help he needs," said the petition launched Wednesday, seeking 100,000 signatures.
"Let it also be known that once Perry Noble has conquered this storm, with God's amazing grace, we want to see him reinstated as senior pastor. No one is perfect. We are all sinners in need of God's forgiveness. Perry needs our support and our prayers. All things are possible though Christ Jesus. If you have taken the time to sign this petition thank you and God bless. Let's make Perry Noble great again!" it ended.
The petition had gathered nearly 600 signatures and attracted more than 250 comments before it was abruptly shut down perhaps due to an appeal on Facebook from Noble himself on Wednesday that if his supporters love him, they will continue supporting NewSpring.
"I've seen a couple comments on Twitter and I just wanted to address this. I've seen some comments that said, 'hey, I'm never going back to NewSpring again because they fired Perry Noble. Here's what I'm gonna ask you, if you love me, be at NewSpring this Sunday, and the next Sunday and the next Sunday. I love my church. … I fully endorse NewSpring's decision to bring Clayton King on as interim pastor. He is a great man of God," Noble said.
"For those of you saying I'm not going back, that's not the right thing to do. The leadership of NewSpring Church made the right decision. God has gotten my attention. I'm focused on getting better. I'm not bitter, I'm focused on getting better, and I pray that will be your stance as well. I'm going to get through this. We're going to get through this and I still believe that NewSpring is gonna reach 100,000 and beyond. I love all of you and I'll keep you posted on my journey," he added.
NewSpring Church Executive Pastor Shane Duffey revealed Sunday that the church made the decision to fire Noble after months of trying to help him correct his behavior.
"Over the course of several months our executive pastors met with and discussed at length with Perry these concerns regarding his personal behavior and his spiritual walk, Perry's posture towards marriage, increased reliance on alcohol and other behaviors were of continual concern. Due to this the executive pastors confronted Perry and went through the steps of dealing with sin in the church as outlined in Matthew 18," said Duffey.
"Because Perry chose not to address these ongoing issues and didn't take the necessary steps toward correcting them, he is no longer qualified as outlined in I Timothy 3 and the church's bylaws to continue as pastor of the NewSpring Church. We will continue to love Perry and his family during this difficult time. And we are committed to continue to pray for his healing. And we are also committed to providing personal support to Perry and his family in the days ahead," he added.
Many of those who signed the petition calling for Noble's return argued that the leadership of NewSpring could have elected to send the pastor on a sabbatical instead of firing him.
"Addiction is a disease. Get him treatment and give him his job back. If it were cancer, he wouldn't be fired, he would get the best treatment and keep his job. Addiction is similar to diabetes and hypertension in that they are chronic illnesses. Poor choices could have contributed to the development of these illnesses, but they are diseases nonetheless. Addiction is a brain disease that robs the sufferer of the power of choice," argued Stacy Knox of Anderson, South Carolina.
"NewSpring is sending a message that reinforces the stigma attached to addiction. NewSpring is sending a message to suffering addicts and alcoholics that they should be punished and shunned. Shame and disconnection fuel addiction but love and connection act as antidotes to addiction. Disconnecting him from his work and his people is siding with the disease. This is a victory for the enemy. I side with recovery and love," she added.
Tina Vita of Anderson also agreed, writing, "NewSpring's message is to bring the lost back and show how Jesus forgives us. NewSpring should have just recommended a leave of absence for the long period of time, so that he can get back on his feet," she said.
The Christian Post reached out to NewSpring Thursday for further comment on the situation and Suzanne Swift, chief public relations and marketing officer, said she wasn't available for an interview but noted: "We have actually been overwhelmed by the positive support of our church and encouragement for Perry as well. Everyone processes things in different ways, but the feedback we've received is so encouraging."
In his comments on Wednesday, Noble apologized again for his dependency on alcohol and said he is checking into rehab to get the help he needs.
"I wanna say to everyone at NewSpring Church that I am sorry that I allowed a dependency on alcohol. I ran to it other than Jesus for my comfort and that was wrong and I'm sorry, and I'm going to do whatever it takes to make it right. I am checking into a treatment facility and gonna work with some excellent people who are gonna really help me take my next steps. I'm serious about fighting for my wife and my daughter. And I'm serious about following Jesus," he said.
Noble who also suffers from anxiety lives with his wife, Lucretia, a medical doctor and their daughter Charisse, in Anderson, South Carolina.