Hunger Games 2 Catching Fire 2013 (VIDEO TRAILER): Release Date of First Song From Soundtrack Arrives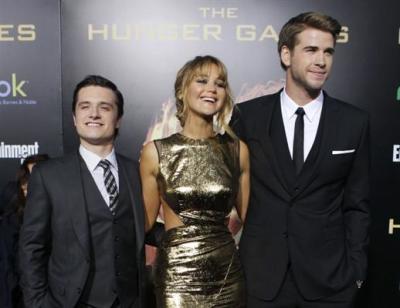 The first song of "The Hunger Games: Catching Fire" soundtrack has been released. The first single, "Atlas," sung by the British band Coldplay, sets the stage for a sequel that continues the darkness and violence of the first.
Chris Martin sings lyrics reminiscent of Panem's famous archer and Hunger Games victor Katniss Everdeen:
"Some saw the sun / Some saw the smoke / Some heard the gun / Some bent the bow / Sometimes the wise must tense for the note / Caught in the fire, say oh / We're about to explode."
Still over two months away from seeing Katniss, fellow Hunger Games winner, Peeta Melark, and close childhood friend, Gale Hawthorne, fans can hope that this lyric video satiates some desire for all things Hunger Games.
Catching Fire is a 2009 science fiction novel by American novelist Suzanne Collins, the second book in The Hunger Games trilogy.
As the sequel to the 2008 bestseller The Hunger Games, it continues the story of Katniss Everdeen and the post-apocalyptic nation of Panem. Following the events of the previous novel, a rebellion against the oppressive Capitol has begun, and Katniss and fellow tribute Peeta Mellark are forced to return to the arena in a special edition of the Hunger Games.
Tickets for the movie go on sale October 1.
Here is a video of the new song from the Hunger Games 2 sountrack, and the video trailer to preview the upcoming movie:
Check out the trailer "The Hunger Games: Catching Fire" below. The movie opens November 22.