Hurricane Matthew Tracker: Projected Path Latest Map as Possible Deaths in Haiti, Jamaica; US East Coast Remains Uncertain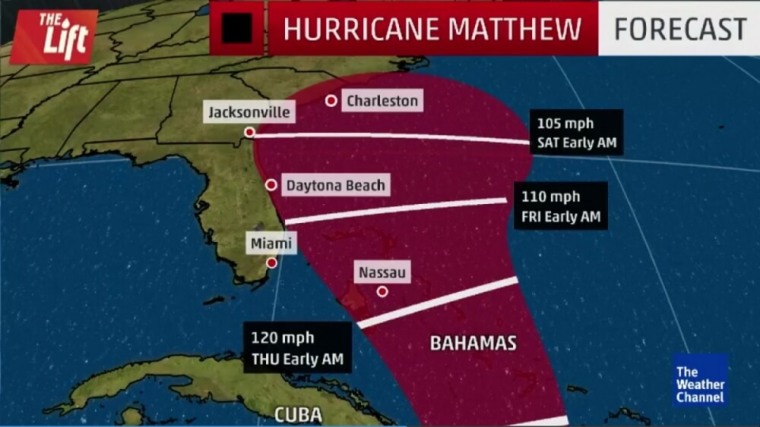 Hurricane Matthew is threatening lives with flash floods and violent winds as it heads for Haiti, Jamaica and parts of Cuba, weather reports have said, though how it will affect the U.S. East Coast remains uncertain.
The U.S. National Hurricane Center in Miami said that the Category 4 hurricane, with maximum sustained winds of 130 mph, is expected to cross over the southwestern tip of Haiti late Monday or early Tuesday, while the eastern tip of Cuba is bracing for impact on Tuesday afternoon.
Serge Barionette in the southern town of Gressier in Haiti said that the 40 inches of rain that could hit Haiti and cause massive mudslides might very well lead to a loss of life.
"Some of us will die but I pray it won't be a lot," Barionette said, according to The Associated Press.
Interim President Jocelerme Privert warned Haitians to be ready to move when officials make the call.
"To those people living in houses that could collapse, it's necessary that you leave these houses to take refuge in schools and churches," he said.
The Weather Channel noted that hurricane watches are also in effect for the Turks and Caicos Islands, the Cuban province of Camaguey, and the central Bahamas, including Long Island, Exuma, Rum Cay, San Salvador and Cat Island.
It warned that the flash floods and mudslides in particular could be "catastrophic," with southern Haiti and southwest Dominican Republic set to experience up to 40 inches of rainfall.
"Battering waves will ride atop the storm surge, and coastal flooding from large waves may begin well in advance and ahead of Matthew's center," the report warned.
"This storm surge will also limit rainfall runoff in some places, aggravating flooding, especially in coastal locations where swollen rivers cannot drain."
It is not yet clear whether parts of the U.S. will be affected by the hurricane, but trackers are monitoring the situation closely.
Experts noted that even if Matthew stays clear of the East Coast, it is still likely to cause dangerous swells, coastal flooding and beach erosion.
Parts of Jamaica have already reported flooding in some homes.
"Wherever that center passes close to would see the worst winds and that's what's projected to happen for the western tip of Haiti," said John Cangilosi, a hurricane specialist at the U.S. center.
"There is a big concern for rains there and also a big concern for storm surge."
"The center of the system is looking more likely that it will pass to the east of Jamaica but it won't miss it by that much, so they are still going to see impacts," he added. "The impacts are maybe going to be a little lower there than they would be in Haiti and eastern Cuba."
Matthew briefly reached a rare Category 5 classification late Friday evening, making it the strongest hurricane in the region since Felix in 2007.