Hurricanes, Floods, 'Satan-Influenced' Kim Jong Un All Signs Biblical Apocalypse Is Near, Exorcist Says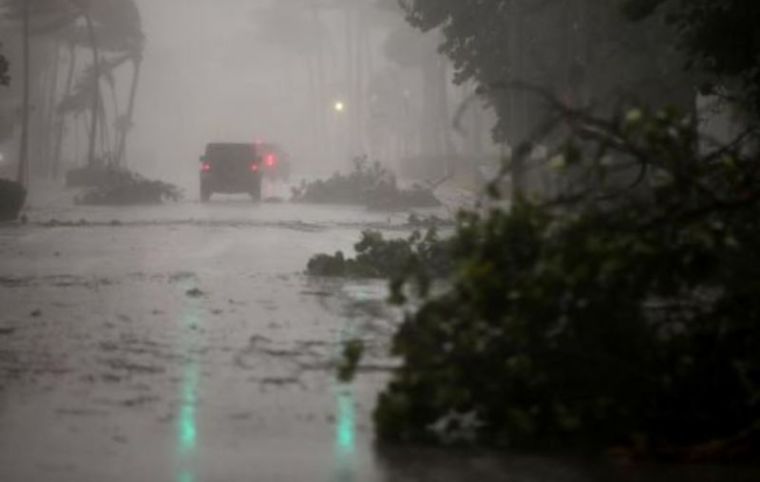 Even as hurricanes, floods and other natural calamities are resulting in deaths of hundreds of people, North Korea has conducted its longest-ever test flight of a ballistic missile, all of which point to an imminent biblical apocalypse, says one of the most famous exorcists in Italy.
"All natural disasters, such as hurricanes and earthquakes, demonstrate that the end of the world is coming," said Don Antonio Mattatelli, who is known for making public statements warning of the devil's work, according to the U.K.'s Express newspaper.
"It will not be the end of the world in general, but of this world yes," he explained. "Natural phenomena so sudden and powerful shows that, there is no confidence in the future and we have come to an end of modernity."
Don Antonio also believes the devil is behind North Korean dictator Kim Jong Un whose regime conducted a test flight of a ballistic missile Friday, sending an intermediate-range weapon hurtling over Japan into the northern Pacific Ocean.
U.S. Ambassador to the United Nations Nikki Haley warned North Korea Friday that Defense Secretary Jim Mattis could deal with the nuclear threat from Pyongyang if sanctions do not work, according to Fox News.
Talking about the limitations of sanctions, Haley said at the White House briefing that there's only so much the U.N. Security Council can do "when you cut 90 percent of the trade and 30 percent of the oil."
"So having said that, I have no problem kicking it to General Mattis because I think he has plenty of options," Haley added.
Meanwhile, the death toll from the rains and flooding of South Asia's monsoon season has risen to 1,400 people, which is nearly 20 times higher than Hurricane Harvey's death toll of 70. Affected countries include India, Pakistan, Nepal and Bangladesh, with Reuters reporting this week that besides the 1,400 people killed, thousands of others have been hit by outbreaks of diarrhea, malaria and dengue.
Several Christian groups are serving in the region.
Hurricane Irma also wrecked parts of Florida two weeks after Hurricane Harvey became the first major hurricane to hit the United States since 2005, damaging hundreds of thousands of homes and killing 70 people.
While not specifying any date, evangelist Franklin Graham recently pointed to biblical passages describing signs pointing to the End Times in the wake of the recent disasters.
"The Bible says in Luke 21:25, '... there will be signs in sun and moon and stars, and on the earth distress of nations in perplexity because of the roaring of the sea and the waves.' In Matthew 24:7 it says, 'For nation will rise against nation, and kingdom against kingdom, and there will be famines and earthquakes in various places.' These are some of the biblical signs before Christ's return," Graham wrote on Facebook.
Graham explained that he's not trying to make a prediction about the date of Christ's return, but wanted to remind people that they need to repent and confess their sins and be ready for God.
Greg Laurie, the senior pastor of the California-based megachurch Harvest Christian Fellowship, also recently wrote about the hurricanes in his personal blog.
"We had Hurricane Harvey and now Hurricane Irma. Some have called the latest, 'Irmageddon.' Add to this, we have new threats almost every day from the leader of North Korea, Kim Jong Un, to destroy us with nuclear weapons," the 64-year-old Laurie, who has previously warned that the nuclear threat of North Korea could play into biblical End Times prophecy, wrote.
"Why is God allowing all of this to happen?" Laurie asked. "Is He trying to get our attention?"
Laurie continued by explaining that asking questions like that are similar to asking questions like "Why is there suffering in the world?" or "What happens after we die?"
"These questions are not new to the 21st century or even the 20th or 19th centuries. In fact, these were questions people were effectively asking in the first century, during the time of Christ himself," Laurie wrote. "In John's gospel, Chapter 9, we find a story of a blind man who was healed by Jesus. In addition to receiving his sight, he also became a believer. We've heard that seeing is believing. But in his case, believing was seeing, because he saw things he had never seen before — not just the faces of friends and family or the beauty of God's creation."
Laurie concluded by asking the question "why are all these bad things happening?"
"Simple answer ... I don't know," he wrote. "Is God trying to get our attention with natural catastrophes and threats of war from those who want to destroy us? Perhaps."