'I Don't Talk About Race That Often Because I'm a Neurosurgeon,' Says Ben Carson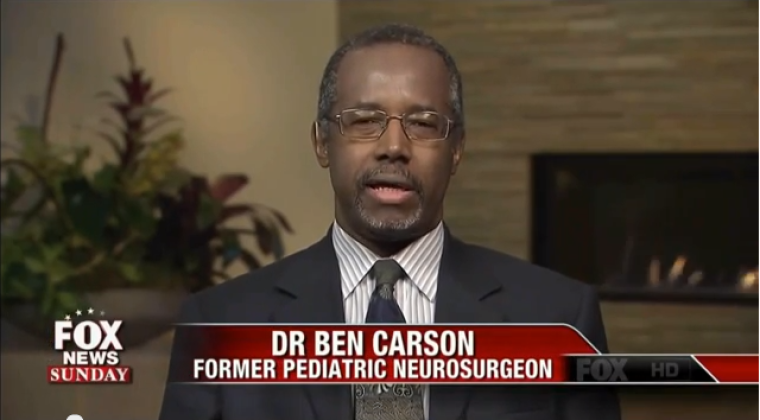 Conservative star and retired pediatric neurosurgeon, Dr. Benjamin Carson, said he doesn't talk a lot about race because his profession allows him to see people beyond skin color.
Dr. Carson made the comment in a recent discussion about President Barack Obama's reaction to the George Zimmerman trial during a segment of Fox News Sunday this week.
Responding to questions from show host Chris Wallace about calls from civil rights leaders for the Department of Justice to charge George Zimmerman with a hate crime due to public disappointment with the verdict and evidence showing that about a third of claims made under Florida's "Stand Your Ground" law are by blacks, Carson noted: "We have a tendency to overemphasize the superficial."
"You know, I was asked once by an NPR reporter why I don't talk about race that often. And I said it's because I'm a neurosurgeon. And she looked at me quite quizzically. And I said, 'You see, when I take someone to the operating room and I peel down the scalp and take off the bone flap and open the dura, I'm operating on the thing that makes the person who they are.' It's not the covering that makes them who they are," he said.
Carson, who early on during the interview acknowledge the existence of racial tensions and inequality in America, argued instead that America needs to use Trayvon Martin's death as a teaching moment.
"We need to be looking for things that we can take out of this situation that will be helpful, not things that inflame the situation," he said. "Let's tone down the rhetoric and recognize that we, the people, are not each other's enemies."
Democratic congresswoman Donna Edwards, who was also involved in the discussion, wasn't satisfied with Carson's assessment.
"But Dr. Carson, really to be clear, there really are deep systemic problems that really impact African-Americans in this system that have to be addressed and I think the president spoke to some of those," Edwards said. "And so, we can't ignore that."
"And I'm going to acknowledge like anyone else that everything is not about race but there are some things that are, and we have to acknowledge those and we have to make the systemic changes that are important to advance all of our communities so that people really can enjoy those things and the benefits, frankly, that Dr. Carson has enjoyed," she added.
In an interview with The Christian Post in March, Dr. Carson, who rose from poverty in Detroit to become one of the first neurosurgeons to separate conjoined twins in the 1980s, didn't shy away from questions about the black experience in America.
When asked what he wanted his life to symbolize, he noted: "I would like people to recognize in looking at my story that the person who has the most to do with what happens to you is you. It's not the environment, it's not the other people who were there trying to help you or trying to stop you. It's what you decide to do and how much effort you put behind it. And we need to do everything we possibly can to empower people and help people not to feel like they are victims."