If He Raises $10 Million Before Christmas Glenn Beck Says He'll Bring Syrian Christians to US Without Permission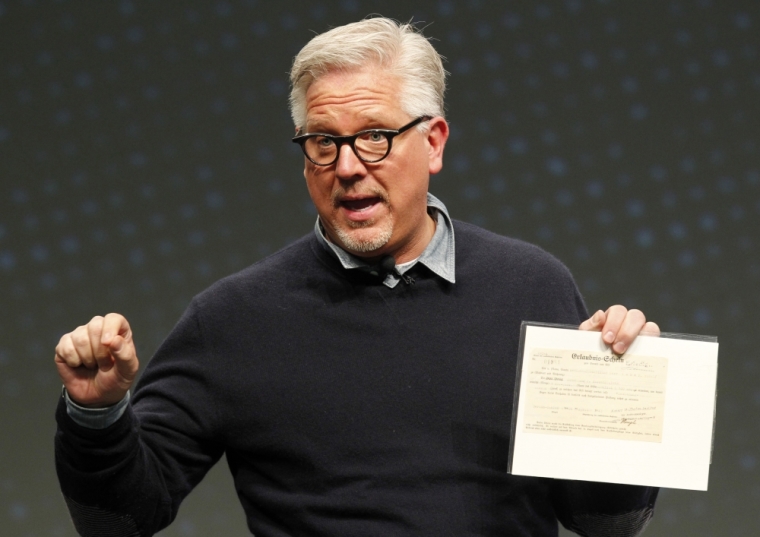 Conservative radio host Glenn Beck says if he can raise $10 million before Christmas he's willing to risk prison time to get Syrian Christian refugees into the U.S. without the requisite permission.
"Stop asking for permission! Stop thinking we need permission. … I asked if my audience could raise $10 million before Christmas to bring the Christians in from Syria. We will vet them ourselves. I have former CIA people that are going over, and they're vetting everybody right now. We can save more people by Christmas than Oscar Schindler saved, OK?" said Beck in recent interview with The Daily Caller.
"I refuse to be the church that stood and said, 'Sing louder when the trains with Jews go by.' Our churches have gone dead inside," Beck added. "I will so gladly grace a jail for the justice cause of saving people's lives. I don't need your permission at all to do the right thing! That's who we need to be now! Forget about Washington! You don't need permission to do the right thing."
Last Thursday White House Press Secretary Josh Earnest said the Obama administration would increase the number of Syrian refugees admitted into the U.S. from fewer than 2,000 this year to at least 10,000 in the fiscal year beginning in October. He said this would happen while the administration continued to examine responses to the refugee crisis that has recently overwhelmed Europe.
Despite Beck's support, however, high profile Christian Americans like retired neurosurgeon and 2016 GOP presidential candidate Ben Carson, who is currently nipping at the heels of frontrunner Donald Trump, has expressed reservation about accepting Syrian refugees.
Pointing to Tamerlan and Dzokhar Tsarnaev, the immigrant brothers who came to the U.S. in 2002 and a decade later organized a bombing at the Boston Marathon, Carson said the U.S. had not substantively improved how it vets immigrants like the brothers who came as refugees from Kyrgyzstan.
"How did that screening process work for the Tsarnaev Brothers?" Carson told CNN's John Berman on "The Lead." "We don't know who those people are, and the majority of them are young males, and they could easily be people who could be infiltrated by terrorists."
He noted that it was all too easy for Islamic militants to take advantage of the relaxed standards for refugees.
"If I was ISIS, if I were the global jihadists, and I knew the United States was about to take in 10,000 or 65,000 or 100,000 people from my region, I would infiltrate them with my people," he said.
Beck, however, feels the Christian refugees must find haven in the U.S.
"The State Department won't let them in? Really? Because I know some bridges over a river in Texas [where] that doesn't seem to matter," he said.