Ilhan Omar to speak at religious freedom event after being removed from speaker list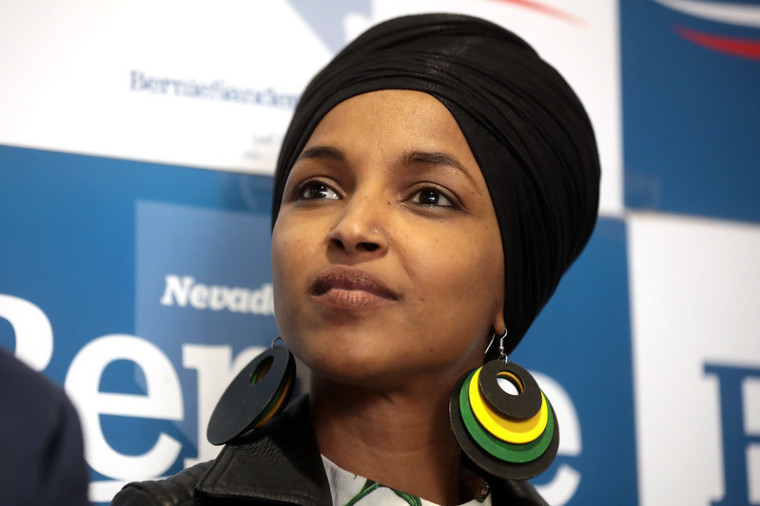 Democratic Rep. Ilhan Omar's name has been removed from a list of speakers for an upcoming religious freedom event to be held by the top U.S. religious freedom watchdog committee. But her office insists she still plans to participate despite a history of inflammatory remarks about Israel and Jews. 
Originally scheduled for Tuesday, the U.S. Commission on International Religious Freedom rescheduled the release of its 2023 Annual Report for next Monday. USCIRF is a congressionally mandated bipartisan oversight body that advises the U.S. State Department on religious freedom matters. 
Its annual report includes documentation of global religious freedom violations within the past year and provides recommendations for how the U.S. government can deter religious persecution abroad.
The event will be moderated by former U.S. Ambassador-at-Large for International Religious Freedom and former USCIRF Commissioner Rabbi David Saperstein. USCIRF Chair Nury Turkel and USCIRF Vice Chair Rabbi Abraham Cooper, the Global Social Action Agenda director at the Simon Wiesenthal Center, are scheduled to deliver the event's opening remarks.
A press release sent to The Christian Post states that the event was initially planned for April 25, which lined up with the day Israel celebrates Yom Hazikaron as a memorial day for fallen soldiers and victims of terrorism. It was to be held as an in-person event at the U.S. Capitol Visitor Center.
The list of speakers scheduled to deliver opening remarks at the event included Rep. Omar of Minnesota, Sen. Marco Rubio, R-Fla., and Rep. Jim McGovern, D-Mass. 
Although Omar, Rubio and McGovern are no longer listed on USCIRF's updated press advisory, all members of Congress are still invited to speak at the May 1 event.  
"We had a change in date to May 1, 2023," a USCIRF spokesperson told CP in a statement. "This event is being held virtually and we invite all members of Congress to provide remarks, as they wish, for USCIRF's annual report rollout.
Jeremy Slevin, a senior advisor to Omar, a Muslim woman born in Somalia, said reports that she will no longer speak at the event are "false." 
"Sorry to burst your bubble, but this story is completely false," he told Jewish News Syndicate. "Rep. Omar will be delivering virtual remarks at the event, just like Sen. Rubio."
Omar's office did not immediately respond to CP's request for comment. 
As CP reported, Omar has openly advocated for the Boycott, Divestment and Sanctions, or BDS movement, an international effort that urges people to boycott Israeli products in an attempt to disrupt Israel's economy. The movement is based on the idea that Israel's policies are similar to apartheid in South Africa. 
"They argue that the same boycott and isolation tactics used to help dismantle the South African White minority government should be used against Israel in order to force it to change its policies towards the Palestinians," the Anti-Defamation League wrote about BDS in May 2022.
"In practice, the global BDS movement doesn't seek to create a Palestinian state but rather aims to dismantle the Jewish state and end the right to Jewish national self-determination on any portion of this contested land." 
Omar also received criticism in 2019 for a 2012 tweet that stated: "Israel has hypnotized the world, may Allah awaken the people and help them see the evil doings of Israel." The congresswoman later claimed that "unfortunate words were the only words" she could "think about expressing at that moment."
The Democrat apologized after being accused of making an anti-Semitic statement in a 2019 tweet that implied that the American Israel Public Affairs Committee (AIPAC) used money to bribe American politicians to support Israel. Then-House Speaker Nancy Pelosi and other Democratic leaders called on Omar to apologize for peddling an anti-Semitic trope about Jewish people and money.
"Anti-Semitism is real and I am grateful for Jewish allies and colleagues who are educating me on the painful history of anti-Semitic tropes," the congresswoman said at the time. "My intention is never to offend my constituents or Jewish Americans as a whole. We have to always be willing to step back and think through criticism, just as I expect people to hear me when others attack me for my identity. This is why I unequivocally apologize." 
However, Omar stood by her comments about AIPAC and what she perceives to be the "problematic role of lobbyists in our politics." 
The April 25 date of the originally scheduled USCIRF event is also a day of national remembrance in Israel for those who lost their lives defending the state of Israel or people who were victims of terror known as Yom Hazikaron. On this day, Israeli people stop their cars in the middle of the road to stand in remembrance or stop working to spend a minute in respectful silence for the fallen.