'I'm Done' If Gay Amendment Included in Immigration Reform Bill, Says Marco Rubio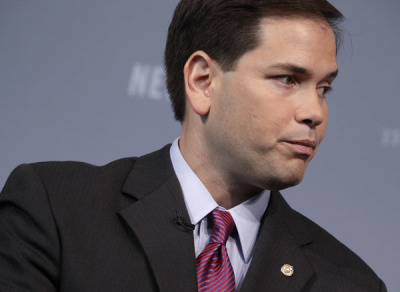 Sen. Marco Rubio (R-Fla.), who helped draft the immigration reform bill currently being discussed in the Senate, says he will walk away from the negotiations if it includes a controversial amendment to provide immigration benefits for gay couples.
"If this bill has in it something that gives gay couples immigration rights and so forth, it kills the bill. I'm done," said Rubio during an interview on the Andrea Tantaros Show on Thursday. "I'm off it, and I've said that repeatedly. I don't think that's going to happen and it shouldn't happen. This is already a difficult enough issue as it is."
On Tuesday, Senate Judiciary Committee Chairman, Sen. Patrick Leahy (D-Vt.) decided to file the amendment that would allow gay couples to sponsor green cards for their foreign partners as part of the immigration reform bill.
He was forced to withdraw the measure last month when several Democrats told him they would oppose it if it threatened the overall passage of the bill.
In filing the measure that has little chance of passing on the Senate floor, however, Leahy declared that the fight for equality was the right thing to do.
"Seeking equal protection under our laws for the LGBT community is the right thing to do," he said in a statement. "I withheld my anti-discrimination amendment during the Senate Judiciary Committee markup. As the entire Senate turns to debate the immigration bill, the fight for equality must go on."
While he supports same-sex marriages, left-leaning evangelical leader Jim Wallis, agreed last month that entangling gay rights issues in the immigration reform discussion is a bad idea.
"I support equal protection under the law but I think this is the wrong place in the wrong time to try and resolve this contentious issue. This must be a bipartisan bill. Our focus must be on the 11 million undocumented and vulnerable people who this is their time, their chance, this is their moment," said Wallis, president and CEO of Sojourners.
The amendment is expected to face a much more difficult road in passing on the Senate floor than it would have faced in the committee.
Passing the measure in the committee only required a simple majority. On the Senate floor, however, it is likely to require 60 votes.
During the debate of the measure in the committee last month, Sen. Lindsay Graham (R-S.C.), a gang of eight member who helped craft the bill, noted: "You've got me on immigration. You don't have me on marriage. If you want to keep me on immigration, let's stay on immigration."
In his remarks, another gang of eight member, Sen. Chuck Schumer (D-N.Y.), noted during the same debate: "As much as it pains me, I cannot support this amendment if it will bring down the bill."
A Supreme Court ruling on the Defense of Marriage Act expected later this month could enable gay couples to petition green cards for their foreign partners.