African Immigrant Arrested in Rome for Vandalizing Churches, Ripping Crucifix Off Wall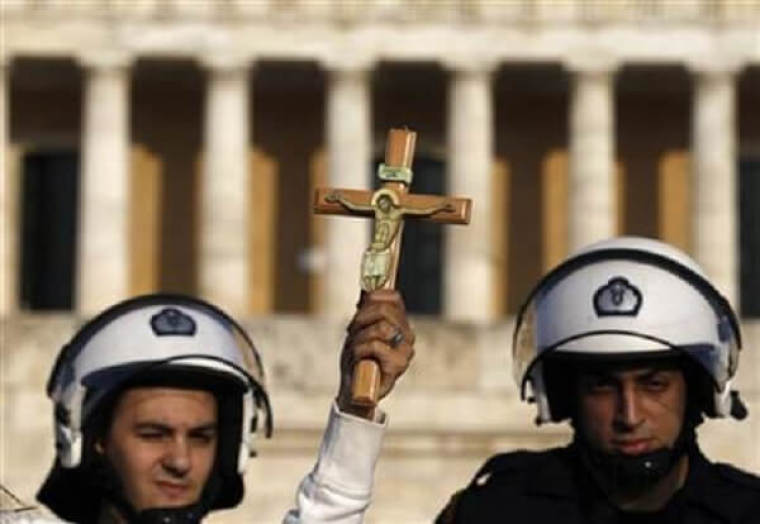 A 39-year-old Ghanaian immigrant has been arrested by Italian police following a rampage on four churches in Rome this past weekend, where he demolished several Christian icons, and even tried to destroy a crucifix, before he was stopped by a priest.
Police are still investigating the motive behind the attack, Breitbart News reported, which began Friday evening at the Church of San Martino ai Monti, where the man broke a statue.
The suspect then went to the ancient Basilica of Santa Prassede, where he demolished several more statues of saints, purposefully smashing them to the ground and stamping on them.
He then ripped a large crucifix from the wall and was preparing to destroy it, when he was stopped by Father Pedro Savelli, rector of the Basilica, who grabbed him by the leg.
"At least I managed to stop him from doing that," Savelli said.
The "frenzied" attack reportedly scatted pilgrims that had come to the church.
The priest said he didn't know why the man targeted houses of worship, but said that he was "unbalanced."
"I don't know if he was a terrorist, but there was certainly a huge lack of respect for religion, a very serious action," he said.
Savelli told Crux in an interview that the Ghanaian man was screaming that this was "a wrong way of using the statues with the children."
Crux noted that the church was commissioned by Pope Hadrian I around the year 780, and houses the remains of Saint Prazedes and her sister Saint Pudentiana, who were murdered for providing Christian burials for early martyrs in defiance of Roman law.
The suspect continued his rampage and vandalized two other churches, namely San Vitale and the Church of San Giovanni dei Fiorentini in Piazza d'Oro, destroying several other precious statues.
He was finally arrested by police in Rome's historic district and charged with vandalism with the aggravating circumstance of religious hatred.
While the immigrant's religion was not disclosed, Christian churches across Europe remain on alert following a deadly attack by Islamic State terrorist sympathizers on a French church on July 26 when two teenagers slit the throat of Father Jacques Hamel at the Church of Saint-Etienne-du-Rouvray near Rouen, murdering the priest during a morning mass.
IS members celebrated the killing, and warned that other Christian churches across Europe will also be attacked.
The murder prompted the condemnation of Roman Catholic leader Pope Francis, who said he was "particularly shaken by this act of violence that took place in a church, during the celebration of mass, a liturgical act that implores God for peace on this Earth," and asked God to "inspire all to thoughts of reconciliation and brotherhood."