'Imprisoned' Palestinian Christians Down to Last 1,000 in Gaza; Priest Pleads for Prayers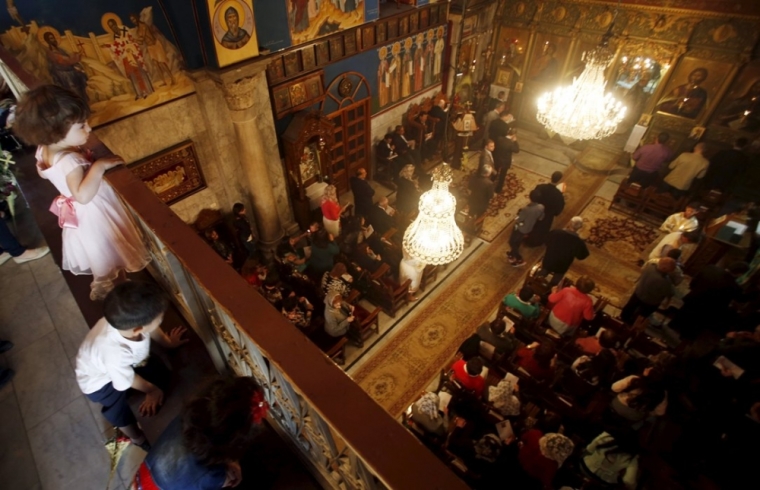 A Roman Catholic priest in the Gaza Strip has said that the Christian population there has dwindled to its last 1,000 inhabitants, and he's asking the global Church to pray for them as believers face threats from Islamic radicals and harsh living conditions.
Gazans "live like it's an open air prison since we can't leave. We can't visit relatives, look for work, medicine or good hospitals on the outside," Fr. Mario da Silva told ACI Prensa, according to a translation by the Catholic News Agency on Tuesday.
The Christian population in the troubled region has been rapidly declining, down from 4,500 six years ago, the priest said.
With Gaza being ruled by the Islamist movement Hamas, Egypt and Israel have imposed an economic blockade, leaving many of the 1.8 million inhabitants without basic necessities and the means to support themselves.
Silva explained that many Gazans are unemployed; have only three hours of electricity a day; and face a shortage of drinking water.
"It's really a prison. People don't have any money and the situation is terrible. There is widespread poverty," the priest said.
Although they face travel restrictions, many Christians have left never to return when given annual permits to visit holy places on Easter and Christmas.
He noted that while Christians do not typically experience persecution from the local Muslims, fear is growing due to the rise of the Islamic State terror group and its attacks in Egypt in Sinai.
"There have already been threats. There is also fear of the Salafist groups who are coming in from the south," Silva said.
"In fact, when we have problems with Muslims who want to do something against the church, we've asked the government to protect us and they have done so," he added.
The priest noted that several Catholic groups are working in the region to try and help Christians stay in Gaza.
"We're doing two things: first, preaching Christ and the importance of Christians in the Holy Land; preaching the importance of forgiveness and of carrying the cross is what we most try to do," he explained.
The groups also offer material assistance and aid, he said.
"For example, with the help of institutions such as the Pontifical Mission or the Latin Patriarchate of Jerusalem, the Church tries to give work to more than 30 young people so they won't leave, because they are mainly the ones who leave."
The recent Easter celebrations gave believers joy in the knowledge of the risen Savior, despite all they are going through, Silva added.
"Pray much for this, which is what we mainly ask for, because only God can change the situation we're going through in these countries here in the Middle East," he said.
Others, including Bishop Oscar Cantu of Las Cruces, New Mexico, have also warned that there has been a huge drop in the number of Christians in Gaza, as the Israel-Palestine conflict remains without a resolution.
He estimated that only 130 Roman Catholic parishioners remain in the area, down from 1,700 not too long ago.
"The numbers of Christians in Gaza is dropping precipitously. It is just sad to hear, because obviously there is little to no opportunity for young people. There is little encouragement for them to stay," Cantu said in January.
Archbishop Stephen Brislin of Cape Town, South Africa, admitted that it's understandable why many young people are leaving.
"The young people feel they must decide between staying in Gaza or leaving to find schools and jobs in other parts of the world," Brislin said back then.
"This affects the Christian community. The young people who stay in Gaza are the real heroes. They are willing to sacrifice in order to create families and Christian life in Gaza."