In Harvey Aftermath, Houston Begins Slow Recovery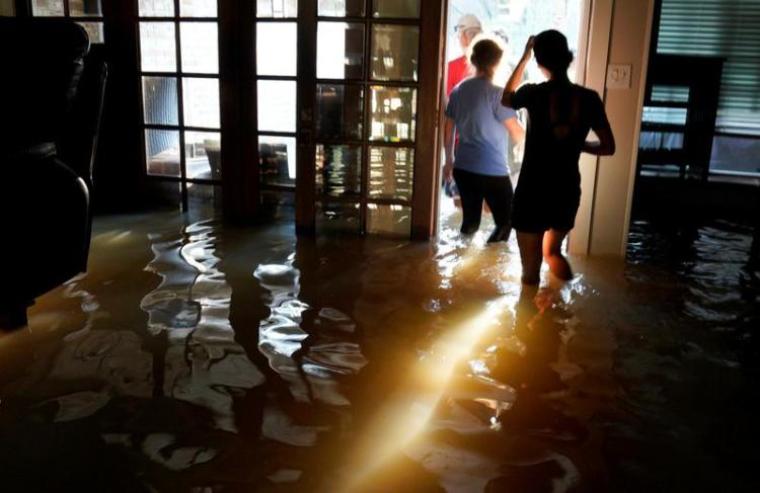 As water levels receded and search teams began checking abandoned homes for victims, Houston began a grim cleanup on Thursday and businesses began to reopen for the first time since Hurricane Harvey hit last weekend.
Previously flooded streets were lined with water-damaged furniture and roads filled with vehicles as residents went hunting for cleaning supplies, insurance estimates and repair help.
"It's a bit overwhelming," said John Becker as he salvaged personal items and hauled water-logged sheetrock from his home amid the hum of dehumidifiers and fans. Water that had reached 8 inches (20 cm) inside had ebbed. "We have flood insurance; we'll do the best of it."
Record rains and flooding from Harvey spread misery across a broad swath of the Houston metropolitan area of about 6.5 million people. Thursday brought a sense of it coming slowly back to life, however, with the city's airports all operating again and the resumption of at least some public transportation services.
United began flying out of Houston's Bush Intercontinental late on Wednesday and American Airlines restarted flights from Hobby airport Thursday morning.
Metro, which operates the city's bus and rail services, resumed limited operations on 21 bus and one rail line routes responsible for carrying about half of its daily passengers, said spokeswoman Tracey Jackson.
The storm dumped as much as 50 inches (1.3 meters) of rain over four days in some parts of metropolitan Houston before the sun appeared on Wednesday. At one point early in the week, 10 percent to 15 percent of Harris County which includes Houston was underwater, officials said.
Houston hospitals were phasing in more services. Harris Health System said speciality clinics at its Ben Taub hospital would resume normal hours beginning Friday. M.D. Anderson Cancer Center was running "limited outpatient operations," it said via Twitter on Thursday.
The county's confirmed death toll from the storm reached 18 on Thursday and at least another eight deaths were being investigated as storm-related.
Most of Houston's larger employers and schools will remain closed through the Labor Day holiday weekend. The transit restart and clear roads in many areas of the city encouraged businesses and banks to open their doors.
The Children's Museum of Houston also reopened Thursday and expects about 1,000 visitors, said Executive Director Tammie Kahn. The museum sits on a working rail route and recalled staff to provide a respite for families and kids housed in emergency shelters.
"We turned people away from the door yesterday because we were not open," said Kahn. The museum is free to children from emergency shelters, and decided to reopen with the start of mass transit. "We did this during (Hurricane) Katrina. It's a great benefit and deeply appreciated," she said.
Regional power companies continued to reduce the number of homes without power. Electric service providers from Corpus Christi to Louisiana reported 200,000 homes and businesses were dark on Thursday, down from more than 300,000 customers at the peak, according to data from AEP, Entergy, Centerpoint Energy and TNMP.