Indiana Installs 'Safe Haven' Baby Boxes for Mothers to Abandon Newborns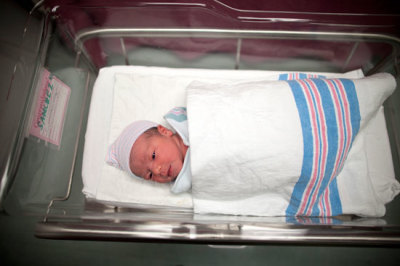 Indiana has installed two "Safe Haven" baby boxes to allow mothers to anonymously drop their unwanted newborns off with no questions asked.
The two padded, climate-controlled boxes have been installed at fire stations in Woodburn and in Michigan City, according to NBC, which says as soon as the baby box is open, a call is immediately placed to 911, and fire and medical personnel are dispatched to the scene.
Safe haven laws are in place across the country, decriminalizing abandonment of unharmed infants at sanctioned places. While they are meant to reduce the incidence of infanticide and abandonment in dangerous situations, some critics fear such facilities could encourage abandonment as parents may not consider other options.
Monica Kelsey, a volunteer at Woodburn Volunteer Fire Department, is behind the creation of the two boxes in Indiana. "I was abandoned as an infant back in 1973, so I've always been very close to the safe haven law," she was quoted as saying.
Many more outposts are planned with the Catholic group Knights of Columbus committed to paying for the first 100, according to AOL. Each baby box costs about $2,000.
In a report last year, the U.S. State Department urged states to instead educate mothers about existing safe haven laws. In Indiana, mothers are already allowed to drop off unwanted babies at fire stations, hospitals and police stations.
In 2013, a documentary film about a South Korean pastor who takes in and raises unwanted babies dropped in a box at his house in Seoul, South Korea, won the top prize – the "Best of Festival" Jubilee Award at the 8th annual San Antonio Independent Christian Film Festival.
Directed by 22-year-old Brian Ivie from Orange County, California, the film is about Pastor Lee Jong-rak's efforts to use a drop box – built like a depository – to accept unwanted babies who are physically or mentally handicapped, or are just unwanted by their unwed mothers. Pastor Lee is the leader of Jusarang Community Church in Seoul, South Korea, the city in which the drop box is located.
In his acceptance speech, Ivie said, "These kids are not mistakes. They are important. I became a Christian while making this movie. When I started to make it and I saw all these kids come through the drop box – it was like a flash from heaven, just like these kids with disabilities had crooked bodies, I have a crooked soul. And God loves me still. When it comes to this sanctity of life issue, we must realize that that faith in God is the only refuge for people who are deemed unnecessary. This world is so much about self-reliance, self-worth, and self-esteem. It's a total illusion that we can be self-sufficient. Christ is the only thing that enables us."