Atheists Behind Indiana School's Ban of Student-Led Prayer at Kindergarten Graduations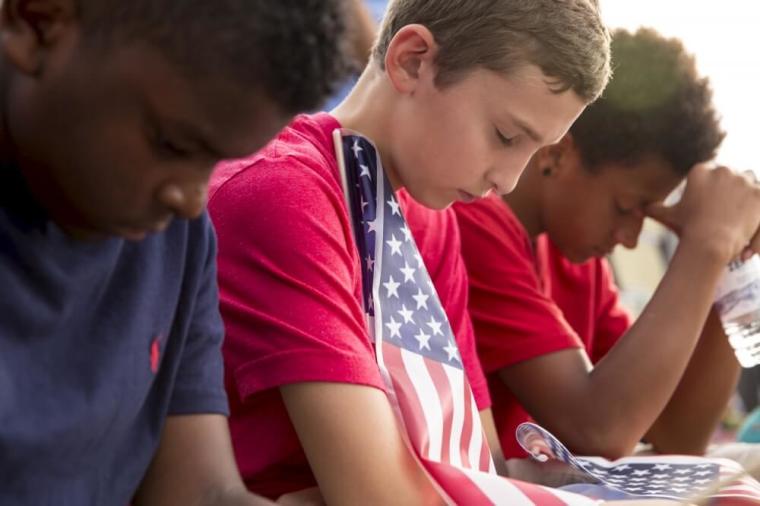 At the urging of America's largest secular legal organization, a public elementary school will no longer allow prayer during its kindergarten graduation ceremonies.
Springs Valley Elementary School in French Lick, Indiana, drew the ire of the Wisconsin-based Freedom From Religion Foundation after it's kindergarten graduation ceremony last May included a prayer offered by a 5 or 6-year-old student. The ceremony include an invocation and a designated time for prayer was listed on the ceremony program.
After the ceremony, a parent who was upset that the event included a prayer alerted FFRF. In August, FFRF legal fellow Ryan Jayne sent a letter to Springs Valley Community Schools Superintendent Tony Whitaker, arguing that the school had committed a "constitutional violation."
"Including religious rituals, such as prayer, in school-sponsored functions shows school endorsement of religion, which violates the Establishment Clause of the First Amendment to the U.S. Constitution," Jayne said in the letter.
"The Supreme Court has continually struck down prayers at school-sponsored events, including public school graduations," Jayne continued, arguing that it is a "settled matter" that public school graduations must remain "secular."
Jayne cited the 1992 case of Lee v. Weisman, where the Supreme Court ruled that schools cannot sponsor clergy to come to the school and conduct prayer. Jayne also cited the 1962 case of Engel v. Vitale, which ruled that school officials may not compose an official school prayer. Jayne additionally cited the 1963 case of Abington v. Schempp, where the Supreme Court declared school-sponsored Bible reading to be unconstitutional.
Finally, Jayne cited the 2000 case of Santa Fe Independent School District v. Doe, where the Supreme Court ruled that any kind of policy permitting student-initiated prayer at school football games is unconstitutional.
"The courts have continually reaffirmed that the rights of minorities are protected by the Constitution," Jayne wrote. "It makes no difference how many students or parents want prayer, or would not be offended by prayer, at their graduation ceremony."
Jayne concluded by contending that "it is coercive and inappropriate" for the school to have a student-led prayer. And said it is "especially egregious when the prayer is delivered to a captive group of impressionable school children as young as 5 years old."
Jayne asked the school district to inform FFRF in writing of how it plans to alleviate the organization's concerns.
In a letter dated Sept. 8, Whitaker replied to Jayne's letter by stating that the school district will comply with FFRF's demands.
"Springs Valley School Corporation will eliminate from any future kindergarten graduation ceremonies the section on prayer and will not allow any prayer at the graduation," Whitaker's letter reads.
Now that the school district is seemingly banning "any prayer" from its graduation ceremonies, it should be noted that courts and the federal government have ruled in the past that if a student is selected to speak at a ceremony and offers a prayer or religious sentiment as part of his or her speech, then that is not a violation of the Constitution as long as the student wasn't urged by school officials to express religious views.
According to a 2003 guidance issued by the Department of Education, school authorities may not "structure or administer such rules to discriminate against student prayer or religious speech."
"For instance, where schools permit student expression on the basis of genuinely neutral criteria and students retain primary control over the content of their expression, the speech of students who choose to express themselves through religious means such as prayer is not attributable to the state and therefore may not be restricted because of its religious content," the guidance says. "Student remarks are not attributable to the state simply because they are delivered in a public setting or to a public audience."
"As the Supreme Court has explained: 'The proposition that schools do not endorse everything they fail to censor is not complicated,' and the Constitution mandates neutrality rather than hostility toward privately initiated religious expression," the guidance continued.