Indiana Woman Marries Jesus Christ, Says 'There May Be Others That the Lord Is Calling'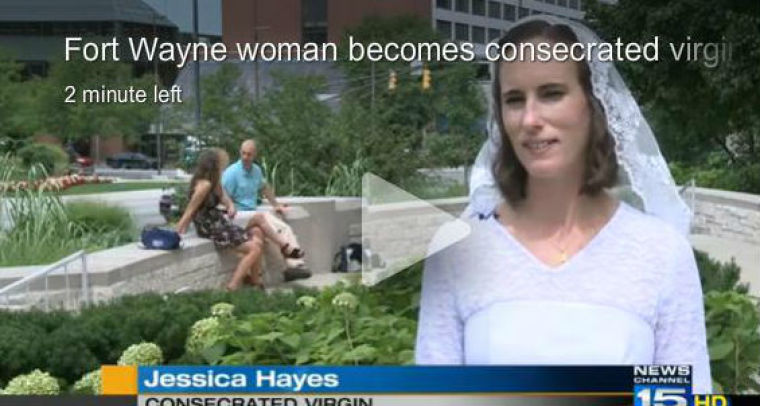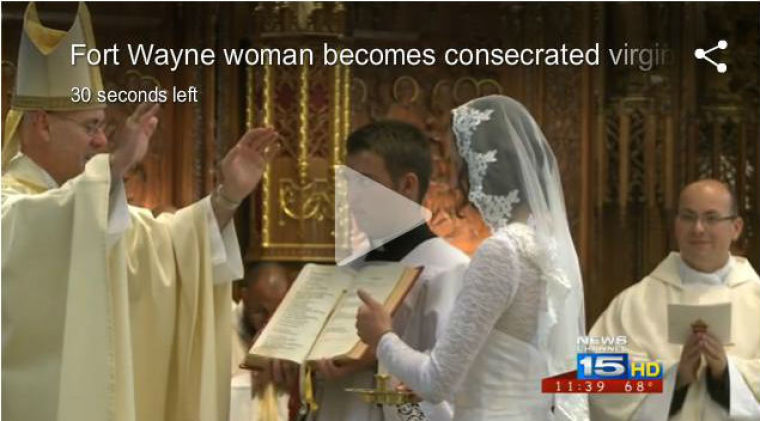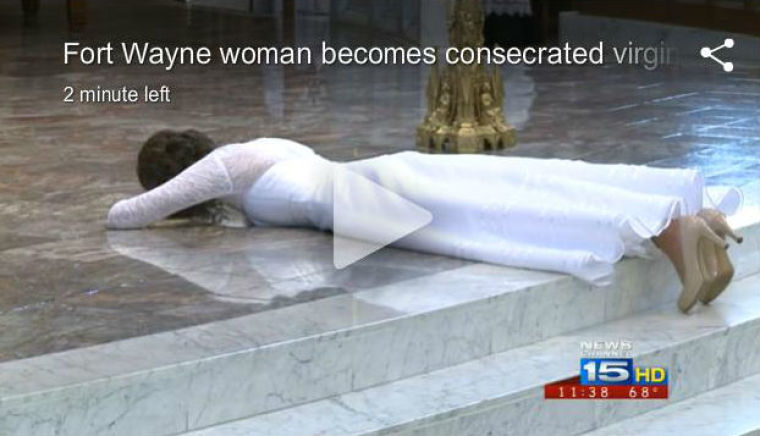 View Photos
A woman who married Jesus Christ in Indiana last Saturday, pledging to live in celibacy for the rest of her life, became the first consecrated virgin in the Diocese of Fort Wayne-South Bend in 25 years and she hopes her wedding can act as an inspiration for single women who may have a desire for marriage.
Jessica Hayes, a 38-year-old theology teacher from Fort Wayne, had always wanted to commit her life more fully to the church and said that after years of soul searching, she felt called to marry the love of her life, Jesus.
On Aug. 15, the beaming bride, dressed in a white floor-length wedding gown complete with a veil, tied the knot in a ceremony witnessed by hundreds at the Cathedral of the Immaculate Conception.
"Many people that I don't even know were here to see that [the consecrated life] is a beautiful part of our faith and that was really wonderful to see," a thrilled Hayes told Wane.com. "[I'm] the first consecrated virgin that we've had in 25 years, so many Catholics in the area have not heard of this particular vocation.
She added: "In other parts of the country and in other countries there are more, there's over 200 in the U.S., but it's a lesser known vocation. And so I'm so happy as to have had so many witnesses today because there may be others that the Lord is calling in this way that have now heard of this life and can consider it in their prayer."
The wedding was conducted by Bishop Kevin C. Rhoades, who at one point took the traditional role of the groom by placing a ring on Hayes' wedding finger. He also presented her with a veil and a book containing The Liturgy of the Hours after saying the official prayer of consecration to complete the ceremony.
"Receive the ring that marks you as a bride of Christ," Rhoades told a kneeling Hayes. "Keep unstained your fidelity to your Bridegroom, that you may one day be admitted to the wedding feast of everlasting joy."
In a statement to The Christian Post, Bishop Rhoades congratulated Hayes on embracing what he described as a "beautiful" vocation which dates back to "apostolic times."
"I look forward with joyful anticipation to the consecration of Jessica Hayes to a life of virginity ... the Solemnity of the Assumption of the Blessed Virgin Mary, in our Cathedral of the Immaculate Conception," he said.
"This will be a day of joy for me and our whole diocese as Jessica embraces this beautiful vocation that goes back to apostolic times. Jessica's consecration is a gift of God's grace that will be a wonderful witness to others of love for Jesus. I am deeply grateful to Jessica for answering the Lord's call as I expect her life of prayer and service of the Church will bear much good fruit for the Church in our diocese."
Hayes began exploring the idea of consecrated life after the 2012 funeral of Sister M. Jane Carew, O.V., a former nun who left the community to be consecrated on Dec. 8, 1990. She was the last consecrated virgin living in the Diocese of Fort Wayne-South Bend prior to Hayes.
As a consecrated virgin, Hayes is required to not have "knowing and deliberately" had sexual relations at any point in her life. She will keep her name, live in her own home and can never marry a man and shortly after the ceremony, the new bride said that she now feels more content than ever.
"I had been praying about it for years, trying to seek God's will for my life and not really finding it in any of the paths that I sought before," she shared. "It was really a consideration of which things brought me the most joy and where my greatest happiness was."
"It seemed that all of those loves converged on this one thing where I could still be living in the world and be a part of the lives of my students and be studying and teaching and involved in a parish life, but I could also give myself more completely by making this total commitment of my life to serve the church in whatever capacity is needed and whatever capacity my own gifts are available for."
While for some, Hayes' marriage to Jesus might sound unusual, there were many traditional aspects to the wedding, such as the preparation process. The Bishop Dwenger High School teacher spent years searching for the perfect dress.
"I've seen so many wedding dresses over the years that I think I've probably changed my mind very many times. I had to really consider the appropriateness of the occasion for my dress," she said. "I wanted my shoulders to be covered, and I would have to lie prostrate before the altar, so I really wanted to make sure that I was well-covered in a way that still shows the beauty of a bride."
Hayes is among more than 200 consecrated virgins in the U.S. and she is one of 3,000 around the world. She said that consecrated life is different from a nun's life in the convent because a consecrated virgin is still permitted to live in the world.
"There has been a lot of confusion just because it is lesser known … we're all different and we're happy in different ways," said Hayes, who has advised her students to continue calling her Ms. and not Mrs. "This is a vocation for women that feel that deeper call to spend their life more in knowing Jesus and making that a public commitment in serving his church, but are also called to live in the world."