Inside the Houston Church Barbara Bush Attended and Where Her Funeral Took Place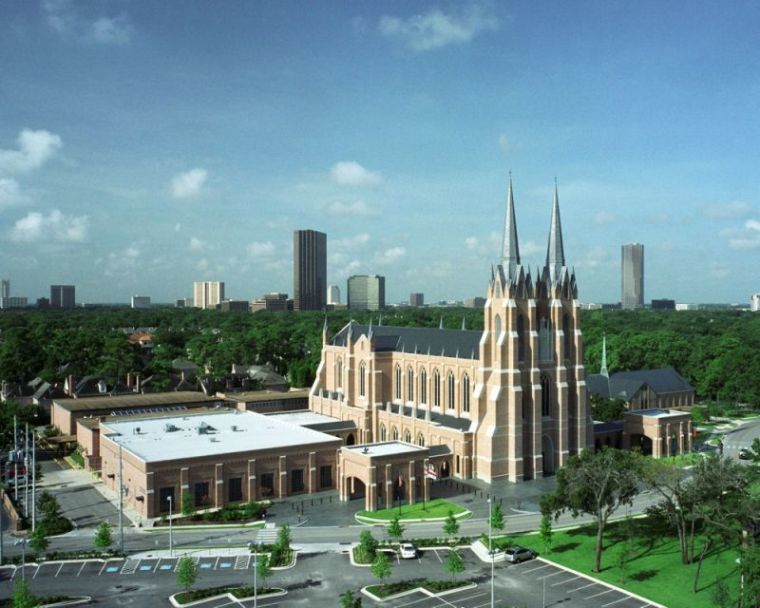 Barbara Bush's funeral Saturday put the church she attended in the international spotlight.
Bush, the wife and mother of presidents, was a cradle Episcopalian. Together with her husband, George H.W. Bush, she attended St. Martin's in Houston for decades.
The casual observer watching the funeral on television may have thought St. Martin's was a cathedral, perhaps because of the soaring architecture. While not a cathedral, it is the country's largest Episcopalian congregation.
Between having 9,100 communicants on the parish rolls and 12 clergymen working under its rector, the Rev. Dr. Russell Levenson, it is comparable to an evangelical mega-church.
It's also one of the last vestiges of an era when the Episcopal Church was called, at least by some, the Republican Party at Prayer. Today, St. Martin's maintains church doctrine on the issue of marriage at a time when the U.S. branch of the Anglican Communion has been engulfed in endless controversy and schisms over gay marriage and LGBTQ inclusion.
Despite the old-school architecture St. Martin's is actually relatively new, having been founded in 1952.
In the ensuing decades the congregation grew to the point where it could afford its present-day building, which opened for worship on Easter Sunday in 2004.
Houston architectural firm Jackson & Ryan used the 13th century Gothic architecture of St. Elizabeth's Church in Marburg, Germany, as inspiration for the exterior. But unlike its muse, which was built in sandstone, St. Martin's is of brick construction. Still, the twin-towered west front and seemingly endless number of pinnacles are clear imitations of St. Elizabeth's.
Yet there is something that it makes it more Disney than medieval Gothic or even the Gothic Revival of Victorian-era architects George Gilbert Scott and A.W.N. Pugin. It isn't that brick can't be Gothic, as there are plenty of brick Gothic examples in Europe.
In some ways it reminds me of late 18th century or early 19th century buildings, both churches and secular, which used rudimentary elements of Gothic — namely a pointed arch — as fanciful decoration and ornamentation without concern for authenticity in style or construction. This is particularly true of the dozen or so other buildings on the grounds of St. Martin's, a college-like campus, which feature buttresses and arched windows that serve no structural purpose.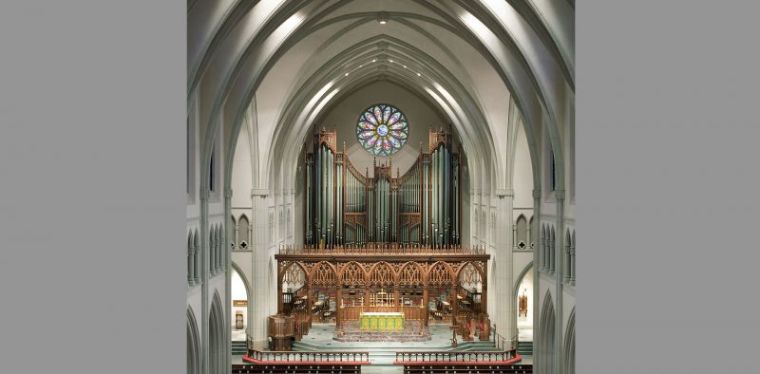 The cruciform-shaped St. Martin's has an interior with aisles on each side of the nave, blind arcades, north and south transepts and a carved screen that noticeably lacks a rood cross. There also deviations that reveal the church is much newer than the architectural style it seeks to imitate.
The space behind the screen, generally called the quire, doesn't lead to a high altar at the east end. Instead, there is tiered seating for choristers in front of a 40-foot-tall organ case. Projecting from the quire through the screen and toward the nave is a dais surrounded by communion rails. Atop it sits a freestanding altar on a three-stepped chancel platform.
Supposedly, France's Chartres Cathedral inspired the design of interior, though this columnist sees little resemblance, particularly in the east end.
If you go
St. Martin's Episcopal Church is open for tours every Wednesday at 11 a.m. Additional tours are held the first Friday and first Sunday of the month at 11 a.m. and 12:15 p.m. respectively.
Spires and Crosses, a travel column exclusive to The Christian Post, is published every week. Follow @dennislennox on Twitter.