Interfaith Imperative Focuses on Ending Extreme Poverty; Church Asked to Understand God Loves the Whole World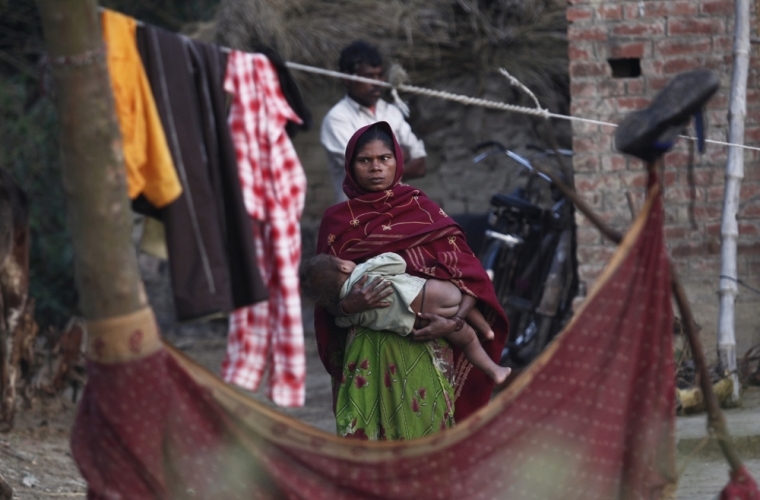 An interfaith imperative that brings together over 30 leaders from major world religions, including the World Evangelical Alliance, has launched a call to action to end extreme poverty by 2030 and tackle issues such as climate change.
"What does it mean for the Church to understand that God loves all the world?" asked Christine MacMillan, WEA's director for public engagement, in a phone interview with The Christian Post on Friday.
"There are two questions that you cannot change the answer to for yourself, or anybody else: Who your parents are, and where were you born. And the answer to those questions for some people in this world is devastating. We need to acknowledge that we do not live on an equal plane on this Earth, and God gives us a challenge to create some form of equality by loving our neighbors as ourselves."
The "Ending Extreme Poverty: A Moral and Spiritual Imperative," which is backed by the World Bank Group, calls on world governments to work on developing a sustainable agenda that will look to eradicate extreme poverty by 2030.
The imperative noted that the world has marked significant progress on this mission in the past 25 years, with the number of people living in extreme poverty going down from nearly 2 billion to less than 1 billion today.
"What we discovered is that resources need to be handled with an ethic. When there are resources on the table, people can take them for themselves, or they can put them to good use for the greater community," MacMillan, who was sitting at the table of the World Bank meeting earlier this week, told CP.
The document outlines in its shared moral imperative that mitigating climate change will be key to ending extreme poverty, and asserts that climate change disproportionately hurts people living in poverty.
MacMillan said she spent three years leading the Salvation Army in Papua New Guinea, where, she said, people experience the devastating effects of climate change first hand.
"I am aware that when a tidal wave hits Papua New Guinea, it decimates, it takes lives, and it sweeps children out into the ocean, and it decimates their homes. When you talk about climate change in Papua New Guinea, they absolutely understand it, because they experience it.
The WEA's Director for Public Engagement argued that although Americans have also suffered the consequences of climate change, she wonders if some lack the experience to truly understand the devastating impact it has for others around the world.
"I'm wondering if people who hear the word 'climate change' think scientists in white coats working in labs, and it doesn't effect them?" she asked. "I'm wondering if the spokespeople for climate change need to be people with [such] experience?"
MacMillan noted that the WEA first became involved in the interfaith mission to eradicate extreme poverty through December's Micah Summit, which marked the end of a global campaign by 25 national initiatives to tackle economic injustice, and a transition to a new structure to address the United Nations' post-2015 development goals.
"There are meetings taking place within the U.N. community which are also inviting faith groups to participate. What this initiative is looking at more and more as we work together is the inclusion of human rights as part of the way in which we address poverty," MacMillan said, noting that she chaired an event at that summit.
She added that the WEA takes part in a number of campaigns and initiatives aimed at tackling global injustices, such as human trafficking.
"The church naturally fits into these tables of discussion, because we understand naturally, as human beings, that poverty cannot be addressed if human kind lives for self only."
Setting a goal to end extreme poverty by 2030, she said, is indeed ambitious, and is something that challenges people around the world to put in the work.
"Let's work toward something and do what we can in a period of time. We are going to do everything we can to end extreme poverty. We're not saying we're ending poverty, but extreme poverty," she clarified.
MacMillan argued that it is important to ask questions about what contributes to people living in extreme poverty, and look at the factors behind it.
"Part of the problem with extreme poverty is people can have a successful economic structure in society where the rich get richer, but the poor can get poorer. So its not just throwing resources at the situation, its understanding what lies behind it."
She added that the goal will only be successful if has faith communities working together but also brings in the private sector, private business and economists to the table, which is something the World Bank is expected to help with.
As for the interfaith nature of the imperative, which brings together Evangelicals and Catholics and people from other denominations and other religious groups around the world, she said that it was an interesting experience to sit around such a diverse table and talk about an issue that effects all humanity.
MacMillan said that the point of faith is to offer people without faith new hope and new possibilities.
"We acknowledge that working together on issues such as poverty or human trafficking is a way of brokering peace in the world," she continued.
"I think it makes me a better Christian, and in no way has me deny my faith or have me deny who Jesus is in my life. There is an acceptance that there is a difference, and if we take out our holy books we might say there is considerable difference, but we have determined in our faith community that our conscience says that poverty is unacceptable, and together we work toward some better solutions."
MacMillan called on Christians to pray for a conscience to tackle such issues, and asked how many will walk away, and how many will actually answer Jesus' call to serve the poor.
"We need to be ready to relinquish what is ours, and know that it is God's," she said.