World Evangelical Alliance Inaugurates Filipino Bishop Efraim Tendero as New Secretary General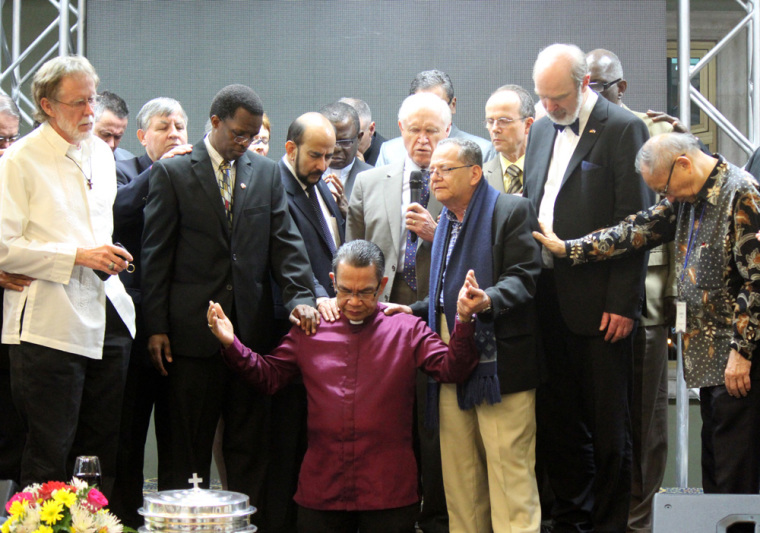 The World Evangelical Alliance inaugurated its new secretary general, Filipino Bishop Efraim Tendero, at its International Leadership Forum this week in Tegucigalpa, Honduras, before evangelical leaders from over 40 countries.
"As we commissioned our brother Efraim, I was reminded of the words of the apostle Paul to the Ephesian leaders. Not knowing what was ahead of him when he lands in Jerusalem, his commitment to the ministry of the gospel was unswerving, 'to finish the race and complete the task the Lord has given me', that is what informed my prayer for him," Rev. Ndaba Mazabane, Chair of the International Council and acting Secretary General, said in a statement about the occasion.
The Council made the decision about Tendero by unanimous vote last month. Tendero, widely known as Bishop Ef, will officially begin his five-year tenure on March 1. WEA represents more than 600 million evangelicals around the globe.
"When I was asked to become the next Secretary General, a main reason that I accepted the task was the clear purpose of the WEA," Tendero said at his inauguration. "It is very difficult, even impossible, to guide an organization that doesn't know the reason of its existence. But when there is an organism with its foundations in the purposes of God: furthering the witness of Christ, strengthening the Church and pursuing holiness, justice, and renewal at every level of society; then the difficult again becomes possible."
Bishop Tendero added that all of his ministry is serving the Church "so that the Church will be used by God to transform and disciple the nations."
"I have been amazed by the tremendous goodwill and support Bishop Ef has received from our constituency and this gives me hope and affirms our decision to have appointed him," Mazabane added. "The task ahead is huge, but together with God's help we will strive to build unity among evangelicals and promote the gospel of grace globally."
Evangelical leaders from every region prayed for Tendero and welcomed him as the new leader of the WEA at the Honduras event Thursday.
Tendero succeeds Dr. Geoff Tunnicliffe, who decided not to seek a third term after leading the global alliance for 10 years.
Tendero has served the Philippine Council of Evangelical Churches for over 20 years, representing about 30,000 evangelical churches in the Catholic-majority nation in South East Asia, where he is also President of the Philippine Relief and Development Services.
He also serves as International Facilitator for South East Asia of the Asia Evangelical Alliance and is the chair of the board of Back to the Bible Broadcast, Evangelism Explosion, 3 Philippines, Global Filipino Movement and the Philippine Missions Association.
He is also the Executive Editor of Evangelicals Today, published in the Philippines.
Bishop Tendero has actively sought to make a difference in the Philippines' politics. His national alliance joined calls last August for President Benigno Aquino not to extend his term of office.
"It is best for him to just endorse a new leader who would faithfully continue his fight against corruption," Tendero said in a statement at the time. "I'm praying and hoping that President Aquino would finish well as a good leader, and what he started in the struggle for a 'righteous path' will be passed smoothly to his successor."
Tendero did a Bachelor of Theology from Febias College of Bible, and then a Master of Divinity with focus on pastoral counseling from Trinity Evangelical Divinity School. He was later offered two honorary Doctor of Divinity degrees from Asian Theological Seminary and Febias College of Bible, and a Doctor of Leadership degree from International Graduate School of Leadership.
Bishop Tendero and his wife, Sierry, have four children and two grandchildren.