International Soccer Star Kaká Announces He's Leaving the Sport, Declaring 'I Belong to Jesus'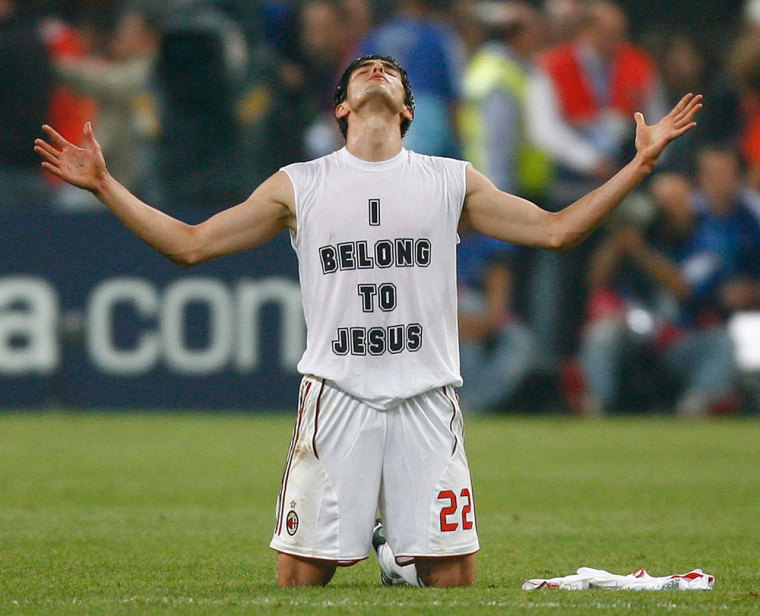 Spain's best-known soccer player, Ricardo Izecson dos Santos Leite, commonly known as Kaká recently professed his faith on social media while announcing that he would be retiring.
"It was much more than I could ever imagine. Thank you! I'm now ready for the next journey. In Jesus' name. Amen," the 35-year-old tweeted ahead of the New Year.
The message was posted along with a photo of Kaká on his knees while in a soccer field with his hands held high in surrender. In the picture, the athlete sported a T-shirt with the phrase "I belong to Jesus" on it.
Cru, a nonprofit Christian organization that works with college-age students, released an interview with Kaká in the past in which he spoke openly about his faith, stating that he "can't do anything" apart from his faith.
"It may seem that I have everything. Due to my wealth and fame, some people ask why or if I still need Jesus. The answer is simple: I need Jesus every day of my life. His Word, the Bible, tells me that without Him, I can't do anything," he confessed.
"I really believe that. The ability I have to play football (soccer) and all that has resulted from it are gifts from God. He has given me a talent to use for Him, and I try to improve on it every day."
The Brazilian native has been walking with Jesus since his baptism at age 12 and says Christ has been the most important thing in his life.
"My parents always taught me the Bible and its values and also about Jesus Christ and faith," Kaká said. "Little by little, I stopped simply hearing people talk about the Jesus my parents taught me. There came a time when I wanted to live my own experiences with God."
Kaká first hinted that he was retiring earlier in 2017 by revealing that he did not plan on extending his contract with his current team, Orlando City SC. A professional soccer club in Milan, Italy, called The Milan club, has reportedly offered him a role in its organization, but there has been no word on whether or not KaKá has accepted the opportunity.