Interview: Hannah Luce, Lone Survivor in Plane Crash, Shares Inspirational Story in New Book, 'Fields of Grace'
3 photos
(Photo: Teen Mania)
In riveting detail, Hannah Luce, the daughter of pastor and Teen Mania Ministries co-founder, Ron Luce, describes in her new book, Fields of Grace: Faith, Friendship, and the Day I Nearly Lost Everything, the horrifying experience of being the sole survivor of a plane crash that killed four of her friends and left her with a grueling recovery after sustaining burns to 30 percent of her body.
On May 11, 2012, Luce and four of her close friends, one of whom was the pilot, boarded a twin-engine Cessna 401 from Tulsa, Okla., to attend a Teen Mania "Acquire the Fire" youth rally in Council Bluffs, Iowa, when one hour into the flight smoke and what Luce describes as "hot air" and soot filled the cabin. The pilot, Luke Sheets, 24, who had earned his commercial pilot's license, radioed in for permission to descend as the plane plummeted to the ground and crashed near a corn field in rural Altoona, Kan.
Despite the severe burns to her body, which was covered only by what little remained of her clothes that had melted into her skin, Luce struggled to free herself from the burning plane and when she finally fell from the wreckage, she remembered the childhood lesson to stop, drop and roll, as she landed in the grass below and extinguished the flames from her body.
Exhausted, weak and struggling to breathe, she dragged herself to safety and believed that all four of her friends had died in the crash until she saw Austin Anderson, 27, a Marine who sustained burns to 90 percent of his body and survived long enough to guide Luce through a corn field to reach a gravel road where they were eventually met by two women driving past who called 911 for help.
Anderson was later airlifted to a trauma center in Wichita where he died hours later. Luce was transported to the University of Kansas Hospital in Kansas City, where her parents, Ron and Katie, helped her through the daily physical, mental and emotional trauma as she battled excruciating pain to survive.
Luce, whose book reveals the character of the young men who died and her faithful determination to recover, also shares her spiritual growth from earlier years when she questioned her convictions about God and Christianity, as many teenagers and 20-somethings do.
But following the plane crash, and all of the nightmares and torment that came with that experience, Luce also describes the impact of God's power and love that was shown to her through Anderson, the strangers who found her and prayed for her, the medical team at the burn unit, and her friends and family.
During a recent interview with The Christian Post Luce noted that her recovery and transformation are among the most important parts of her book.
"In many ways it's a story of redemption. It's a physical struggle and struggle of faith, but even more a fight for a spiritual journey and the loved ones we lost," she explained. "I didn't just lose my friends, I lost my skin; I lost my body. I lost my ability to cognitively function for months. And those were the moments where I began to fight."
Her father, she shares in her book, only left her side intermittently to travel to Dallas for the ministry, and to speak at the funerals of her friends who died in the crash: Luke Sheets, 24, Garrett Coble, 29, Stephen Luth, 22, and Austin Anderson, 27.
"We have an inherent ability to recognize God around us and God within people," she said about the caring nature exhibited in her family and friends. "For me, that was probably the primary way that I was able to press on. I needed that support. I needed support from my family and friends. Really, I ended up getting support from all around the country without even asking for it. And that was amazing."
She continued: "For them to believe in me and continue to helping my dreams, to helping me, to be determined for me, even when I wasn't determined for myself. Those were experiences where God literally touched my skin and told me that my pain and my struggle were not in vein."
Luce, who spent the first part of her recovery at the hospital bandaged, restrained to the bed and unable to move or talk, told CP that her life was completely flipped upside down, not only for her but also for her friends and family, whose connection has grown stronger through this experience.
"You don't just have hang-out buddies anymore," she said. "When you go through so much with the ones that you love, it begins an eternal bond that can never be broken. But more than that, it has created this determination in me to really be able to make a difference."
Luce added that her challenge to readers is the same question she posed to herself: "What are you living for?"
"If that's difficult to answer, it's alright," she said, "because in many ways my book is a journey of faith."
Luce, who co-wrote her book with two-time Pulitzer Prize finalist Robin Gaby Fisher, described the process of creating the book as "incredibly healing," adding that the book is an honest documentation of not only the pain she went through, but also of how she was kept alive.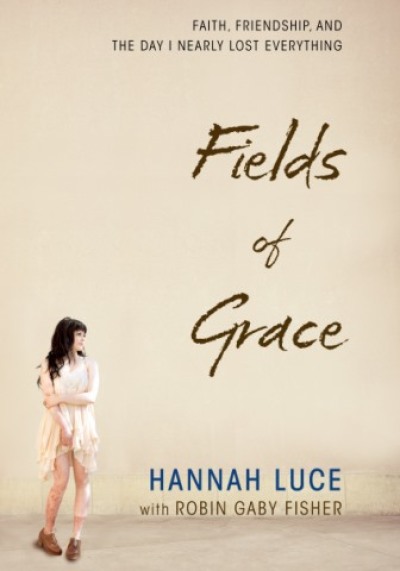 "It's changed my life because it forced me to be in an honest position where I have nothing to hide, and God is helping to expose what He's going to expose, and in many ways teaching me how to love," she said. "People don't realize until they're pushed, until their challenged, what it means to hold your temper when you're in excruciating pain. That's when it gets real. That's when you're forced to see what you're really made of."
She continued: "I had to decide whether to live or whether I was going to die. It's just like in 2 Samuel 22:26, 'To the faithful you show yourself faithful.' I think that in many ways we must show ourselves faithful to God and to our family and friends. And I choose not only that, but I had to choose whether or not I was going to live faithfully with the courage and anticipation that I knew that my life had purpose and meaning."
All of the proceeds from Luce's book, which will be available on Oct. 22, will be going to the Mirror Tree foundation that's devoted to re-integrating refugees from the horrors of rape, genocide and civil wars, and was an idea first conceived with the help of Anderson and Coble before the plane crash.
"I started working with Austin and Garrett on this idea in order to help transform people's lives, and the vision was a bit different at the time, but as it started to evolve, one thing that I remember was being in the hospital sad and I said, 'I have to start this.' For the sake of myself and even more so for the sake of women refugees all across the world. It's not about me anymore. This book in many ways is just the beginning. …because if we're really living and inspiring to create something in our world to fight the pain and the hopelessness that lives here in our world, and we're really truly determined, then nothing can stop us."
Luce added that the foundation is working on a project to send doctors to Jordan next month to provide medical care to Syrian refugees.