iPhone Watch 2014 Ends Tomorrow: New Video Leak Shows First iPhone 6 Review?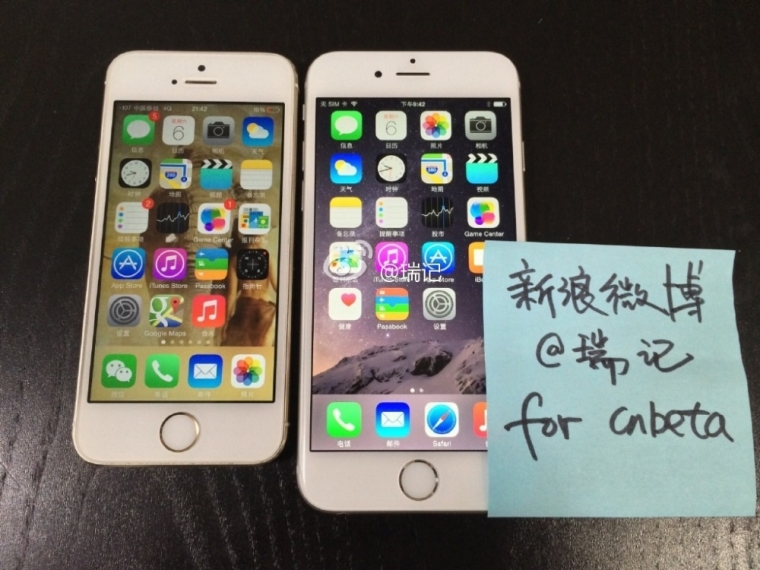 In less than 24 hours the much anticipated Apple event will stream live on it's website, answering many questions that have popped up about the iPhone 6, iOS 8, and the rumored iWatch. On Sunday, a video surfaced of what could be a functioning iPhone 6 running iOS 8.
In the video translated by a friend of Justin Tse, a man reviewing the phone for Phone Evaluation Youtube Page professes to have a fully functional iPhone 6 handset with Touch ID. The phone fits specifications of the rumored iPhone 6 at 4.7 inches, and appears to have a higher screen resolution than the iPhone 5s which the reviewer is comparing the phone against. Nothing can be confirmed, however the chances of recreating a device with the specifications of the iPhone 6 and outfitting it with Touch ID technology are highly unlikely. The reviewer address the speculation that it might be an Android device saying "Does Android have Touch ID? Does it have finger unlocking? Not a chance."
In the video the reviewer opens every iOS standard app (Messages, Stocks, Calculator, etc.) and talks about the processing speed which he deemed to be faster than the iPhone 5s. He also noted that even though reports and rumors said the iPhone 6 was to be made entirely of metal, the 6 felt lighter than the 5s in his hand, which would be impressive due to the phone's larger chassis. Another sign pointing to the validity of the handset is the updated icon of the Passbook app. The app has a credit card symbol at the top of the icon which could support the use of purchasing goods with the iPhone. Last week it was reported that Apple was partnering with Visa, Mastercard, and American Express to support iPhone payments.
The case for the review's validity is also strengthened by the main features that are definite in iOS 8 (predictive text keyboard, Health app) being shown running on the device.
Apple is expected to announce the iPhone 6 at tomorrow's event in Cupertino, California. It is unknown whether both the 4.7 inch and rumored 5.5 inch versions will be announced at the same time, although reports have surfaced that they will.. The rumored iWatch is expected to be unveiled tomorrow which will compete with Samsung's Wearable technology. In years past, Apple has traditionally made the new iPhone available on the Friday of the following week of it's announcement.