Iranian Police Beat and Arrest Christian Converts During Raid on House Church
Over 1,000 Teachers Are Being Held as Political Prisoners After Protesting for Better Living Conditions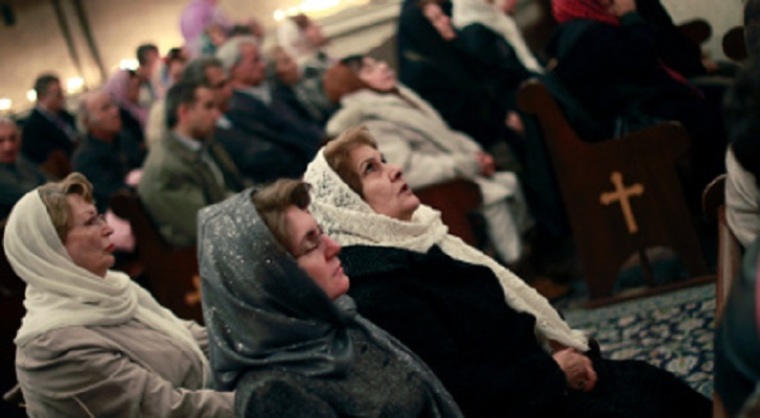 A group of at least eight Christian converts were beaten and arrested by Iranian authorities while they were gathered for worship inside a house church in the city of Karaj, an Iranian resistance group has reported.
According to the National Council of Resistance of Iran, plainclothes officers raided the church earlier this month as part of a wide crackdown on house churches.
After raiding the house, the officers beat up the congregants and then confiscated their Bibles, other Christian literature and satellite dishes located on the premises.
Eyewitnesses said the worshipers were arrested and put into a van to be taken to an undisclosed prison for detention. Although three of the Christian converts were reportedly released on bail, there is no information regarding the condition of those converts who remain detained. However, six of the Christians arrested have been identified.
Although NCRI reported that at least eight Christians were arrested, with three being released, BosNewsLife reports that as many eight Christians involved in the church raid are still said to be missing.
Citing the Iranian news agency Mohabat News, BosNewsLife reports that authorities took the Christians from the church and later searched their homes. The report adds that the authorities never acquired the proper legal orders to arrest the congregants or search their properties.
Among those arrested is said to be 35-year-old father of two, Esmaeel Falahati. Police searched his home and confiscated Bibles, DVDs and a computer.
Christian advocates told BosNewsLife that family members have been searching for their loved ones and have even gained judicial authority to secure their release, but to no avail.
"There is no information on their whereabouts or their physical condition, but an unofficial source has indicated that the detainees have been taken to the headquarters of the Ministry of Information," the Mohabat News article stated.
In the past few months, other house churches have been raided by Iranian authorities, as there is believed to now be as many as 360,000 Christians in the country.
The regime's raid of the house church comes after local authorities, destroyed a Tehran Sunni prayer hall in July in an attempt to prevent the Sunni community from using the building as a mosque.
"Today, the Middle East is facing a watershed moment," Maryam Rajavi, president-elect of the Iranian Resistance, said in a July statement. "Moderate forces striving for human rights must be supported and faith community leaders can contribute a great deal toward the establishment of a free Iran, where human rights are respected."
As the Iranian regime continues to crack down on freedom of religion, it has also cracked down on free speech. While thousands of teachers across the nation have protested for higher wages and better living conditions, over 1,000 teachers are being held as political prisoners and tortured, according to NCRI.
A Ministry of Education official clarified last week that exactly 1,000 teachers are being held as prisoners on the grounds that they have unpaid loans. However, rights activists believe the number of detained teachers exceeds the number quoted by the official and are adamant that these teachers are not being detained because they have unpaid debts, but because they have spoken out against the regime.
"Any protest by teachers against the suppression and crackdown, much like their protests against their deplorable living conditions caused by living on under the poverty line wages, will be met by charging them with 'propaganda against the system' and 'activity against the national security.'" the NCRI report states. "This will be followed by prison sentences and torture in the prisons of this anti human regime."