Iraq Claims ISIS' Second-In-Command Killed in Coalition-Led Airstrike on Mosque, US Denies Attack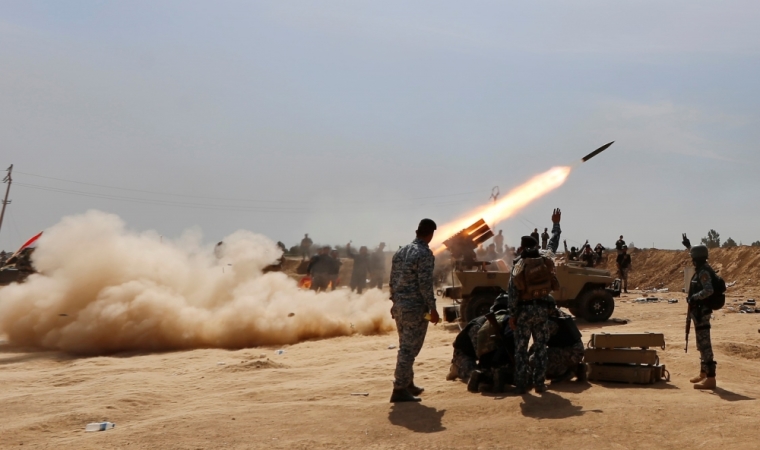 The Iraqi Ministry of Defence released video footage on Thursday showing what it claims is U.S.-led airstrikes in northern Iraq that targeted a mosque and killed Abdul Rahman Mustafa Mohammed, the man believed to be the second-in-command of terror group ISIS.
Iraqi spokesman Brig-Gen Tahsin Ibrahim said that Mohammed, also known by other names, was at a mosque near Tal Afar when it was hit by airstrikes, BBC News reported.
"Based on accurate intelligence, an airstrike by the coalition forces targeted the second in command of IS, Abu Alaa al-Badri," the Iraqi Defence Ministry said in a statement.
American military officials have denied that coalition planes took part in any such attack, however, and there is no way to indepednetly confirm Mohammed's reported death.
Ibrahim insisted, however, that Mohammed was killed alongside dozens of other ISIS militants at the al-Shuhada mosque in the village of al-Iyadhiya. Tal Afar, located in the Nineveh province, was captured by ISIS back in June 2014.
The Governor of Nineveh, Atheel al-Nujaifi, reportedly told the BBC that his sources also confirmed that Mohammed was killed.
The terror group has seized a number of cities across Iraq and Syria, but has been heavily targeted by U.S.-led airstrikes seeking to aid local ground troops in their fight against the jihadists.
Also known as Abu Alaa al-Afari, the man believed to be ISIS' second-in-command, was heavily sought after by coalition forces, with a U.S. $7 million bounty on his head.
The fate of ISIS leader Abu Bakr al-Baghdadi also remains unclear. Reports emerged in late April that the jihadist leader may have been seriously injured during another airstrike operation, and several reports said that ISIS has already chosen another man, a former Iraqi physics teacher, as his replacement.
Hisham al Hashimi, an Iraqi government adviser, said in an interview in April that Abu Alaa Afri has been chosen by ISIS' leadership to take over Baghdadi's duties, if the latter succumbs to his injuries.
"After Baghdadi's wounding, he [Afri] has begun to head up Daesh [arabic term for ISIS] with the help of officials responsible for other portfolios," Hashimi said. "He will be the leader of Daesh if Baghdadi dies."
Baghdadi has not reemerged since the reports appeared, but U.S. forces have been unable to confirm one way or another if he is alive or not.