ISIS Selects Replacement for Leader Al-Baghdadi Who Was Reportedly Wounded in Airstrike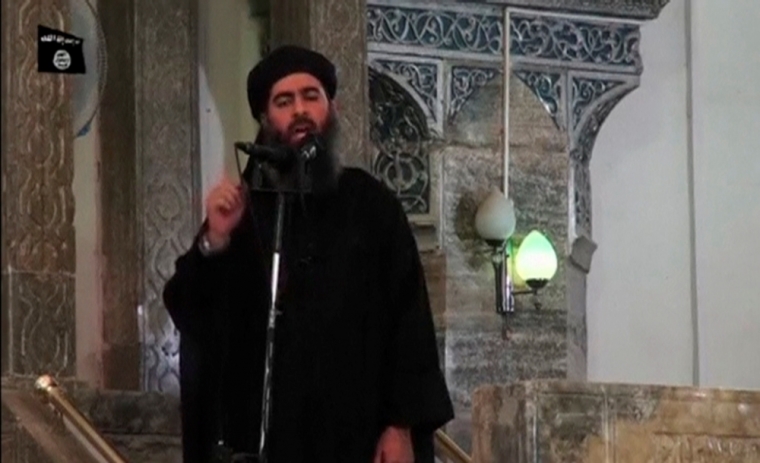 Reports are circulating that ISIS leader Abu Bakr al-Baghdadi might've been seriously injured during an airstrike operation, leading the terror group to choose a former Iraqi physics teacher as his replacement.
Hisham al Hashimi, an Iraqi government adviser, told Newsweek earlier this week that al-Baghdadi was wounded back in March, and is unable to carry out his day-to-day duties. He said that Abu Alaa Afri has been selected to stand in as his replacement, and could take over permanently if al-Baghdadi dies.
"After Baghdadi's wounding, he [Afri] has begun to head up Daesh [arabic term for ISIS] with the help of officials responsible for other portfolios," Hashimi said. "He will be the leader of Daesh if Baghdadi dies."
"He was a physics teacher in Tal Afar [northwestern Iraqi city] in Nineveh, and has dozens of publications and religious (Shariah) studies of his own," the government adviser said. "He is a follower of Abu Musaab al-Suri [prominent jihadi scholar]."
Hashimi added that Afri is a "good public speaker" who is "smarter" and has "better relationships" than al-Baghdadi, and is liked by the other higher ranked members of the terror group.
It is difficult to confirm the condition of al-Baghdadi, however, and the U.S. government has said there is no evidence to prove he has indeed been injured.
"We said that there was nothing to indicate that Baghdadi had been wounded or killed," Pentagon spokesman Colonel Steve Warren said. "There's nothing to indicate that there's been a change."
Back in November, al-Baghdadi was rumored to have been killed in another U.S.-led airstrike on terror targets, but reemerged with a new message that the Islamic militants will not stop fighting the international coalition.
"Even if only one soldier of them remained, they will never abandon fighting, because they defy humiliation and injustice," the ISIS leader said in an audio recording. "They will never abandon fighting, because they did not taste honor and dignity except by fighting. They will never abandon fighting. Indeed, they are triumphant. They will be triumphant even if only one man of them is left. They are triumphant and upon certainty of Allah's support for them."
The airstrikes have often targeted camps where ISIS leaders are believed to be located, in an attempt to weaken the terror group's foothold on Iraq and Syria.
AFP noted that the battle against ISIS continues on in full force, with Iraqi forces and Shiite militias reportedly making progress in recent weeks in the battle for territory with the terror group. ISIS continues to carry out attacks, however, and has launched another offensive in western Iraq.
On Sunday ISIS released its latest mass beheading video, where two groups of Ethiopian Christians, numbering 28 people, were executed in Libya. The terror group has targeted Christians on a number of occasion, directing its threats to the "nation of the Cross."