ISIS Advancing in Anbar Province Near Baghdad, Situation Precarious, Iraqi Tribal Leader Warns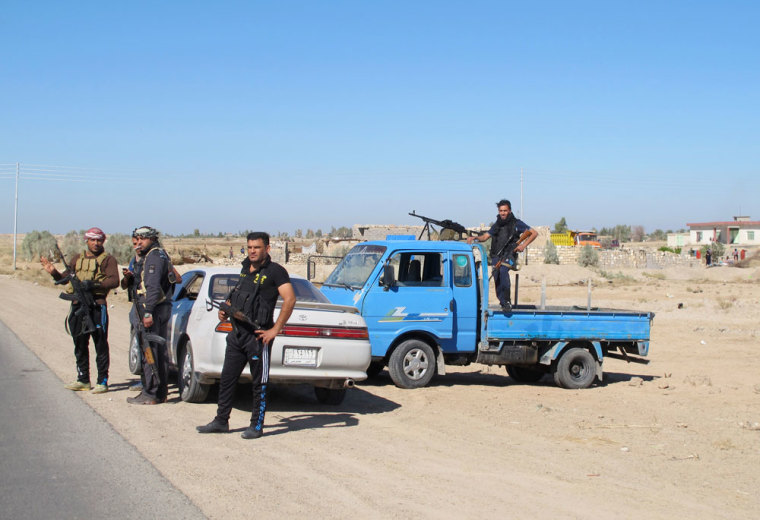 ISIS, or the Islamic state, is gaining ground in Anbar Province, an important area near the capital city Baghdad that contains both the country's second largest dam and a large U.S. military airbase. The ruthless terrorist group could carry out a massacre on the residents of the Anbar town of Jubbat al-Shamiya if reinforcement are not quickly provided, an Iraqi tribal leader warned Saturday.
CNN reports that Sheikh Naim al-Gaoud of the Albu Nimr tribe urgently appealed for more U.S. assistance in fending off ISIS, warning that the resistance could "collapse within hours" if tribal forces retreat. Al-Gaoud asked for more weapons for tribal fighters, either from the U.S. or the Iraqi government, or the U.S. to send ground troops.
The lives of residents of Jubbat al-Shamiya will likely be lost if ISIS successfully invades the town, Al-Gaoud warned.
On Friday, U.S. helicopter gunships helped Iraqi ground forces fight Islamic State militants, who seized parts of the strategic city of Al Baghdadi and attacked a key U.S. Military base nearby. American troops had seem to have deepened involvement in the fight against the Sunni terror group.
The gunship support was extended after militants from the Islamic State, also known as ISIS or ISIL, attacked Iraqi government forces from three directions and took control of large parts of the western town of al-Baghdadi Friday, CNN reported.
The city of Al Baghdadi, also known as Khan al Baghdadi, is in Al-Anbar province and about 9 miles from the U.S. Military's Ayn al-Assad Air Base.
ISIS also launched an assault on the airbase, after which the U.S. military deployed Apache attack helicopters. Iraqi ground forces managed to kill the attackers and the Apaches safely came back to the base without having to fire a shot.
Robert Baer, a former CIA officer, was quoted as saying that the U.S. forces seem to have deepened involvement of its troops. "I think what we're seeing here is mission creep. The Iraqi army is not up to the task. And without the United States Air Force and the military on the ground, a lot of these ... bases would be overrun."
About 25 people, wearing Iraqi military uniforms and led by suicide bombers, launched the attack, Pentagon spokesman Rear Adm. John Kirby was quoted as saying.
More than 300 U.S. Marines are stationed at the base, which is nearly 25 square miles, to train members of the Iraqi 7th Division, according to Reuters.
The U.S. team is not facing any immediate threat, but the troops have the "right, responsibility, obligation to shoot back" in the face of any direct threat, Kirby said.
A campaign of U.S.-led airstrikes in Iraq and Syria has been underway for over six months.
"Coalition forces were several kilometers from the attack and at no stage were they under direct threat from this action," a defense official was quoted as saying.
From Thursday into Friday, aircraft from the international coalition against ISIS carried out eight airstrikes in Syria and seven in Iraq, CENTCOM said. Five of these airstrikes targeted ISIS units and equipment near the U.S. base.
At least 20 ISIS militants and one civilian were killed in the airstrikes, according to the U.K.-based Syrian Observatory for Human Rights.
Jordan pledged last week it will go after ISIS and carry on with the fight until the terror group is "eliminated and completely wiped out." The United Arab Emirates also resumed its participation in U.S.-led airstrikes.
A Jordanian pilot, Muath al-Kasasbeh, who was captured by ISIS after his plane came down near Raqqa in Syria in December, was allegedly burned to death in a cage, according to video released recently by ISIS.
Jordan, which shares borders with Syria, has vowed harsh retaliation.
The UAE, which had reportedly stopped its participation in U.S.-led airstrikes after the Jordanian pilot's capture, said last week it ordered a squadron of F-16 fighters to Jordan.
ISIS, an al-Qaeda offshoot which seeks to form an Islamic emirate in the Levant region through "jihad," has gained control over large territories in Iraq and Syria.
The Sunni group has released videos showing the killing of two Japanese hostages, Haruna Yukawa; the burning alive of the Jordanian pilot; as well as the beheading of five Western hostages – of British hostages David Haines and Alan Henning, and U.S. citizens James Foley, Steven Sotloff and Abdul-Rahman Kassig.