Iraqi Christians Praying They Can Return to Ancestral Home of Mosul After ISIS' Ethno-Religious Genocide
Iraqi Christians who were driven out of their ancestral home of Mosul by ISIS in 2014 are praying they'll finally be liberated from the terror group after the allied military offensive and able to safely return without reprisal from those who supported IS' ethno-religious genocide.
"They've been waiting for this day after being forced out in the summer of 2014, and many Christians have been living in very miserable conditions since. A number are eager to go back," said Father Emanuel Youkhana of the Assyrian Church of the East, according to Catholic News Service.
"Of course the military operation is just the first of several phases paving the way for their return. They will need security and other guarantees before they go back," he continued. "Also much reconstruction and rehabilitation of the region occupied the Islamic State militants will need to take place."
Reuters reported on Tuesday that 20 villages near the outskirts of Mosul were liberated in a joint operation by government and Kurdish armed forces, aided by U.S.-led coalition airstrikes in an effort to free the largest Iraqi city still under IS' control.
U.S. Defense Secretary Ash Carter said that securing Mosul would be a "decisive moment" in defeating the Islamic radicals, who since 2014 have been capturing territory in both Iraq and Syria, but in recent months have suffered heavy losses.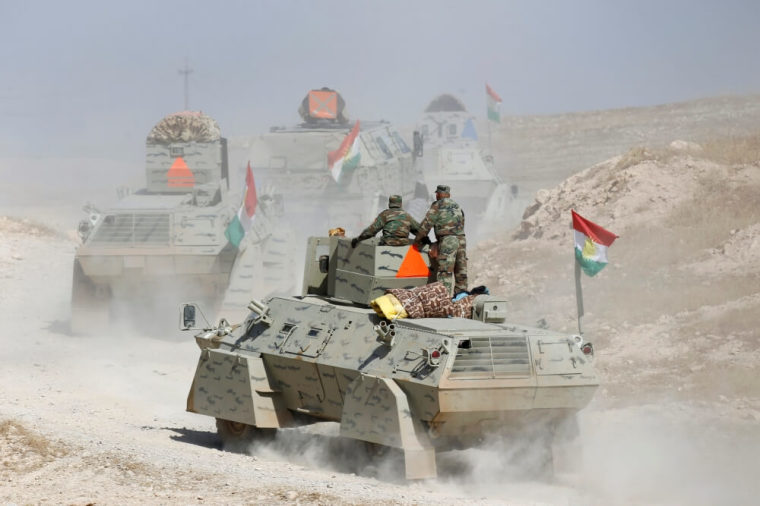 There are anywhere between 4,000 to 8,000 IS jihadist fighters stationed in the city, estimates say, battling an allied army of close to 30,000 Iraqi, Kurdish and Sunni tribal troops, though some estimates are half that number.
Pentagon spokesman Peter Cook told BBC News that it remains to be seen just how much IS soldiers will "stand and fight" for Mosul.
The southern frontline looking to move into Mosul is around 24 miles from the city, a correspondent with an army unit added.
Christians and other minorities suffered heavily at the hands of IS when the city was captured, with the terror group carrying out executions, collecting payments of a jizya Islamic tax, and forcing as many as 100,000 Christians to flee their homes in a single night.
Chaldean Catholic Archbishop Yousif Thomas Mirkis of Kirkuk, Iraq, told CNS that Christians are following the military advancements on Mosul "with hope and fear."
"Everything is complicated. Still, we are waiting for what will happen after Daesh (the Arabic slang name for Islamic State), because maybe those criminals will be thrown out of Iraq, but the mentality remains in those who welcomed them," Archbishop Mirkis said. "So how do we heal the country from this kind of fanaticism, which is very deep in society?"
In total, half of Mosul's original 2 million population before the arrival of IS is believed to have left the city, with refugees scattered in refugee camps throughout Iraq and in neighboring countries such as Jordan and Lebanon, and some in the process of moving to Western countries.
Humanitarian groups have pointed out that helping resettle Mosul if and when it is freed will also not be an easy task, and will require international cooperation.