ISIS Releases 'Top 10' Execution Videos for September; Showcases 'Hell, Jihad, Sacrifice'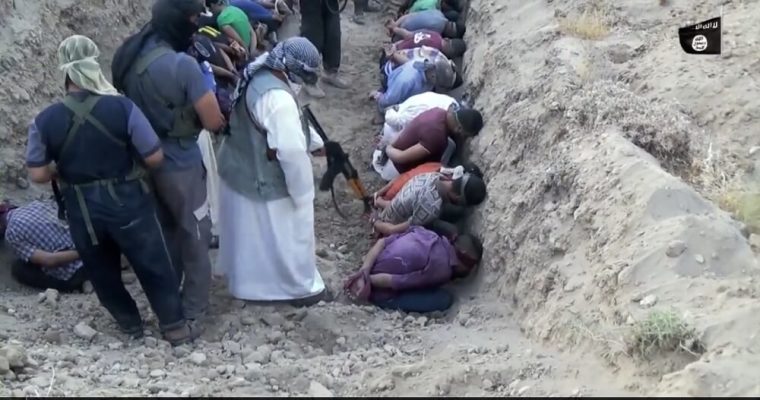 The Islamic State terror group in Iraq and Syria has reportedly released a "top 10" video list of sorts highlighting the executions and human rights abuses it carried out in the month of September, all in an effort to scare its enemies.
Heavy.com, which reports on terror and violence stories, shared a number of the videos that made the list, which show IS prisoners being executed in a variety of different ways.
The titles of the video in the list include "Hell of the Apostates," "Raids of Sacrifice," "The Honor of Jihad," and others.
The tenth video, "The Making of Illusion," was one of the most graphic films released by the terror group yet, and depicted men being slaughtered like lambs for the Muslim celebration of Eid al-Adha, which seeks to honor Abraham's readiness to sacrifice his son in the Bible because of his faith in God.
Untold numbers have been killed by the Islamic extremists, with extensive reports by The Associated Press and other outlets noting that there are dozens of mass graves across Iraq and Syria with potentially thousands of victims that are yet to be uncovered.
One of these mass graves was featured in the "Hell of the Apostates" video, shot somewhere near Baghdad, the capital of Iraq. In the video, several prisoners are led blindfolded into pre-dug graves, before being shot in the head one by one by the Islamic radicals.
The stylized execution videos have been one of the main propaganda sources for IS, seeking to recruit new fighters in its war against local government forces that have been backed by the U.S. and other international allies.
IS has not spared children from its barbaric executions either, Iraqi News and other sources have pointed out, and in an incident in September tortured six boys to death by using excruciatingly hot welding iron and rods.
"The terrorist outfit executed six youths in Mosul. ISIS said that the youths belonged to a resistance faction," an unidentified source said at the time.
The terror group is also seeking to maintain control of the village of Dabiq in northern Syria as Syrian rebels have launched an attack to reclaim it. The village is of great significance for IS, as it is the location of an apocalyptic battle between Christians and Islamists that the radicals believe is going to occur.