Iraqi Muslim Erects Giant Christmas Tree in Baghdad to Show Solidarity With Christians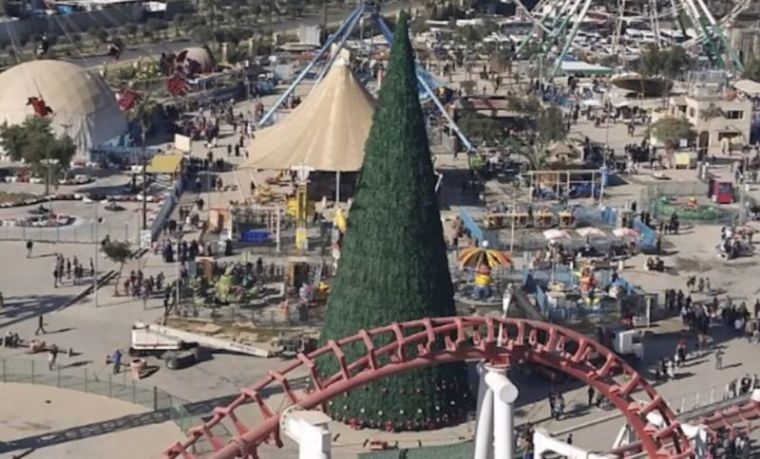 A wealthy Muslim businessman has purchased and erected what is now known as the tallest Christmas tree in Baghdad in order to show solidarity with the persecuted Iraqi Christian community and help Iraqis forget the "anguish" caused by the conflict with the Islamic State in the Nineveh province.
The Associated Press reports that Yassir Saad erected an 85-feet tall artificial Christmas tree, which spans 33 feet in diameter, in the center of the al-Zawraa amusement park in Baghdad. The cost of the tree, Saad said, was about $24,000.
As hundreds of thousands of Iraqi Christians have fled from their homes and are now living as refugees or displaced persons due to fear of persecution by IS (also known as ISIS or ISIL), Saad explained that the point of the Christmas tree initiative at the theme park is for Muslims and others to join "our Christian brothers in their holiday celebrations."
Additionally, Saad is hopeful that it will help "Iraqis forget their anguish, especially the war in Mosul."
Currently, Iraqi-led coalition forces are in the midst of the Mosul offensive, where they are trying to push IS terrorists out of the group's largest Iraqi stronghold. Mosul, the second largest city in Iraq, and the surrounding Nineveh plains had been conquered by IS in the summer of 2014, which drove the majority of the local Christian community out of the area.
"This tree represents love and peace," teacher Saba Ismael told the AP, as her students posed for pictures in front of the tree. "I wish all Iraqi Christians could return to Iraq and live normal and peaceful lives."
Although there was over 1.5 million Christians in Iraq before conflict began in 2003, a report released in May by the Catholic fraternal organization Knights of Columbus and the human rights group In Defense of Christians states that as much as 80 percent of Iraq's Christian population has fled from their homes. That leaves less than 275,000 Christians in Iraq.
Many human rights and religious freedom activists are concerned that Christianity in Iraq could one day soon go extinct if concrete actions aren't taken to stop IS and protect vulnerable Christians from future persecution at the hands of Muslim neighbors.
Although coalition forces are working to liberate Mosul and major Christian towns in the Nineveh plains, like Qaraqosh and Bartella, Christians are not yet rushing back to take shelter in their homes.
Before they return home, Iraqi Christians are looking for guarantees that they will be protected.
"Christians, they ask, 'Are we going to go back and have neighbors similar to ISIS and neighbors who will persecute us and drive us out of the Nineveh Plains and Mosul again or will there be guarantees by the international community, by central government and Kurdish Regional Government?'" Loay Mikhael, head of the foreign relations committee of the Chaldean Syriac Assyrian Popular Council and deputy chairman of the Soraya Charity Organization in Nineveh, told The Christian Post in November.
"Christians don't know what will happen as far as who will rule the area," Mikhael added. "So, we have been asking similar questions about what will be post-ISIS era and nobody has given us any answer to that."
Even though it is still uncertain as to when persecuted Christians will be able to safely return to their homes and communities, Chaldean Archbishop of Erbil Bashar Warda told CP in late October that displaced Christians living in Kurdistan now have hope.
"Everyone knows that there will be a time between liberating these villages and securing these villages. But, their spirit is high. I assure you," Warda said. "The people are thrilled with the news and they are waiting and hoping that in the coming days more and more villages will be liberated."
Father Douglas al-Bazi, who previously ran the Mar Elia Church and displacement center in Ainkawa, told CP earlier this year that he believes that even after IS is defeated, some Iraqi Christians could be living in displacement camps for another 15 years.
"It is not just about the Islamic State. It is a problem there. I believe ISIS, sooner or later, they are going to go out, but how can we build the trust again for people?" Bazi asked.
"One of the big issues is the trust because [the people who] turned against our people were their neighbors," Bazi continued. "Trust that if we are going to our home, will we be safe or are we going to be targeted again?"