'There Are 2 Types of Persecution Against Christians,' Says Rev. Samuel Rodriguez in Debate Over Alleged 'Bigotry' Against Gays in America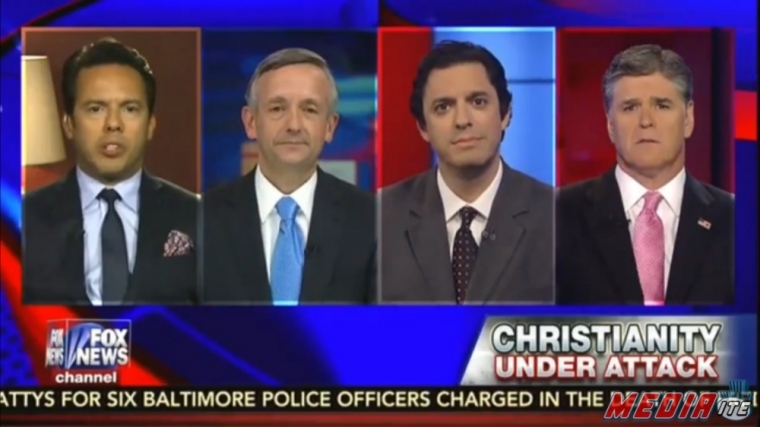 Pastor Robert Jeffress and Rev. Samuel Rodriguez argued with American Atheists President David Silverman about whether bigotry in America is being directed at conservative Christians or gay people when it comes to opposing same-sex marriage in a fiery debate on Fox News' "Hannity" on Wednesday.
While Silverman argued that those opposed to gay marriage are displaying "bigotry," Rodriguez asserted that the bigotry being displayed is "against Christians."
"It's bigotry and intolerance against those of us who believe in the Bible and our Judeo-Christian values," the National Hispanic Christian Leadership Conference founder said.
The topic of discussion was centered around Republican presidential candidate Sen. Marco Rubio, R-Fla., and his comments earlier this week to CBN, when he warned that the possible legalization of gay marriage in the United States will make mainstream Christian teaching on marriage "hate speech."
Jeffress added that he completely agrees with Rubio, and told host Sean Hannity: "The Obama administration is sending us a signal that they are going to come after those that believe in traditional marriage," he said, referring to Solicitor General Donald Verrilli admitting to the U.S. Supreme Court in April that there's going to be an "issue" for churches if they continue to uphold traditional marriage if gay marriage is legalized.
"We can debate gay marriage all day and all night, but the fact is traditional marriage has been in civilization for thousands of years. It has been embraced by our country for hundreds of years, and has been embraced by liberals like Barack Obama and Hillary Clinton until the last [few] years," Jeffress argued.
Silverman had started off the debate by stating that the entire issue is really about the "bigotry" that conservatives are displaying toward gay people.
"There's no one out there who is arguing that Christian preachers should be forced to marry people against their will. What really all this is about is bigotry. You and I can both agree that bigotry is wrong, and bigotry is ugly and bigotry is stupid," the American Atheists president said.
"We're not talking about attacks on Christianity, we're talking about attacks on bigotry."
Rodriguez, however, further agreed with Rubio's comments to CBN, and suggested that there will be grave consequences if gay marriage is legalized.
"The moment in America, the moment in our nation [that] biblical truth is defined as hate speech, America as we know it ceases to exist," he claimed.
Rodriguez stated that there are two types of persecution against Christians — globally via terrorism, such as ISIS, and in the Western world via legislation.
The debate, in which the participants and the host interrupted each other several times, continued with Silverman claiming that he believes in religious freedom, but said that people's religious beliefs "should not be used as a cloak to hide their bigotry."
Silverman then argued that most Christians are no longer opposed to gay marriage, while Hannity and Jeffress said that nothing has changed in the way mainstream churches continue to uphold traditional marriage.