Boko Haram Suspected of Using Kidnapped Chibok Girls as Suicide Bombers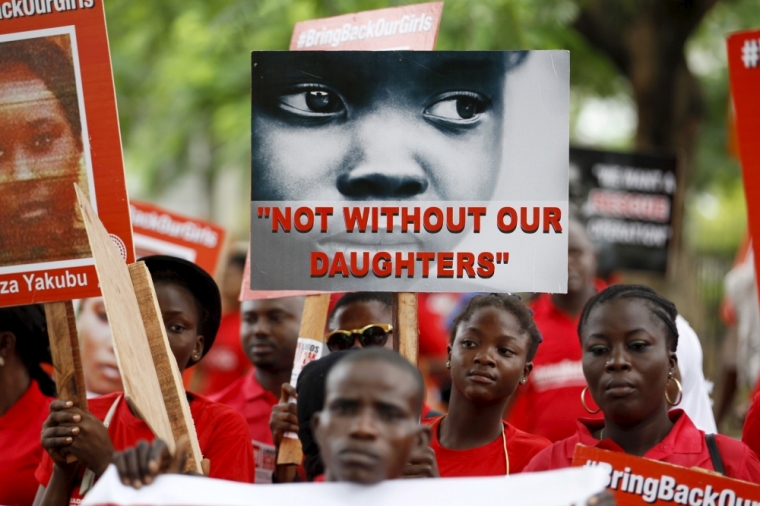 One of the two girls carrying explosives on an apparent suicide bombing mission in Cameroon said after her arrest that she was one of the 276 schoolgirls kidnapped by Boko Haram from Chibok in neighboring Nigeria in 2014. Meanwhile, the terror group's purported leader, Abubakar Shekau, is reported to be contemplating stepping down.
The government of Nigeria is sending some parents from the Chibok community to Cameroon to verify the claim of the girl, who was arrested along with her associate by local self-defence forces in Limani village in northern Cameroon before she could blow herself up, according to The Guardian.
Of the 270 schoolgirls kidnaped by Boko Haram in April 2014, 50 managed to escape and 219 remain missing.
"One of them [the two girls arrested in Cameroon] indeed declared that she is one of the Chibok hostages," Reuters quoted local government administrator Raymond Roksdo as saying. "She is around 15. We are now verifying, because on the Nigerian side they have the names and photos of these girls."
"We need a few days to be able to confirm this information. We have to debrief all the men who were present and interrogate the two girls before we can say anything," a military source was quoted as saying.
Nigeria and its neighbors Niger, Chad and Cameroon have an 8,700-member regional task force to defeat the Islamists, who have carried out cross-border attacks and suicide bombings using young girls in the recent years.
Sarah Lawan, a 19-year-old student from Chibok who was able to escape in July 2014, earlier said that most girls made no attempt to run away as the gunmen had threatened to shoot them. "I am pained that my other colleagues could not summon the courage to run away with me," she said after her escape. "Now I cry each time I come across their parents and see how they weep when they see me."
It is believed that many of the girls and women abducted are Christian.
The terror group's leader had also threatened to sell the girls "in the market."
"I abducted your girls," Shekau said in a 57-minute video. "I abducted a girl at a western education school and you are disturbed. I said western education should end. Western education should end. Girls, you should go and get married. I will repeat this: western education should fold up. I abducted your girls. I will sell them in the market, by Allah. I will marry off a woman at the age of 12. I will marry off a girl at the age of 9."
In a new video, posted on social media and YouTube, Shekau can be seen carrying a rifle next to a flag associated with Islamic State. Shekau says that the video is "a message of greeting and joy for you to see my face," according to AFP. He also hints at the possibility of a leadership change. "This is my desire: that whoever sees this will hear nothing but greetings between me and you. Only Allah knows the rest, as you believed [and] as you submitted. For me the end has come."