Is ISIS Trying to Assassinate Pope Francis?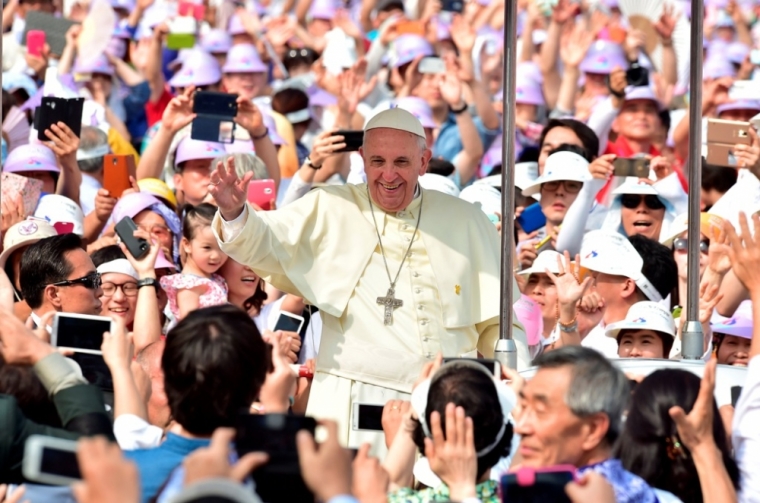 Pope Francis will still travel to Albania this weekend despite warnings from Iraq's ambassador to the Vatican that there are clear assassination threats coming from Islamic State militants.
On Sunday, Francis will become the first Pope since 1933 to visit Albania, although  The Telagraph reported that Iraq's Ambassador to the Holy See, Habeeb Al Sadr, told the Italian newspaper La Nazione that Islamic State militants have made it clear that they want to kill the leader of the Roman Catholic Church.
"What has been declared by the self-declared Islamic State is clear – they want to kill the pope. The threats against the Pope are credible," Al Sadr said. "I believe they could try to kill him during one of his overseas trips or even in Rome. There are members of ISIL who are not Arabs but Canadian, American, French, British, also Italians. ISIL could engage any of these to commit a terrorist attack in Europe."
Al Sadr said when the Pontiff spoke out against the jihadists' atrocious killings and spoke in favor of the U.S. plan to defeat ISIS, also known as ISIL, the Pope put a target on his back. Al Sadr said he believes the Pope will also be at risk when he travels to Turkey in late November.
The Vatican has seemingly shrugged off the potential threats stating that they have not received any credible threat reports and will continue as normal with the one-day visit. A Vatican spokesman said the Pope will be paraded in an open-topped vehicle.
"There are no specific threats or risks that would change the Pope's behavior or the way the trip is organized," Vatican Spokesman Father Federico Lombardi said.
Al Sadr warns that ISIS' threats are not to be taken lightly.
"This band of criminals does not just issue threats," Al Sadr said. "In Iraq, they have already violated and destroyed some of the most sacred sites of the Shiite faith. They have struck at Yazidi and Christian places of worship. They have declared that whoever is not with them, is against them. Either convert or be killed. And they are doing it it is a genocide."
While concluding his catechesis in St. Petersburg on Wednesday, the Pope said it is important for him to visit the Balkan country in the aftermath of a totalitarian atheist regime. He asked for prayers for safety to protect him in his journey. Francis will be the second pope to visit Albania.
"I decided to visit this country because it has suffered greatly as a result of a terrible atheist regime and is now realizing the peaceful co-existence of its various religious components," Pope Francis said.
Roberto Morozzo della Rocca, a Balkan history expert, told Aleteia that he feels any ISIS presence in Albania is not strong enough to pose a credible threat.
"Jihadists? Albania is pro-Western, tolerant, does not have religious extremists, but there can always be an exception," he said. "In neighboring Kosovo, it seems that somewhere around 150 young men have gone to fight alongside ISIS, and it seems that 16 of them have lost their lives. We're talking about a small group that the government in Pristina is monitoring, and this may not be indicative of any threat to the Pope's visit."
Fox News reports that Italian news sources claim that Albanian police forces have warned Interpol, an international policing agency, of their concern that Muslim militants that trained in Iraq and Syria have come to Albania.