Isaiah Haastrup's Christian Parents Condemn 'Corrupt' Doctors, Hospital That 'Killed' Their Baby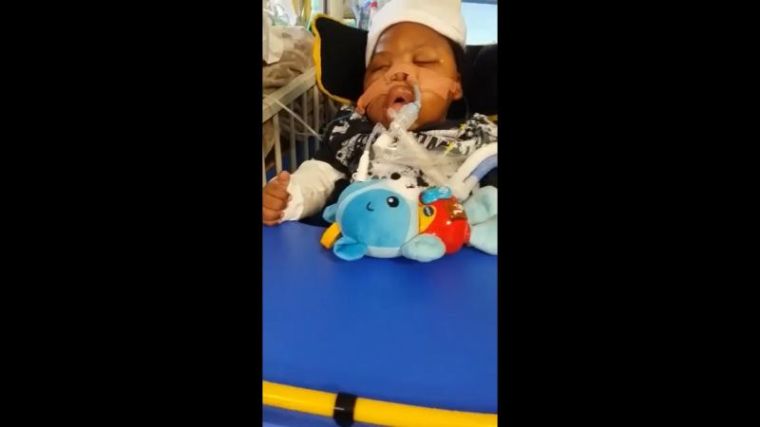 The Christian parents of baby Isaiah Haastrup, who suffered damage to his brain and died Wednesday after doctors removed him from life support, have said that although their faith calls them to forgive, they want people to know about the "corrupt" doctors and legal system in the U.K. they say "killed" their son.
"Isaiah my son, they caused your injuries, lied about your symptoms, removed the ventilator after a year abruptly and yet you breathed for seven hours on your own. I know you would have survived if the doctors had acted in good faith but they did not," the boy's father, Olanrewaju Haastrup, wrote in a Facebook post Thursday. 
"They killed you to cover their negligence and your care would have cost them too much money. I am proud to have been your father and I'm sorry I couldn't protect you. I am proud of you son," he added.
In a separate post he continued: "The corrupt doctors told the court he could not live beyond a few minutes without ventilator; which formed the basis of the court judgement. Evidently, nothing could be further from the truth. Our view that he could be weaned off the ventilator did not matter, only the doctors. Isaiah proved the doctors wrong and his parents right.
"Shame on the judge, legal system and the hospital. Our faith prohibits holding anger in our hearts therefore we forgive but we will not forget this injustice."
The family lost a last-resort appeal to the European court of human rights on Tuesday to keep the 12-month-old boy on life-support, The Guardian reported, leaving him only on palliative care after the extubation.
Despite the parents insisting for King's College Hospital in London to continue treating their child, challenging doctors' prognosis that he has no hope of improvement, a high court judge ruled in late January that withdrawing treatment was in Isaiah's best interest.
The boy had suffered catastrophic brain damage after being deprived of oxygen at birth. Medical experts concluded he could not move or breathe independently, and that he had profoundly depressed consciousness.
"Isaiah Haastrup suffered an irreversible brain injury following a rare and life-threatening obstetric emergency during his mother's labor. Since birth he had been fully dependent on life support with no prospect of improvement, and throughout we actively sought to engage and involve Isaiah's parents in his care," a spokesman for the hospital said.
The spokesman continued: "The best interests of our patients must always come first. The trust always provided Isaiah with the very best care, and the decision to apply to the court to withdraw treatment was only made after careful consideration and after consultation with the family.
"In Isaiah's case, the high court ruled that overwhelming expert and independent medical opinion supported the declaration sought that withdrawing treatment was in his best interests.
"Subsequently, neither the court of appeal or the European court of human rights reversed the original decision of the high court."
Isaiah's mother, Takesha Thomas, told BBC News that her son had "a little cheekiness about him, which I will miss."
"But right now all I can feel is just pure anger. All I know is justice wasn't served — at all," she added.
On Friday morning Haastrup shared his gratitude for all the people who have supported the family throughout the tragedy.
"You gave us strength with your well wishes messages. You have all rekindled our hopes in humanity. Although we seldom felt we were alone but when I open Facebook and read all your messages it provides impetus to continue the fight against this corrupt system," he wrote on Facebook.
The grieving father thanked God for his Facebook friends who fought the battle with them.
"We will now attempt to assist others facing similar plight. The killings must stop! As for Kings College Hospital we hope they change and provide better care for patients and treat parents in the future better," he urged.
"Hatred begets hatred and only love begets love. I know Isaiah would prefer the latter."