ISIS Burns Hundreds of Christian Textbooks in Cultural Cleansing of Christianity
ISIS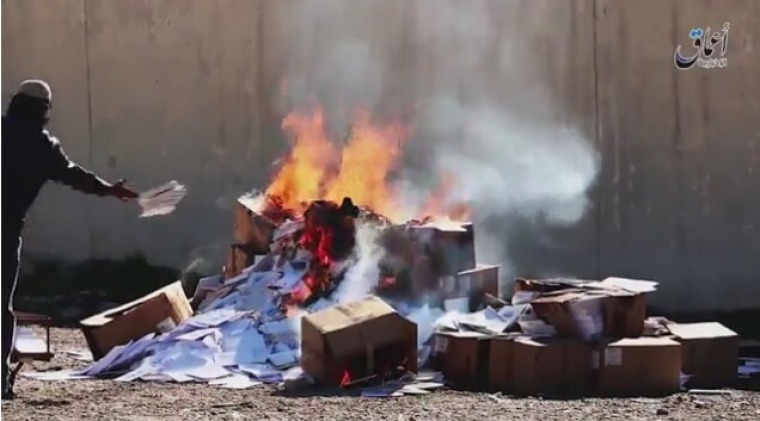 In its continued assault against Christianity and the religion's history, the Islamic State has released a video that shows its jihadis burning hundreds of Christian books last week in the Iraqi city of Mosul on the grounds that they are the "books of infidels."
The terror group, which conquered Mosul and much of the Nineveh Plains during the summer of 2014, published a video through the affiliated Amaq news agency, showing IS militants in its largest Iraqi stronghold tossing hundreds of Christian textbooks into a large bonfire.
The video was obtained by media activists and posted to YouTube by an Assyrian Christian media group so that it could be circulated as additional proof of IS' attempt to destroy Christianity and other religions in Iraq and Syria.
According to the the Kurdish media outlet ARA News, the militants' reasoning for burning the books, which had crosses on their covers, was because they belonged to "infidels."
Media activist Abdullah al-Mulla said in an interview with ARA that the militants had collected the books from churches and schools throughout the city.
"The militants have also collected a lot of Christian textbooks from the Dawassa district near the Martyrs' Park and publically burned them," Mulla added.
This is not the first time that IS has targeted books for destruction. In February 2015, IS fighters ransacked a central Mosul library and burned over 100,000 different books and manuscripts.
After the February burning, the director general of the U.N.'s Educational, Scientific and Cultural Organization Irina Bokova said that it was "one of the most devastating acts of destruction of library collections in human history."
"This destruction marks a new phase in the cultural cleansing perpetrated in regions controlled by armed extremists in Iraq," Bokova said at the time. "It adds to the systematic destruction of heritage and the persecution of minorities that seeks to wipe out the cultural diversity that is the soul of the Iraqi people."
While IS has taken up the habit of burning textbooks and other forms of literature that contradicts its own vision of history and the world, it has also published its own textbooks.
According to Heavy.com, the group released scanned pages of an IS mathematics books. One page obtained by Heavy.com reveals that the jihadis are teaching children inside the self-proclaimed caliphate to add and subtract by having them add and subtract images of military tanks, handguns and AK-47 automatic assault rifles.
Other than destroying books and replacing them with their own, IS has also degraded and destroyed much of the region's Christian roots. The militant group has leveled a few ancient monasteries and destroyed numerous Christian artifacts.
Earlier this year, satellite images confirmed that the group destroyed Iraq's oldest Christian monastery. St Elijah's monastery lasted as a place for worship for over 1,400 years before the militants reduced the 27,000-square-foot stone and mortar structure to nothing but rubble.
"Bulldozers, heavy equipment, sledgehammers, possibly explosives turned those stone walls into this field of grey-white dust. They destroyed it completely," imagery analyst Stephen Wood, who pinpointed the destruction, told The Guardian.
Additionally, IS has destroyed or condemned most of the Christian churches and shiite mosques inside its strongholds in Iraq and Syria.
A number of intenatinoal institutions, including the European Union and the United State Commission on International Religious Freedom, have called what IS is doing to Christians and other religious minorities in Iraq and Syria a "genocide."
Although a number of human rights groups and over 200 members of Congress agree that IS' persecution of religious minorities qualifies as a "genocide," The United States government has delayed calling it "genocide." The U.S. State Department will have until March 17 to make the decision as to whether or not it will call the situation with IS a a genocide.
Last week, the Knights of Columbus and In Defense of Christians released a nearly 280-page report chronicling IS' atrocities against Iraqi and Syrian Christians.
"For the United State government to stand alone in denying that is genocide would be shameful abdication not just of leadership but cooperation in common sense," Knights of Columbus CEO Carl Anderson said at a press conference last Thursday.