ISIS' Child Soldiers Execute 25 Men on Site of Ancient Roman Amphitheater in New Video Showing Fearful Spectators
ISIS' Child Soldiers Execute 25 Men on Site of Ancient Roman Amphitheater in New Video Showing Fearful Spectators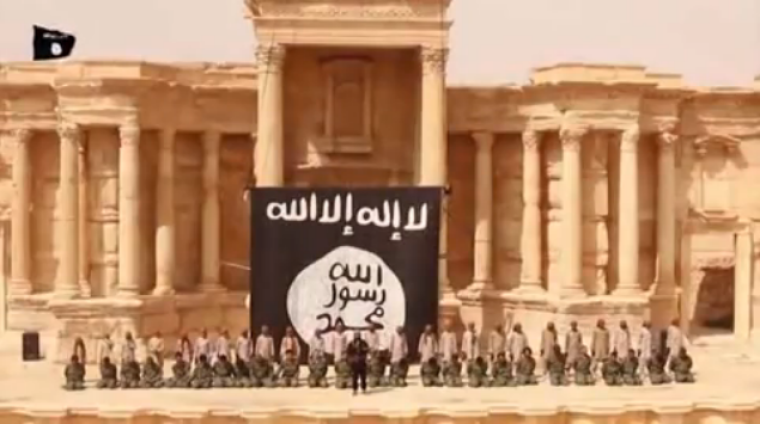 A new video released by the Islamic State terrorist group purports to show children carrying out the mass execution of 25 men accused of being soldiers for the Syrian regime of President Bashar al-Assad.
In the nearly 10-minute video, which was shot in a Roman amphitheater in the ancient Syrian city of Palmyra, the Syrian soldiers are dressed in green camouflage and paraded in a single-file line onto the amphitheatre stage, in front of a large audience, as an arabic jihadi hymn plays in the background.
The soldiers are forced to their knees while the ISIS executioners, who appear to be in their preteen to teenage years, stand behind each soldier holding handguns to the back of their heads.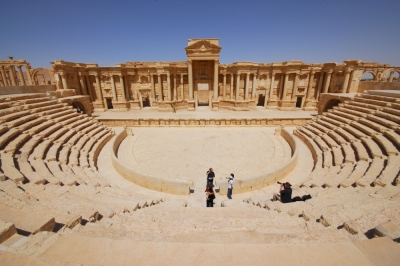 Before the executions are carried out, an ISIS leader gives a speech to the crowd in Arabic, likely explaining why these 25 men are about to be executed.
When commanded to do so after the ISIS leader's speech, the children execute their respective Syrian soldiers by shooting them in the back of their heads simultaneously.
CNN reports that the video rewinds the execution and makes it seem as though the deceased soldiers have come back to life only to be shot dead again.
Although the amphitheatre was filled with spectators, a few of whom were waving ISIS flags, many appeared to be frightened and seemed to be mourning over the brutal murders they were about to witness.
The Syrian Observatory for Human Rights reports that witnesses claim that the Palmyra mass execution occurred on May 27, about seven days after the terrorist group took over the city.
This is not the first time, nor the second that ISIS has used minors to carry out publicized executions.
In March, the militant group used a baby-faced child executioner, who looked no older than 12, to execute an accused Israeli spy.
In January, ISIS released a video purporting to show an underaged boy being used to execute two men accused of being Russian spies.
In an article in the April edition of ISIS' English language magazine, Dabiq, the group attempted to justify its use of child executioners by stating that forcing children to carry out executions is consistent with Muhammad's teachings on the Muslim way of life.
"The Islamic State has taken upon itself to fulfill the Ummah's [the global Muslim community] duty toward this generation by preparing it to face the crusaders and their allies in defense of Islam," the article asserts.
The CNN report adds that the new video also shows ISIS militants blowing up a notorious prison in the town of Tadmur, which was used by the regimes of Assad and his father, Hafez al-Assad, to hold political prisoners.
According to The Daily Mail, ISIS has been accused of executing hundreds of people in an around the ancient city since it conquered Palmyra. Additionally, ISIS has destroyed numerous ancient artifacts in the town since its capture.