ISIS Christian Hostage Forced to Call Family While Being Electrocuted; Freed After Parents Pay $80k Ransom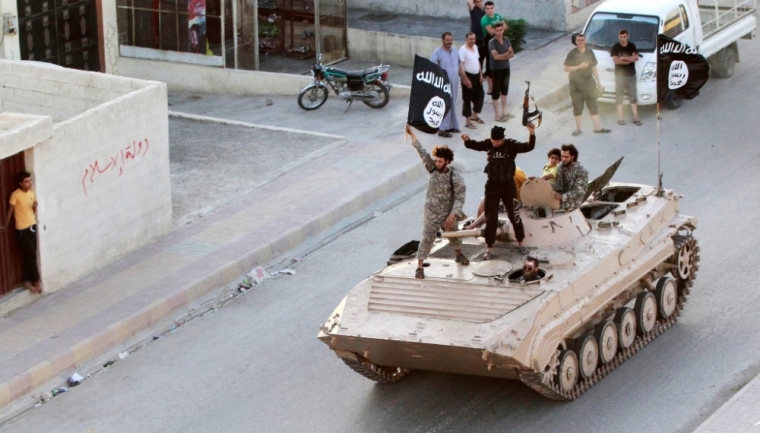 A Syrian Christian man, who was held hostage by the Islamic State for over five months before being freed, revealed recently that his captors forced him to call his family and a friend while he was being tortured, in hopes that his cries of pain and agony would inspire them to pay his $80,000 ransom.
In an interview with New York Magazine's Sulome Anderson, the anonymous Christian man explained how he was kidnapped in February 2013 by the Syrian rebel group called Muhajadeen Shura Council, which later absorbed into ISIS while he was still in captivity.
The man, who was originally from Syria but was living and working in Beirut, Lebanon, at the time, said he was on his way back to Syria to visit his family when he and another Christian man were both stopped at what he believed was a Syrian army checkpoint.
But to his surprise, he was stopped by men wearing black clothes, who checked his identification to see if he was Christian. After about 10 minutes, the militants handcuffed the two Christian men, put them in the back of a truck and drove them to an undisclosed location about eight hours away.
When they arrived at the location, the two men were blindfolded and chained to a wall. The militants told the man that he would be kept alive for ransom and told him, "We know everything about you. We know where your family lives, what their names are."
The militants told the other Christian man that he would simply be killed.
"Anyway, we were blindfolded and chained, and every day they would torture us. They would come in, one at a time, and electrocute us or beat us with anything they could find," the man said. "But they didn't kill me because they wanted to ransom me. One time, they made me speak to my family on the phone as they were electrocuting me. Then, they made me call a friend, who told them he would pay."
The man recalled that on April 8, 2013, the militants told him that if his family didn't pay up within two days that he would be killed after he was forced to call his family and blame them for his death.
"Your family still hasn't paid. In two days, if we don't get the money, we will kill you," the man remembers the militants telling him. "But before we do, we will make you call your family and tell them it's their fault you are going to die."
On the same day, the militants took the other Christian hostage into another room and shot him to death. Although the other Christian man was killed, the militant group immediately brought in another Christian hostage to take his place.
After Muhajadeen Shura Council officially folded to become part of ISIS, the man said he noticed the mental and physical differences in his captors.
"They're brainwashed. They don't know anything except that there is a man called an emir, a man who is above them," the man asserted. "Anything these men say, they believe is true. And there were fighters from everywhere. They were from France, Belgium, Germany, Russia, Britain, Saudi Arabia, Morocco, Tunisia — there were so many foreigners. And the emirs would tell them, 'God says you have to go out and kill.'"
He added that the ISIS fighters would often blame him and the other Christian hostages for killing Muslims during the Crusades and labeled them as part of the "Pope's army."
While he was in captivity, the man claims that ISIS imprisoned around 100 people, mostly Christians, at the detention center he was in. He added that ISIS killed roughly 37 of them.
"Prisoners were being killed all the time, and new ones were always arriving," the man said.
Fortunately for the Christian man, his family was able to pay his $80,000 ransom and he was later tossed into the streets of Aleppo as a free man.
"Then one day, they told me and my friend, the man from Aleppo, that our families had paid and we were to be released," he explained. "They threw us in the streets of Aleppo, near the Turkish border. My God, it was the most wonderful feeling I've ever had. There were Free Syrian Army soldiers. We went to them, and they took us to a church. I saw the cross and I thought, I'm alive."