ISIS Crucifies Two Children for Eating Food During Muslim Holy Month of Ramadan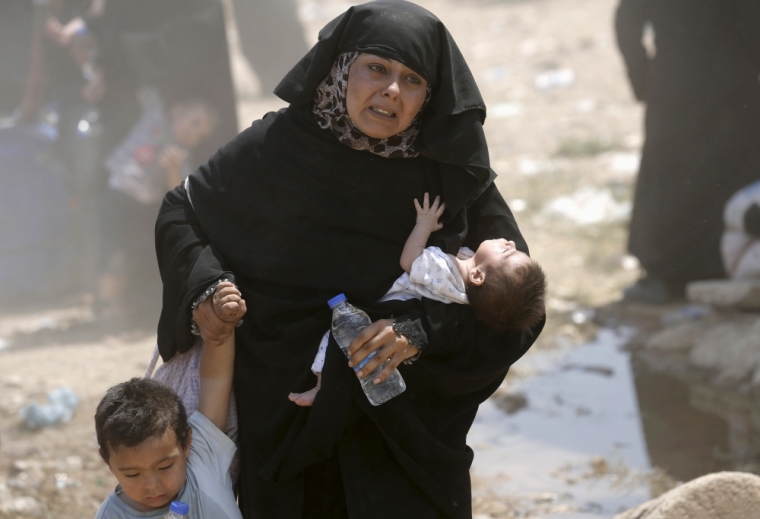 Terror group ISIS has reportedly crucified and killed two children in Syria for failing to fast during the Islamic holy month of Ramadan.
The boys, who were both younger than 18, were later displayed with placards hung around their necks revealing their "crime" in the town of Mayadin, Deir Ezzor province, the Syrian Observatory for Human Rights revealed on Monday.
"Apparently, they were caught eating," SOHR founder Rami Abdel Rahman told the AFP news agency.
Muslims are forbidden to take food, water, or have sexual relations during Ramadan from sunrise to sunset, but the rule is not supposed to apply to children, pregnant women, the ill, elderly or people who are traveling.
ISIS, which has captured significant territory throughout Iraq and Syria, has reportedly beheaded and crucified children on a number of occasions.
Back in February, the United Nations Committee on the Rights of the Child detailed some of the horrific abuses carried out by the jihadists.
"We have had reports of children, especially children who are mentally challenged, who have been used as suicide bombers, most probably without them even understanding," committee expert Renate Winter said at the time. "There was a video placed [online] that showed children at a very young age, approximately 8 years of age and younger, being trained to become child soldiers."
ISIS has targeted Christian and Yazidi minorities, as well as Shiite and Sunni Muslims. While it has subjected boys to violence and death, many of the girls have been sold as sex slaves in marketplaces.
The jihadists have released several propaganda videos where Islamic militants are featured teaching young boys dressed in ISIS uniforms how to use weapons and carry out military drills.
Earlier in June, ISIS released a 14-minute video showing young boys being trained to carry out suicide attacks and called their pending deaths a "great honor."
The children are indoctrinated into ISIS' ideology at these training camps, and have later been used in battle.
"Indoctrinating kids with ISIS' fanaticism is not only the easiest population to indoctrinate but also produces new generations of ISIS believers and ultimately, at some point, fighters. This is the way you build a Caliphate," said Steve Emerson, the executive director of the Investigative Project on Terrorism.
He continued: "Their goal is to rebuild the Islamic societies they have conquered into a global comprehensive Islamist system that takes over all aspects of society from garbage collection to teaching at the Madrassas [religious schools]."