ISIS Boys Brainwashed and Trained as Jihadists, Taught Carrying Out Suicide Bombings Will Be 'Great Honor'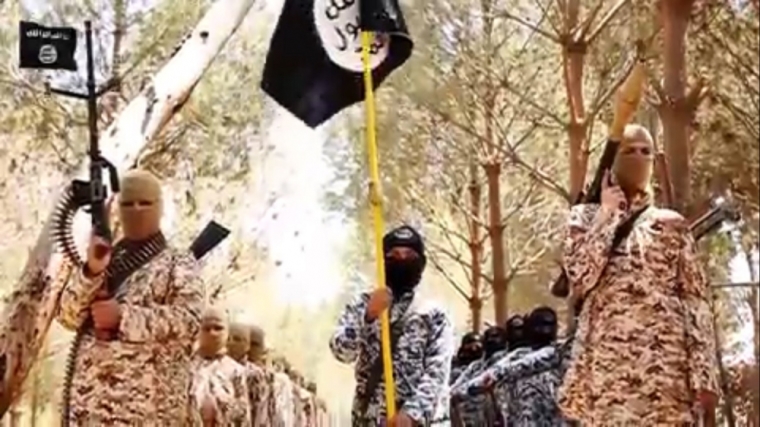 Terror group ISIS has released a new 14-minute propaganda video where it shows young boys dressed in ISIS uniforms reciting from the Quran, performing military drills with weapons, and being taught that carrying out suicide attacks will be a "great honor."
The Daily Mail noted that the video was shot near Raqqa in Syria, the captured city that the terror group has made the capital of its Islamic caliphate.
The boys in the video are shown crawling under barbed wire, being taught to use rocket launchers and AK47s, reciting Islamic prayers, listening to their teachers and carrying out their commands.
The terror group has released several videos where it shows the "cubs of the caliphate" carrying out military exercises and pledging allegiance to ISIS' ideology.
These videos are often shared online through ISIS' social media channels, MailOnline noted, where the boys are 'brainwashed into believing' that carrying out suicide attacks are a great honor.
Steve Emerson, the executive director of the Investigative Project on Terrorism, said, "Indoctrinating kids with ISIS' fanaticism is not only the easiest population to indoctrinate but also produces new generations of ISIS believers and ultimately, at some point, fighters. This is the way you build a Caliphate."
He continued: "Their goal is to rebuild the Islamic societies they have conquered into a global comprehensive Islamist system that takes over all aspects of society from garbage collection to teaching at the Madrassas [religious schools]."
Children have also been shown participating in some of the massacres and beheadings carried out by ISIS. Back in April, an Islamic State video showed teenage boys leading out eight Syrian men and handing out knives used by militants to carry out the beheadings.
Charlie Winter, researcher at the counter-extremism think tank Quilliam, said at the time that it would not be correct to believe such children are willingly choosing to join ISIS.
"Even if they have the perception of choice, it's not choice. If you're a minor and being indoctrinated from a very young age, you don't have the power to make a serious choice. I think that it's certainly worth considering more robustly that people are being groomed," Winter said.
Children have been kidnapped all throughout Iraq and Syria, but also from abroad.
NY Daily News reported on Monday that a British family with nine children ranging from ages 3 to 15, are believed to have fled to Syria to join the Islamic militants.
Three adult sisters in the family are suspected of smuggling the children into Syria earlier in June behind the backs of the fathers.
"They are concerned that their children's lives are in danger," the fathers' lawyer, Balaal Khan, told reporters. "The concern is for the well-being and safety of the children."