ISIS Demands $200 Million for Two Japanese Hostages; Japan Vows to Save Men From Beheading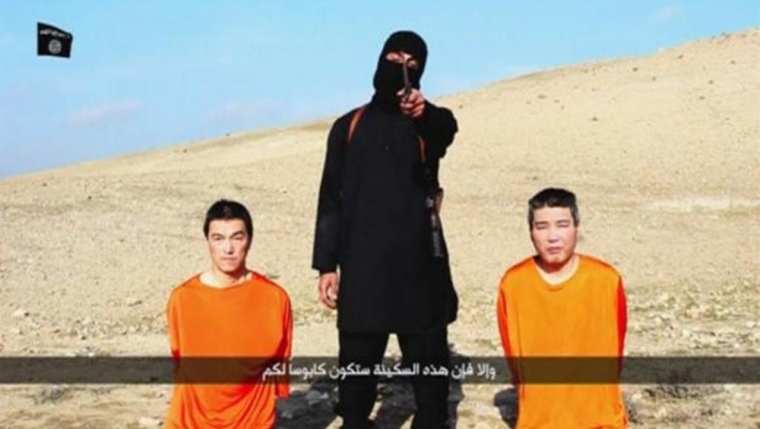 Terror group ISIS has said that it will behead two captured Japanese hostages unless a ransom of $200 million is paid within 72 hours. Japan Prime Minister Shinzo Abe responded by vowing that his country will do all that it can to save the men from execution.
"We strongly demand the immediate release of the Japanese citizens unharmed," Abe said while speaking in Jerusalem on Tuesday, Reuters reported. "The international community needs to respond firmly and cooperate without caving into terrorism."
Chief government spokesman Yoshihide Suga added: "Our country's stance — contributing to the fight against terrorism without giving in — remains unchanged."
In the latest hostage video released by ISIS through its al-Furqan media arm, a jihadist dressed in black is shown standing above the two Japanese men, who are kneeling down on the ground in orange uniforms, Fox News noted.
The men have been identified as Kenji Goto Jogo and Haruna Yukawa, The Japan Times reported, the former a freelance journalist and the latter a soldier for hire.
In the video, ISIS accuses Japan of murdering Muslim women and children by joining the fight against terror that the western world is waging on jihadist targets throughout Iraq and Syia.
"To the prime minister of Japan: Although you are more than 8,500 kilometers (5,280 miles) from the Islamic State, you willingly have volunteered to take part in this crusade," the jihadist in the video says. "You have proudly donated $100 million to kill our women and children, to destroy the homes of the Muslims."
In his statement, Suga declined to say whether Japan would be willing to pay the money, which is reportedly the first time ISIS has asked for a specific ransom on video.
"If true, the act of threat in exchange of people's lives is unforgivable and we feel strong indignation," Suga said. "We will make our utmost effort to win their release as soon as possible."
Abe clarified that Japan will only increase its efforts for peace and security in the region.
"We'll coordinate with the international community from now on, and contribute more to (the) peace and prosperity of the region. This policy is unwavering and we won't change this policy," the Prime Minister said.
The terror group has executed a number of westerners on camera in retaliation for Western countries conducting airstrikes on its strongholds. In 2014, American hostages James Foley and Steven Sotloff were beheaded on camera, along with British hostages David Haines and Alan Henning, all in separate videos.
As for the Japanese hostages, Yukuwa is believed to have been kidnapped in Syria sometime last year, where he had traveled to take part in the ongoing Syrian civil war. Goto, on the other hand, is a freelance journalist, and had communicated with The Associated Press about his ambitions while reporting from Syria.
"I'm in Syria for reporting," he told AP in October 2014. "I hope I can convey the atmosphere from where I am and share it."
ISIS has killed numerous civilians throughout the territory that it holds, including as many as 1,000 Syrians, according to the Syrian Observatory for Human Rights.