ISIS Demands Prisoner Exchange for Japanese Hostage; Threatens to Kill Air Force Pilot by Sunset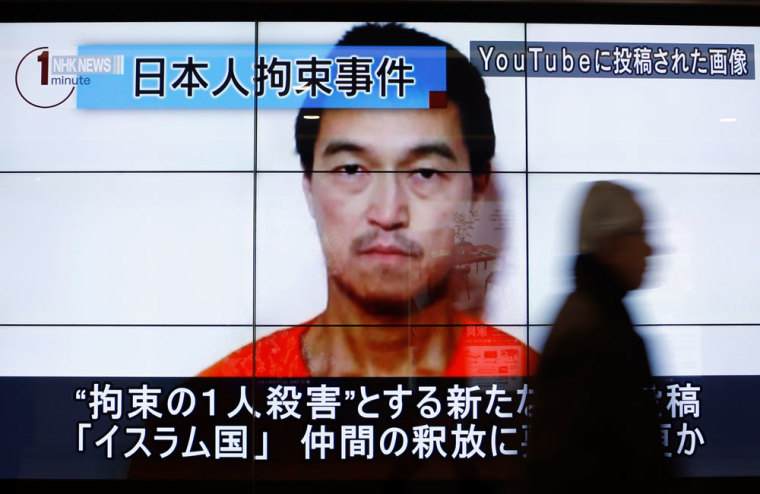 Terror group ISIS sent a message on Thursday through Japanese hostage Kenji Goto that unless a woman on death row in Jordan is exchanged for him, a Jordanian air force pilot captured by the group will be killed by sunset.
"I am Kenji Goto. This is a voice message I've been told to send to you. If Sajida al-Rishawi is not ready for exchange for my life at the Turkish border by Thursday sunset 29th of January Mosul (Iraq) time, the Jordanian pilot Muath al-Kasaesbeh will be killed immediately," the voice in the recording says, according to Reutuers.
Goto, a journalist who was captured in 2014 while reporting from Syria, has also been threatened with death.
Japanese Chief Cabinet Secretary Yoshihide Suga has said that authorities are looking into the recording, but admitted that it's highly likely that the voice does belong to Goto.
Jordan has demanded that it first receives assurance that al-Kasaesbeh is safe before it agrees with the suggested prisoner swap. The pilot was captured after his jet crashed in Syria in December while he was participating in bombing operations against ISIS.
Al-Rishawi, the woman ISIS wants released, is on death row for her role in a 2005 suicide bomb attack that killed 60 people in the capital Amman. Fox News added that the woman has close family ties with al-Qaeda's branch in Iraq. Al-Rishawi was supposed to kill herself along with her husband in the Amman attack, but her explosives failed to go off.
Another ultimatum made by ISIS on Tuesday threatened to kill both Goto and al-Kaseasbeh within 24 hours if al-Rishawi was not freed.
ISIS sent a video last week demanding $200 million for Goto and another Japanese hostage, Haruna Yukawa. Despite Japan Prime Minister Shinzo Abe promising to do all that he can to save the two men, the terror group has since said that Yukawa has been killed.
"To the prime minister of Japan: Although you are more than 8,500 kilometers (5,280 miles) from the Islamic State, you willingly have volunteered to take part in this crusade," a jihadist in the video said, blaming Japan for aiding the U.S.-led coalition fighting back against ISIS in Iraq and Syria.
"You have proudly donated $100 million to kill our women and children, to destroy the homes of the Muslims."
Goto's mother, Junko Ishido, has spoken to the media about her son, and said that he's innocent in the conflict.
"Kenji has done nothing wrong. I hope he comes home safely, that's my only feeling as a mother," Ishido said.
Abe has said that while everything is being done to rescue Goto, it would be unwise to give in to the demands of the jihadists.
"If we are too afraid of terrorism and give in to it, this will give rise to fresh terrorism against Japanese and it will become a world in which the will to carry out despicable violence has its own way," Abe told the Japanese parliament. "Such a thing is totally impermissible."