ISIS Fighters 'Spreading Like Cancer,' Hiding Among Refugees, NATO Warns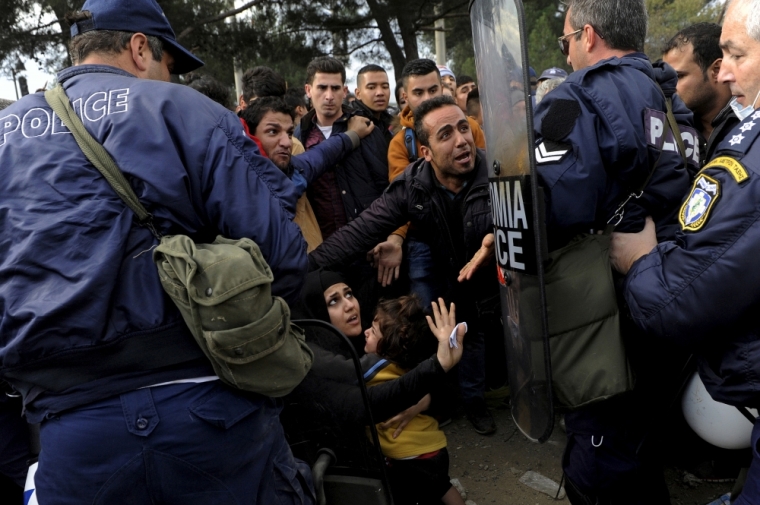 NATO's top general Philip Breedlove has warned that the Islamic State terror group, which he compared to a "cancer," is finding ways to spread into Europe by taking advantage of the ongoing refugee crisis.
"I think that they (IS) are doing that today," Air Force Gen. Breedlove said in his testimony to the Senate Armed Services Committee, referring to IS fighters who might be hiding among the streams of refugees coming into Europe.
"I think every refugee flow needs to be looked at with an eye toward it could be taken advantage of by those who seek to do us harm," Breedlove added.
The general also warned that the flow of migrants allows IS to spread "like a cancer, taking advantage of paths of least resistance and threatening European nations, and our own, with terrorist attacks," according to CNN.
Over a million refugees made their way into Europe last year, fleeing civil war and terrorism from Syria and the surrounding region, and at least 131,000 migrants have already arrived in the first two months of 2016.
Breedlove noted that IS has threatened to attack Europe, the U.S., and the entire Western world on a number of occasions, and given the destructive and far ranging nature of the group, there is good reason to take their threats seriously.
"I would take Daesh at their word — and I believe they will take the opportunities," he added, according to Military.com.
There has been widespread debate among American and European politicians and organizations about how big of a security risk the flow of refugees poses, with some experts, including Robert P. George, chairman of the U.S. Commission on International Religious Freedom, telling The Christian Post in an interview that it would be unfair to draw a direct link.
"The 2015 terrorist attacks in France were mainly perpetrated by citizens of the European Union, not refugees. The three attackers in the January 2015 attacks on Charlie Hebdo magazine and a kosher supermarket were French citizens. Of the nine attackers in the Nov. 13, 2015, Paris attacks, seven were EU (French or Belgian) citizens. The other two attackers seem [to] have entered the EU in 2015 among refugees and migrants, but their identities and citizenship are still unclear," George told CP back in January.
"These cases illustrate the risks of allowing people to enter without screening, which is not the case with U.S. refugee resettlement," he said.
There have been reports of IS terror suspects being arrested while trying to disguise themselves as refugees, such as an incident back in November where eight suspected jihadists were arrested in Turkey posing as Syrians.
Reports back then noted that U.S. law enforcement agencies had arrested over 60 militants with connections to IS, a number which includes some who had traveled to America under refugee status.
Meanwhile, there have also been problems responding to the flow of refugees on Europe's border countries, most notably in Greece, which is the major entry point for a lot of the migrants.
The Eastern European country, which is still facing an economic crisis, has accumulated a backlog of refugees on its border, but on Wednesday was bolstered by a $760 million in emergency aid plan by the European Union to help it address the crisis.
Christos Stylianides, the EU commissioner for humanitarian aid and crisis management, promised to "fast-track" the assistance, but noted that other EU member states must first approve the funding.
"These are extraordinary times," Stylianides said. "We all need to step up our efforts with no delay to prevent a further deterioration of the situation."