ISIS Fighters Leave Raqqa as US-Backed Militia Prepares to Retake City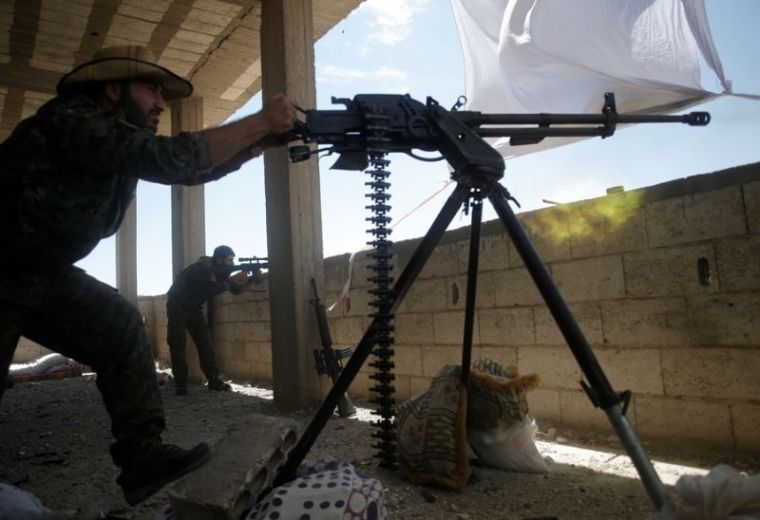 The U.S.-backed Syrian Democratic Forces on Sunday launched their "final" assault on Raqqa, the former de-facto capital of Islamic State, after a convoy of fighters from the terror group and their families were allowed to leave the city.
"The battle will continue until the whole city is clean," SDF said in a statement, according to Reuters. SDF spokesman Talal Selo said that "no more than 200-300" foreign militants remained to fight on in the city after the convoy left.
"This is the final battle."
Selo explained that SDF struck a withdrawal deal with tribal elders and Islamic State, also known as IS, ISIS, ISIL or Daesh, under which the fighters were required to allow civilians to have safe passage out of the city before the fighters and their families would be allowed to leave without any attack.
Meanwhile, air strikes by the U.S.-led coalition continued Monday, the newswire reported.
"We have conducted some strikes in the last 24 hours, but I suspect that that will pick up here very soon with the SDF advancing into the final remaining areas of the city," spokesman Colonel Ryan Dillon was quoted as saying.
Dillion also said about 3,500 civilians had safely left the IS-held parts of the city in the past week.
As IS fighters were fleeing earlier this month, they left behind their sex slaves, some of whom have returned home.
Two Yazidi girls, Helin and Takoshin, who were abducted by IS fighters from Mount Sinjar in northern Iraq three years ago and sold as sex slaves, told their horrific stories.
Helin is now 15, and Takoshin, 14, according to the British newspaper The Times.
Helin had to undergo an abortion three times last year as she was raped numerous times by IS fighters.
"The worst man I had, the most evil, he was killed in an airstrike," she was quoted as saying. "I thank God every day that he was killed. Now I want to see my family."
Takoshin was bought and sold 10 times.
Other stories of sex slave survivors have revealed the horror of living as ISIS captives. A Yazidi girl, who was able to escape her ISIS captors, told BBC in July that she had been raped every day for six months.
The girl, identified as Ekhlas, told BBC that she was captured at 14 years old and picked out of 150 girls after lots were drawn.
"I tried to kill myself," she said, describing her rapist as a "beast."
In August, seven Christians living under IS in Raqqa were rescued by Christian fighters affiliated with the Syrian Democratic Forces.
A Christian woman, named Saws Karabidian, who was rescued, told the Kurdish news outlet ARA News what it was like to live under IS' rule.
"They forced us to wear the headscarf and allowed us to reveal our faces to distinguish us from Muslims. We had to hide our faces to avoid insults," she said.
Another Christian, named Karadij Karadjian, was quoted as telling SDF fighters that he was forced to pay a tax for being Christian.